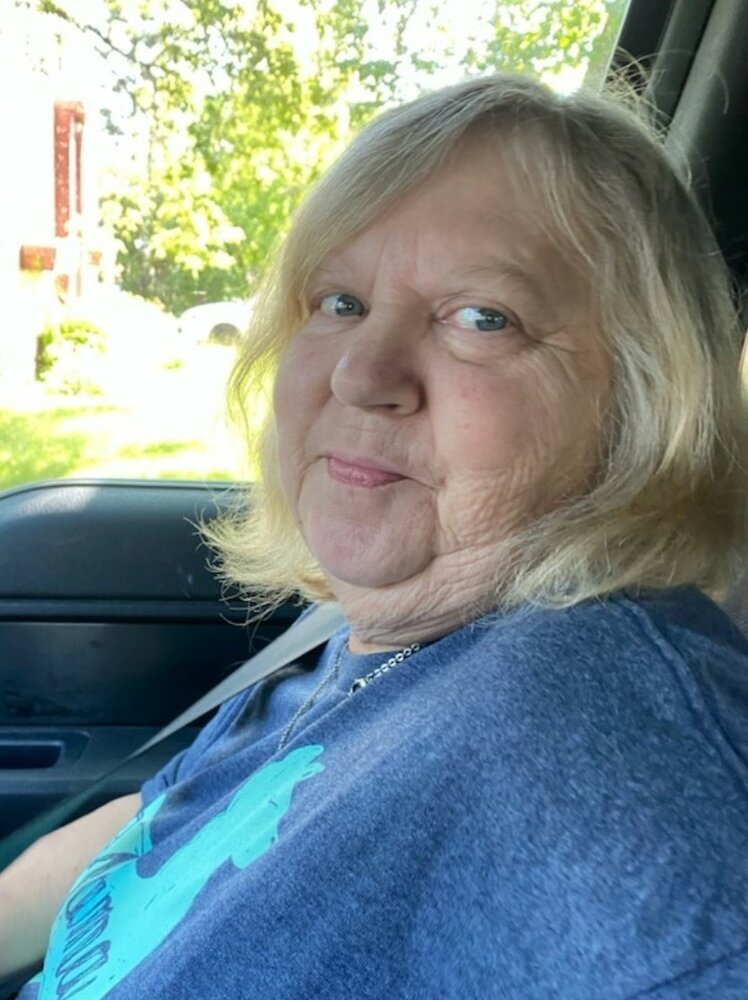 There will be no funeral service at this time
Served by the Stettler Funeral Home & Crematorium
Box 1780
Stettler, Alberta, Canada
4037423422

Get Directions


Obituary of Elaine Carol Helmer
Please share a memory of Elaine to include in a keepsake book for family and friends.
Elaine's Life.
Elaine was born July 21st, 1950, to Mike and Eva Lazaroff in Calgary Alberta, the 2nd eldest of 5 children. She would describe them when they were younger as her 'cool' older sister Patricia, who was the eldest, then came mom, followed her outgoing and fun sister Darlene. Then came the brothers, her strong and capable brother Wayne. and her 'all heart' little brother Gary.
She adored her siblings......
They had a hard childhood but their hardships growing up brought them even closer together. They moved to various towns in BC until they finally settled in Surrey/New Westminster.
There were many hilarious stories told of trying to keep each other out of trouble with their dad that would end up in a folly that she would laugh about today. As a child she was known as a 'brute', she wouldn't hesitate to wrestle any boy, brother or fight anyone picking on the younger siblings. This was a trait she carried with her throughout her life.
She was the constant defender of the underdog.
She had many stories she would tell of adventures with her siblings and cousins picking fruit together at orchard camps for summer work, it felt as if those were days were ones of more fun and pranks than toil, for she remembered them fondly.
She met Larry Helmer in Surrey B.C at a carwash they both worked at, dad was going to university there and they started dating. She told me she liked his honestly and non-judgemental attitude, she thought those qualities would make good husband material, so they married in 1967. Their relationship was one of pure honesty and a friendship I don't see in many marriages, they could go for coffee together and talk for hours or try to find a quiet place in the house to talk - but that always turned in to a family event as us kids pushed our way in to find out what was going on lol.
Looking back, no wonder they choose the coffee shop so often.
Their friendship was one to be admired.
Mom and Dad raised 3 children, Lora (Loretta), Carrie and Cherie. They filled our younger years with many experiences that molded who we are today.
We often moved because of dad's work, but in every move to another new province or town, they made it into an adventure. They would join 4x4 clubs that would find us on goat trails or hanging off tops of mountains or stuck in mud up to the doors in the middle of nowhere. Mom was always so afraid that she never took her eyes from her book to see what disaster may be looming ahead, and her white knuckled hand was always gripped to the door handle securely.
We spent every weekend camping or traveling to local historic spots to learn about the area, found deserted ghost towns to dig through or we would travel to see areas even more off the beaten path.
Mom enjoyed seeing new places so much we just automatically knew when the back of SUV was made into a big bed and our bags were in there, we were about to hit the road for another adventure.
One event that will always stand out is when we pulled into some remote lake in the middle of nowhere in the Yukon. It was as dusk as it gets in the summer and we were getting ready to sleep, then dad spotted a group of 'dogs' off in the distance.
He took a sandwich and got out of the car, door open he held it out calling and whistling for the dogs to come get it... as the 'dogs' got ever closer suddenly Mom started screaming 'Larry, GET IN THE CAR, those aren't dogs, that's a pack of wolves'!!! Dad slowly walked back and into the truck as she screamed to shut the door, he did as he rolled his eyes at her, not believing they were wolves until they were feet away from our vehicle. We shook with fear in the back bed as Mom yelled, he could have had his arm chewed off!!
Lol, we laugh at that today, but mom didn't drive then so I thank God he never got to actually 'feed the dogs'.
She loved adventures and meeting new people, no matter if it was helping the chamber maid clean our room at a hotel or talking to the owner of some restaurant, she quickly had a conversation going and a friend in the making.
Her heart was open to all.
Mom also loved to work, she loved working at various restaurants where she always became best friends with the owners and staff. She always had 2 jobs as well, the 2nd always had something to do with caregiving. At first it was working as a nurse's aid at Claresholm Care Center and later in various group homes for the mentally disabled. She brought us to the places she worked, and they became part of our lives as well.
Mom took a great deal of pride in doing as much as she could for those who needed extra help. That dedication followed right to her last days as she worked for the Action group with disabled clients, then became guardian of Shawn and Trevor when their parents died. She always kept past clients as friends, like her special relationships with Kyle and Richard, not a night went by that she wouldn't talk to Richard on the phone to hear about his day or say goodnight or a holiday would pass that she wouldn't do something special for them.
They all meant so much to her.
Mom loved her friends and family and gave all she had to us, whether it was a place to stay when needed or just to listen in hours long phone calls, she was always there. Her friends would always laugh at the length of their nightly phone calls, I have to say I didn't know she had them with so many, as ours went hours at times. I don't know how she found so much time to keep up with everyone she loved, but I guess talking till 3 am at times explains it lol.
She found the time to give to all of us.
Her friends were always a huge part of her life, when you became her friend, you remained her friend, she kept in touch with many throughout her life no matter where they moved.
Her best friends Barb and Olga were there to hold her hand through her very last day, we were all so blessed they were there for her.
Her friendships were deep and meaningful.
Her grandchildren were her pride and joy, Justin, Ashlee, Jessica, Karolynn, Zee, Kira, great grand daughters Delayne and the new one she didn't have time to meet, Anna, they all had the whole of her heart. She had such close and special relationships with each one of them that she will be carried deeply in their hearts and missed so very much.
To say she was special and that she will be missed doesn't seem to nearly say enough...
She was special, she was our friend, our mother, grandmother, a wife and the glue that held our family together.
In her honor I know we will all work to keep the bonds strong, but a huge part will be forever missing. I take comfort in knowing she taught us all the importance of family, of love, of forgiveness and of the ties that bind us together. We will always feel her presence in every day, in every holiday she loved and made special, in every story re told, and ee will feel her kiss on our cheeks. We will now carry forward those values.
We love you mom, we got this, you taught us well.
Rest peacefully.
WHEN TOMORROW STARTS WITHOUT ME
When tomorrow starts without me,
And I'm not there to see,
If the sun should rise and find your eyes
all filled with tears for me,
I wish so much you wouldn't cry
The way you did today,
While thinking of the many things,
We didn't get to say.
I know how much you love me,
As much as I love you,
and each time that you think of me,
I know you'll miss me too.
But when tomorrow starts without me,
Please try to understand,
That an angel came and called my name,
And took me by the hand,
and said my place was ready,
In heaven far above,
And that I'd have to leave behind
All those I dearly love.
But as I turned to walk away,
A tear fell from my eye
For all my life, I'd always thought,
I didn't want to die.
I had so much to live for,
So much left yet to do,
It seemed almost impossible,
That I was leaving you.
I thought of all the yesterdays
The good ones and the bad,
I thought of all the love we shared,
and all the fun we had
If I could re-live yesterday
Just even for a while,
I'd say good-bye and kiss you
And maybe see you smile.
But then I fully realized,
That this could never be,
For emptiness and memories,
would take the place of me.
And when I thought of worldly things,
I might miss come tomorrow,
I thought of you, and when I did,
My heart was filled with sorrow.
But when I walked through heaven's gates,
I felt so much at home
When God looked down and smiled at me,
From His great golden throne.
He said, "This is eternity,
And all I've promised you."
Today your life on earth is past,
But here life starts anew
I promise no tomorrow,
But today will always last,
And since each day's the same way
There's no longing for the past.
You have been so faithful,
So trusting and so true.
Though there were times
You did some things
You knew you shouldn't do.
But you have been forgiven
And now at last you're free.
So won't you come and take my hand
And share my life with me?
So when tomorrow starts without me,
Don't think we're far apart,
For every time you think of me,
I'm right here, in your heart.


Share Your Memory of
Elaine