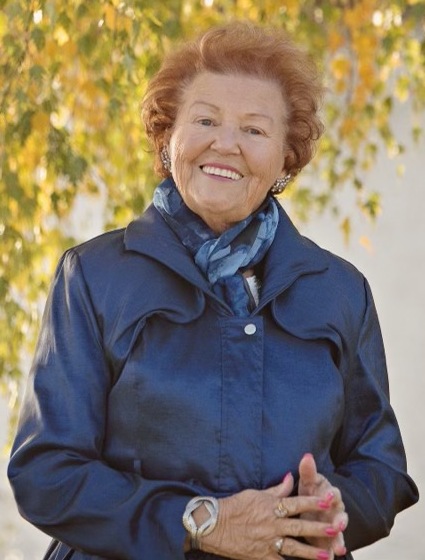 Obituary of Evelyn Annie Walker (Kobi)
Please share a memory of Evelyn to include in a keepsake book for family and friends.
Evelyn Walker (Kobi)
December 21, 1937 - January 12, 2022
Evelyn Annie Walker passed away suddenly at her home on January 12, 2022 at the age of 84 years. Evelyn was born December 21, 1937 in Vegreville, Alberta while the family was living in the Hairy Hill area. She was the sixth of ten children born to Emil & Pauline Kobi. The family moved around a little before settling in the Byemoor area where Emil did a bit of trucking and started farming. Eventually Evelyn met Bob Walker and they married on April 12, 1957. Bob worked as a grain buyer in Endiang and Rumsey before they purchased his Uncle Phil's farm back at Byemoor and moved the family there to start farming. Evelyn was a busy farm wife raising four boys, while helping build up the farm, running for parts, tire repairs and delivering grain trucks to the fields. Evelyn loved having and being around people, she was the best host, and hosted many gatherings where the house and yard was packed with family, friends and neighbors. She was a good cook and could whip up meals for many with what seemed like ease, then setting it on the table or delivering it out to the haying and harvesting crews spread around the different fields. For years she was the local go-to barber and hairdresser, even though she never trained, she cut and styled hair for big and small. They must have thought she did a good enough job because they kept coming back. After the family grew up, she moved to Stettler where she made many new friends and was always a willing to go anywhere traveling partner. Her home in Stettler was a hub for all her grandchildren and friends, often being a taxi service for them at any time day or night. She spent several winters snow-birding in Apache Junction, again making numerous new friends. She was always on the go, whether it was going to play cards, floor curling or just going somewhere. She was very proud of her family, grandchildren and great grandchildren. Family meant everything to her, her happiest times were at family gatherings which she often hosted. Evelyn will be sadly missed and fondly remembered by all.
Evelyn is survived by her sons: Wes (Robin), Les (Jill), Clint (Tammy) and Lyle; grandchildren: Jeanna (Adam), Chelsea (Alan), Deanne, Justin and Michelle; great grandchildren: Bentley, Brenton, Willa and Louisa; siblings: Bill (Theresa), Mary (Lawrence) Wilkie and Gordon (Della); sisters in law: Betty, Maxine and Jane (Doug); the Walker family: Jeanne (Mac) Sinclair, Ken Walker, Joyce (Dick) Moore, Winnie Paulsen, Doris Schilling, Deanna Johnson, Dennis (Sally) Walker, Lynda (Cliff) Wilkie, Allen (Connie) Walker, Joy Walker, Rod Rarick and Renny Walker; numerous nieces, nephews, other family and many dear friends.
Evelyn was predeceased by her husband Bob Walker; her parents Emil & Pauline Kobi; brothers: Rudolph, Ben (Lillian), Edwin, Harold and Lloyd; sister Lorraine (Norm) Kelly; parents in law Harry & Bessie Walker, brothers and sisters in law: Buster (Betty) and (Ann) Walker, Colleen Walker, Paul Paulsen, Roy Schilling, Doug Johnson, Donnie Walker and Judy Rarick.
Due to current Covid restrictions a celebration of life and interment will be announced at a later date. Donations in memory of Evelyn are gratefully accepted to a charity of the donor's choice.


Share Your Memory of
Evelyn