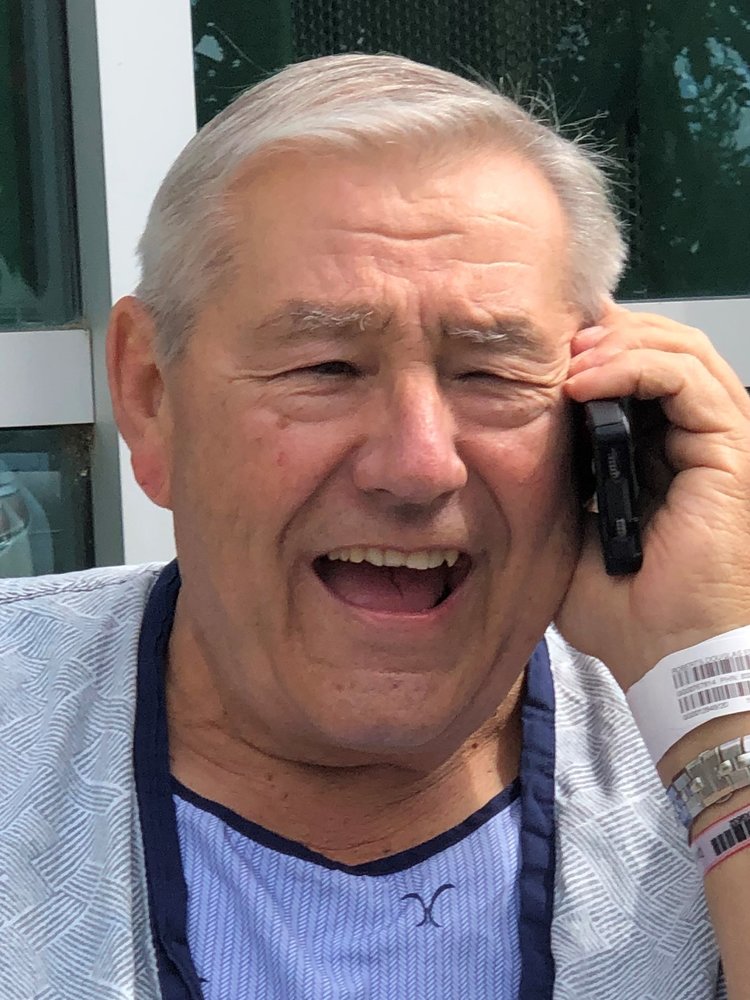 Funeral Service for the late Mr. Doug Roberts
2:00 pm - 3:00 pm
Friday, July 9, 2021
Stettler Funeral Home & Crematorium
Box 1780
Stettler, Alberta, Canada
4037423422

Get Directions


Obituary of Douglas Edward Roberts
ROBERTS – Doug Roberts passed away on Friday, July 2nd in Stettler Hospital . Before being admitted into palliative care at the Stettler hospital, his family lovingly cared for him at home, as he fought his year long battle with MDS Cancer.
Doug was born Sept 15, 1951 the first of three children to Edward (Ted) and Doris Roberts, in Calgary. In 1963 his family moved to Byemoor to begin their farm life.
Doug met Lori LaPlace of Calgary who was the niece of their close farming neighbours, Walter and Mavis Birkhiem. They married in 1976 and their first two children were born in Calgary: Brian in 1977, and daughter Dana in 1978. Because Doug missed the country life, they moved from the city to Byemoor just after Dana's birth. Doug's parents and brother and Lori's younger sister, Erin, assisted Doug & Lori in building a beautiful cedar log house on the home quarter. Sons Scott and Mike were born there in 1980 and 1983.
Doug incorporated a successful Seismic Drilling company, "Byemoor Drilling Ltd" in 1976. He subsequently spent most of his winters in the north country, so during those cold months he was hardly at home. Summer work in Saskatchewan and southern Alberta also frequently kept him from home. In later years, he sold the seismic equipment to be closer to home. He then hauled oil with his own truck for Gibson Petroleum, and Dean's Oilfield, and later hauled grain for Hroneks trucking, As a result Doug seemed to know every oilman and farmer in central Alberta. In 1996 when his younger brother, Don, decided to leave the family farm, Doug and Lori acquired Don's land and started farming with Doug's parents. They also ran a custom farm application business. They sold the farm in 2004, and they then moved to Stettler. Doug wasn't ready to retire at that time, so he launched into a new career. He received his realtor license and joined the Royal LePage Central team. He later got his broker licence and assumed part ownership of the realty business acting as Broker. He very much enjoyed and was passionate about managing the Royal LePage Brokerage, developing close friendships with all his colleagues.
Doug was adept at everything he undertook. He could fix anything, and spent hours in the farm's big shop fixing their own and sometimes in emergencies, the neighbours' equipment,. He taught all his kids how to problem solve over shop benches. He was also a role model to some of his friends' teenage sons. These boys fell in love with him, the shop and tools, and became as comfortable as he was with a wrench in their hand. Always a wheeler dealer, as a side business he acquired countless vehicles, which the boys fixed up to sell. Forever the salesman, he loved nothing better than to buy and sell vehicles, so he and wife Lori, were frequently seen driving different rides. In recent years, Doug expanded his salesman skill to the buying and selling of motorhomes, so Doug enjoyed driving to the southern states in these many different coaches, with copilot Lori, who, because of his love for casinos, helped him navigate to different southern locales to ease his mild case of gambling fever, and escape some of Alberta's winter sting.
Doug loved people and was a "popper inner"…Neighbours and friends never knew when he would show up for coffee and a lively chat. He had a twinkle in his eye and loved nothing better than to tease and push anyone's buttons. He had his Pilot's licence and enjoyed taking his family and friends up for rides to see the reactions from passengers while he performed mild air acrobatics. Doug was also renowned for his barbequing skills: family and friends frequently enjoyed the great meals which came from his carefully tended grill.
Doug is predeceased by his daughter Dana, who tragically lost her life in a car accident in 1995. Doug is survived and will be deeply missed by his wife Lori, Son Brian (Stacey Quance ) Roberts of Trochu, son Scott (Chelsea Marion ) Roberts of Stettler, Son Mike (Amy Carstairs) Roberts of Stettler; Grandchildren, Hailee, Austin, Lola, Declan, Bella, Fred and Griffin Roberts. Sister Vicki Roberts of Golden; Brother Don (Marlene) Roberts of Olds, Sister-in-law Erin LaPlace of Calgary, Brother-in-law Don (Bev) LaPlace of Calgary, Brother-in-law Robin (Joanne) LaPlace of Moncton NB and numerous other family and friends.
Funeral Services will be held on Friday, July 9th at 2:00 at Stettler Funeral Home.
Internment only for Family on Sat July 10th at 10:00 am at Byemoor Cemetery.
Should friends' desire, memorial contributions may be made in Doug's memory to the Stettler Hospice Society or a charity of their choice.
A very special thanks to all of the angels involved throughout Doug's cancer journey: including Erin LaPlace, Robin LaPlace, Vicki Roberts, the Stettler Palliative Home Care Team, Dr Pieter Bouwer of Stettler and Dr Prajapati of Red Deer and all the people who prayed for him and our family.


Share Your Memory of
Douglas