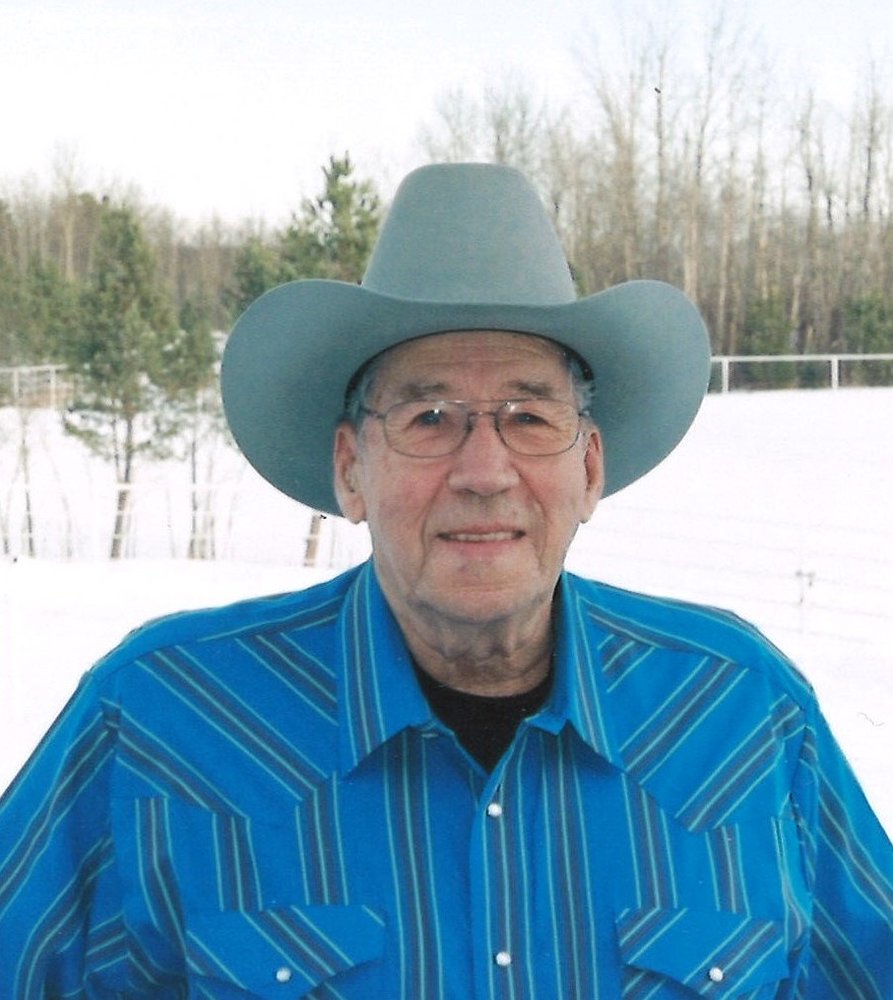 In Memory of
Victor Gilbert "Vic" Stuckey
1933 - 2020


Obituary of Victor Gilbert Stuckey
"Vic was born to parents Victor Eugene Stuckey & Florence Margaret Cross on June 18, 1933 in Calgary, AB. He married Joyce Sophie Ziegler, the love of his life, on August 11, 1954

Vic is survived by his wife of 66 years, Joyce, his children Lee (Gail), Val (Findlay), Gene (Twyla), Jay (Sue) & Shawn, Grandchildren Kyla (Jeff), Jenna (Kevin), Tyrel (Justine), Brooke, Reagan, Dallas (Charles), Kylee (Dave ), Taylore (Garrett ), Logan, Sienna & Lane, 11 Great Grandchildren, his Brother Bill (Irene) & Sister Lynn, Sisters-in law Betty, Lillian & Brother-in-law Bill, Brother-in-law Tom, numerous nieces & nephews. He was predeceased by his parents and 1 sibling at birth.

Vic was born with rodeo in his jeans and Saddle Bronc was his event of choice. He also loved Cowboy Poetry and took that up later in life, doing very well and entertaining people across the Country. He was passionate about Cowboy Church and was leading the charge in establishing the Heartland Cowboy Church in Stettler in June 2007 and it is still going strong today. He & Joyce were faithful Volunteers to the P & H Elevator in Stettler where they put the coffee on every Thursday morning for 12 years. This was a great little gathering spot to catch up on what happening in town.

Away from rodeo he was a cowboy with many hats – a NADP cream inspector with the Dairy Pool, a farmer, a salesman, a horse trader.

Like any real cowboy he was always family first, always up for the challenge, always fair, always a prankster, enjoyed time with his family and in his heart he knew he couldn't do it without his Lord & Saviour.

Unfortunately, only 100 people are allowed to gather for memorial services, so the family is unable to extend an open invitation to attend his memorial. Please keep Vic's family in your prayers during this time.

A couple of verses taken from one of the Poems Vic had written entitled Me and Jesus

Me and Jesus are walking together
I know he has a hold of my hand.
As we travel through this life of sorrow
On our way back to God's promised land.
When life's journey comes to an end
I thank God I won't be alone.
I'll have my saviour to guide me
Me and Jesus will be going back home.

In lieu of flowers, Condolences may be sent to the Stettler Funeral Home or to either the P & H Elevator or Heartland Cowboy Church."


Share Your Memory of
Victor Gilbert