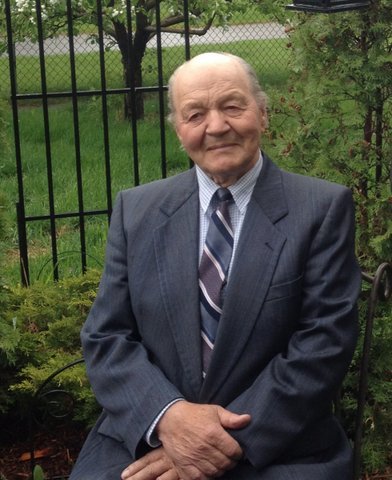 In Memory of
Ove Persson
1935 - 2020
A public visitation will be held
6:30 pm - 8:00 pm
Wednesday, August 26, 2020
Stettler Funeral Home & Crematorium
4707-70 Street
Stettler, Alberta, Canada
403-742-3422
A public visitation will be held on Wednesday, August 26, 2020, 6:30-8 P.M. Stettler Funeral Home, Stettler, Alberta

Get Directions


Obituary of Ove Persson
In Loving Memory Of Ove Persson
February 1, 1935 ~ August 15, 2020
Ove passed away peacefully on the family farm near Donalda, on August 15, 2020 at 85 years of age. Ove was born on February 1st, 1935 in Vännäs, Sweden to Ruth and Tycko Persson. Ove grew up on the family farm in Sweden along with his sister Margot, until the family decided to immigrate to Canada in 1949 as the threat of a Russian invasion of Sweden seemed high. So, at 14 years of age Ove crossed the Atlantic with the family and landed in Halifax. From there they took the long train trip across the country to Donalda, Alberta. The family bought a small farm in the area where Ove's uncle Ole Erickson and wife Emma had settled some years earlier. In the following years Ove attended school in Donalda and helped the family with the farm. During these years Ove also began to attend gospel meeting and Christian conventions and in 1952 he made a choice to serve God. In 1953 his mother and sister needed to return to the original family farm in Sweden, however Ove had developed a love of Canada and decided that his future lay in this part of the world. Father Tycko stayed until Ove turned 21 and could take over the farm in the spring of 1956.
Ove continued to live and farm near Donalda after the return of his parents to Sweden, but during the winters he tried his hand at other pursuits, including Fuller Brush sales, logging, real estate sales and long-haul trucking. It was while selling real estate in Edmonton in 1960 that Ove met Irene Attfield and in March of 1962 they were married. They started their married life in Calgary where Ove was working at the time but in May they moved to Ove's very rustic farm near Donalda. They were there a few months before buying the Hilker Farm and it remained their home until Ove's passing.
In 1964 Tanya arrived, followed by Jeannette in 1966 and Gus in 1968. These were very busy years as Ove worked hard at growing the family farm, planting the crops and raising livestock. Ove's industrious attitude saw the operation expand quickly. Over the following years the family enjoyed growing up in a bustling farm operation with a continual whirl of seeding, spraying, harvest and caring for the animals. Many relatives, hired men and "trainees" helped out with the farm and often became part of the family, with many of those people still maintaining ties today. Family meals were a key part of the daily routine with many lively discussions occurring around the table.
Ove enjoyed looking at the world in a different light and humorously presided over meetings of the Flat Earth Society at meals. He preferred his clock display to appear backwards rather than in the conventional way and he liked to look at life in that same unconventional fashion.
Ove had a great curiosity about things and people. He loved to read and could often be found with 3 or 4 volumes of the World Book Encyclopedia in his "office" as he checked out some topic that had taken his interest. He also loved to visit with people one on one, particularly about farming. He rarely talked about himself but always wanted to know what you were up to and how things were going in your world. Even during the busy years of raising a family and farming he still found time to visit elderly friends on Sunday afternoons.
Even into his latter years Ove maintained an enduring identification with his Swedish roots and could often be found reading books on Swedish history. He visited Sweden numerous times over the years and enjoyed the opportunity to return to his boyhood home to reconnect with old friends and family. He enjoyed speaking the Swedish language and looked forward to visitors who allowed him to keep his native tongue polished up.
Ove also had a strong love of the Gospel that he had embraced as a teenager and enjoyed reading his Swedish Bible, which always seemed to describe things so much better! He could be found faithfully attending Christian meetings on Sunday and Wednesday. He was particularly happy in his last few weeks that his regular Sunday meetings were able to resume after being interrupted by COVID restrictions.
Over the years Ove suffered a number of health problems, including kidney disease, an auger accident and a triple bypass. Despite these setbacks Ove never really contemplated retirement but kept pushing on with a determined love for what he was doing and continued to farm until his very last day. He planted 71 crops in Alberta and didn't miss a year since he arrived in the country. He came close one year but managed to get the doctor to delay his triple bypass until seeding was finished.
We will remember Ove for his sense of humor and as the strong, independent and self-made man that he was. He will be loved forever as a generous and unique husband, father, grandfather, brother, uncle, cousin and friend.
Ove will be sadly missed and leaves to mourn his passing, wife Irene, daughter Tanya (Dale) Cowan, granddaughter Katelyn, daughter Jeannette (Troy) Rilea, grandsons Travis and Kenton, son Gustav, sister Margot (Göte) Långström, Vännäs, Sweden and their family: Lena (Inge) Abramsson, Thomas Långström, Hans (Ericka Johansson), great nephew Tony Hellgren, special cousins Leona Erickson and families, Ben and Shirley Erickson and families, brothers and sisters in law: Gladys Steingard, Isabelle Hornady, Evelyn Layden, Shirley and Reg Thompson, Wilfred Attfield and many nieces, nephews, other family and many friends.
Ove was predeceased by his parents Tycko and Ruth Persson, Fred and Alma Attfield, Jim Layden, Stanley Attfield, John Steingard, Gordon and Theresa Attfield, Marie Attfield, Albert Hornady, special cousin Harry Erickson, nieces and a nephew.
A public visitation will be held on Wednesday, August 26, 2020, 6:30-8 P.M. at Stettler Funeral Home, Stettler, Alberta
A private graveside service will be held on Thursday, August 27, 2020 at 1:30 P.M. at Donalda Cemetery, Donalda, Alberta
Please join in Ove's funeral service via webcast on the Stettler Funeral Home website.
In lieu of flowers donations in memory of Ove are gratefully accepted to any local Food Bank, Stollery Children's Hospital, Donalda Cemetery or a charity of choice.