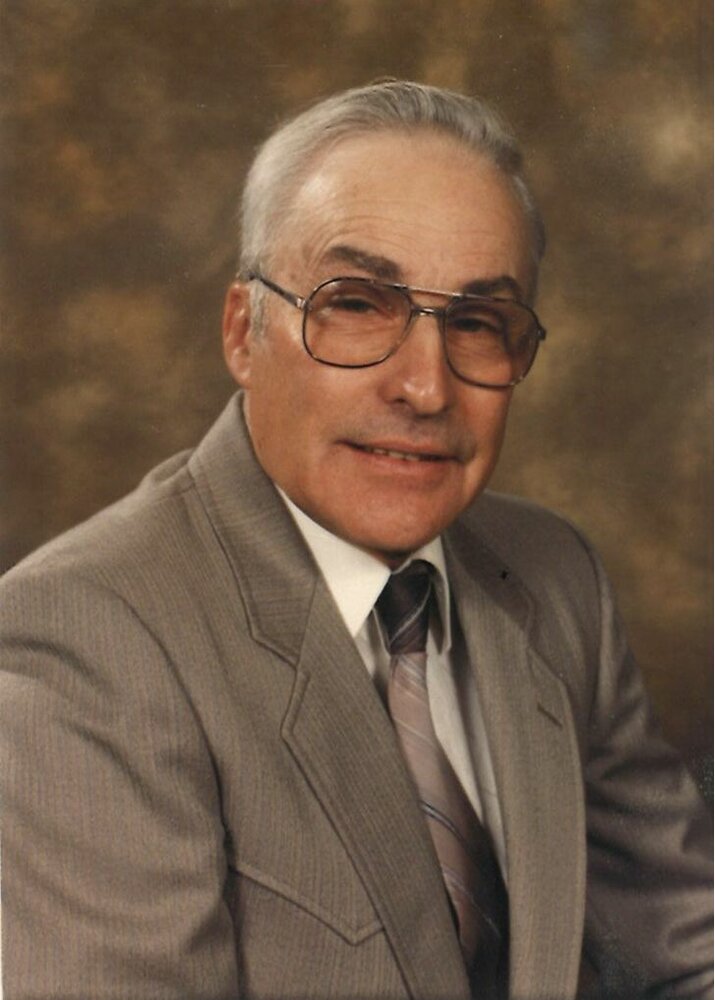 Funeral Service
2:00 pm - 3:00 pm
Saturday, June 3, 2023
Big Valley Evangelical Free Church
157-3 Avenue South
Big Valle, Alberta, Canada
Funeral Service

Get Directions


Obituary of George Frederick Robinson
Please share a memory of George to include in a keepsake book for family and friends.
George Robinson
June 23, 1928 - May 25, 2023
George was born on June 23, 1928, only child to Fred and Esther Robinson. He grew up on the family farm east of Big Valley. He started learning farm work very early on, first driving the team of horses to do fieldwork, then progressed to hand crank tractors. Eventually as an adult, happily tractors came with "a cab, radio, power steering and A/C." As a boy he was in 4-H, raising steers, and he also was a Cadet. He raised and trained his horse Hank from a foal, and he spent many hours in the saddle working cattle.
George attended Lone Tree School growing up with the Frasers & Goulds. He was also fortunate enough to attend Grade 10 & 11 at the Stettler High School boarding at his grandmother's in town. It was a chance to meet more schoolmates, which he enjoyed. Around 1956 George went to Edmonton and worked at the Edmonton Municipal Airport. While there he learned to fly, made lifelong friends and had some grand adventures that he later would happily share the tales of.
When his father's health declined, he was called back to help out on the farm. As lots of hands were needed to bring in the harvest each year, he made more friends from those who worked at the farm over the years. He and Cecil were especially close throughout their lives.
In July of 1965 George met the love of his life, Joan at the Stettler Stampede. He was introduced to her and the next day he came knocking at her door. They were married in November of that same year (even though he scared the heck out of her when he took her flying). He loved to fly during the time he had a plane.
George and Joan took over the farm when his father passed away suddenly late in 65'. They worked hard raising cattle and grain farming. Life on the farm kept them very busy. He became very good at fixing things and could be called upon to help with electrical and mechanical issues when the neighbors needed. They had two children, Fred and Kathy. And when they were grown along came 3 grandchildren: Zach, Hannah and Joshua. George loved the times he spent with them.
Throughout his life he enjoyed playing guitar, square dancing with Joan, bowling and later golfing. Any break from the farm was a treat. And on their 25th wedding anniversary he and Joan were able to take a road trip through B.C. and down into the States. George was always glad to chat with his cousins, family, friends and neighbors. He always had a joke or story or two to share. When they hooked up the internet his line-up of jokes grew exponentially (thanks Alan). He was always willing to search the "Grain News classifieds" for potential brides for the single neighbor boys.
Through all the ups and downs of in their life, George and Joan made it through 58 years together. I think he would say that through his life's journey enjoying moments with friends and family as they are small treasures to reflect back on when times are tough.
Thank you to everyone that touched his life, especially staff at Heritage House.
George is survived by his loving family, wife of 57 years Joan Robinson of Big Valley, AB; son Fred (Shannon) Robinson, granddaughter Hannah, grandson Joshua all of Brisbane, AU; daughter Kathy (Danny) Laing, grandson Zach all of Airdrie, AB; brothers and sisters in law: George (Marge) Demmans of Kelvington, SK, Lillian Schell of Stettler, Ray (Fern) Demmans of High River, Laura Demmans of Nipawin, SK, Dorothy Gottlob of Meadow Lake, SK, Gary (Rose) Demmans of Meadow Lake, SK, and Bette (Reg) Iverson of Meadow Lake, SK; numerous nieces, nephews, other family and a host of friends.
George is predeceased by his parents Fred and Esther Robinson; brothers and sisters-in-law: Russel (Jean) Demmans, Sadie (Roy) Wilson, Joe Schell, Roy Demmans and Paul Gottlob.
Funeral Service
Saturday, June 3, 2023 at 2:00 P.M.
Big Valley Evangelical Free Church, Big Valley, Alberta
Donations in George's memory are gratefully accepted to S.T.A.R.S. (570-1441 Aviation Park NE Calgary, Alberta T2E 9Z9) or a charity of the donor's choice.


Share Your Memory of
George