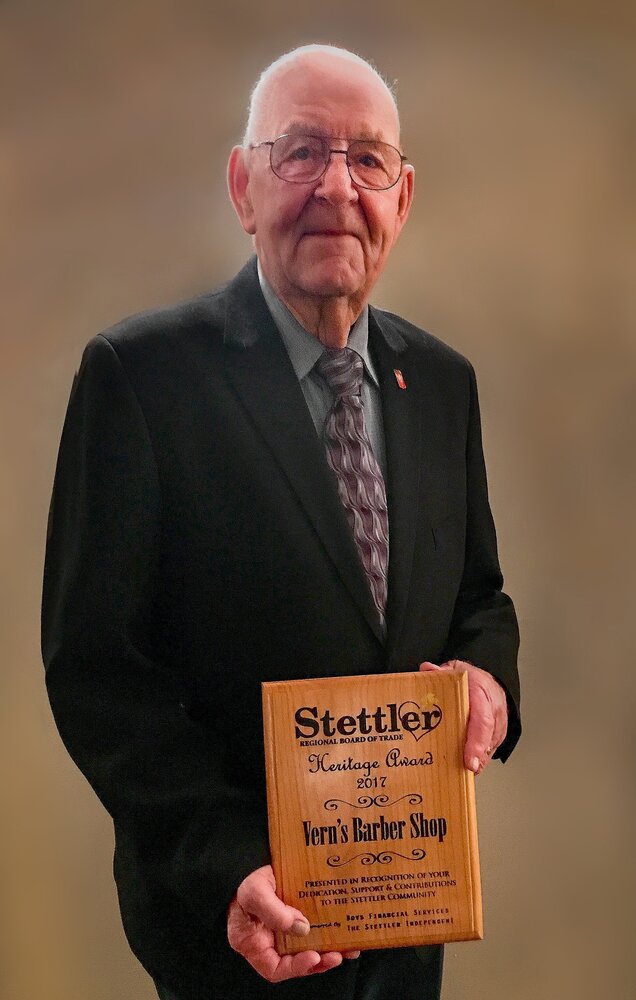 Obituary of Vernon Harold Dempsey
Please share a memory of Vernon to include in a keepsake book for family and friends.
Vernon Harold Dempsey
Vernon Harold Dempsey of Stettler, AB, passed away on Sunday, May 14, 2023 at the age of 90 years.
Vern was born in Cabri, Saskatchewan on April 24, 1933 to Robert and Dora Dempsey. He was the second of four children (Hugh, Evelyn, and Floyd).
In the fall of 1949, Vern started Barber School in Regina, he was just 16 years old. After completing Barber School, he moved to Consort, AB, where he met his first love, Mae, at a local dance. They were married in Stettler, AB, on May 20, 1953 where they raised their family. They were together for 57 years until Mae's passing on October 10, 2009.
In 2017, Vern celebrated 65 years of barbering and was awarded with the Heritage Award at the Stettler Awards gala. He continued working until his retirement in October 2019.
Throughout his life, Vern enjoyed antique cars, dancing, and old- time music. He also had a passion for heavy horses and competed in pulling contests with his Belgians, Jim and Judy. Over the years, he was often awarded for his horsemanship and was the president of the light horse association of Botha.
In 2010, Vern started dating his long-time friend, Barb Jamieson, and on July 23, 2012 he was thrilled to marry the second love of his life. Vern and Barb did some travelling and enjoyed dancing, wagon treks, and attending Dinner Theatre.
On May 16, 2021 Vern suffered a major stroke and was moved to Heritage House where he lived out his remaining days.
Vern is survived by his loving wife, Barb Jamieson; his sister, Evelyn (Dale) Kroeger; his brother, Floyd (Val) Dempsey; his three daughters: Lynn Dempsey, Verna (Albert) Pakay, and Jo-Ann Dempsey; his two sons: Bruce (Laureen) Dempsey and Lee Dempsey (predeceased in 1984), as well as his three grandchildren: Cory Ingram, Rique Dempsey and Cole Dempsey, all of whom Vern adored.
In lieu of flowers, memorial donations may be made to the Alberta Heart and Stroke Foundation (100-119 14th Street NW Calgary, Alberta T2N 1Z6.)
Funeral services will be held Saturday, May 27, 2023 at 1:00 P.M. at the Stettler Funeral Home 4707 – 70th Street, Stettler AB.


Share Your Memory of
Vernon