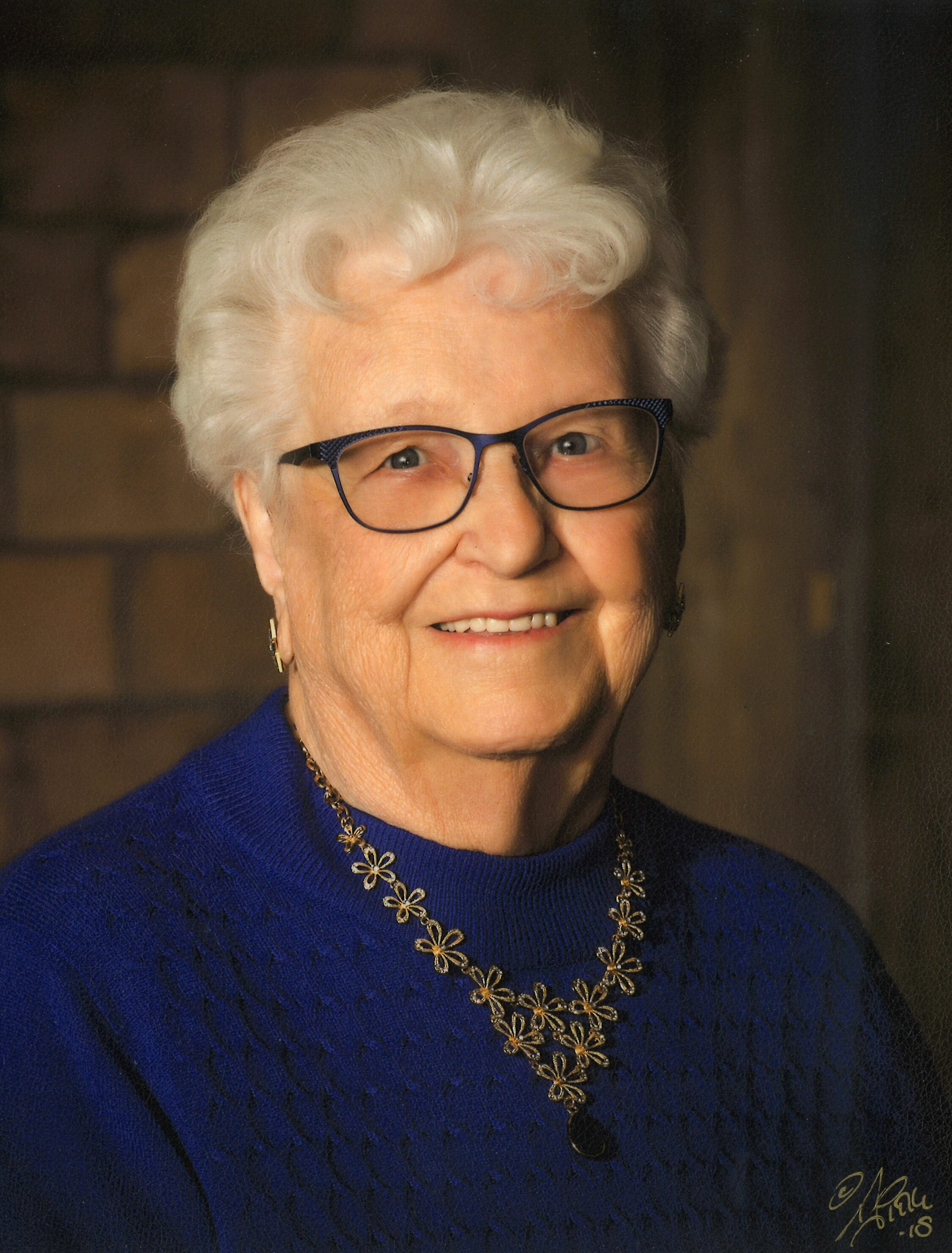 Celebration of Catherine's Life
2:00 pm - 3:00 pm
Saturday, January 28, 2023
Consort Knox United Church
0000-00
Consort, Alberta, Canada
Celebration of Catherine's Life

Get Directions


Obituary of Catherine Wiechnik
Please share a memory of Catherine to include in a keepsake book for family and friends.
In Loving Memory of Catherine Wiechnik
February 8, 1923 ~ January 20, 2023
Left to cherish Catherine's memory are her loving family, son Jim and his wife Patricia and family, Kristy and Blaine Brigley and children: Everly, Calla and Aria; Stephanie and Jon Crabb and children Reid and Noa; Danica and Trevor Deagle and children: Noelle, Davyn and Quinton; Mark Wiechnik; daughter Brenda and her husband Rick Deleff and family, Nick and Danielle Deleff and children Rachel and Gavin; Megan and Jackson Beynon and children Charlotte and Amelia; Jonathan Deleff.
Catherine was predeceased by her husband Edward, sons Donnie and Robby, daughter Betty, granddaughter Amy, siblings: Marie, Jessie, Leila, Nancy, Pauline, John, Mike, George.
Catherine was born Feb 08, 1923, near Elk Point. She was the eighth of nine children of Nick and Anna Stetsko, who had immigrated from the Ukraine. It is difficult to summarize in few sentences a life that spanned nearly 100 years as she had a full life. She experienced hardship, heartache, and hard work but also many joys and happy times. She encountered several tragedies in her lifetime but always faced them with courage, acceptance, and a resolve to carry on.
Life on a homestead in the 1920s and 30s meant a lot of hard work and some lean times, but all the kids helped with gardening and hunting for food. However, Catherine and her siblings did not consider themselves poor and would say "we were just like everybody else". I guess they were just rich in other ways. These times instilled in her a sense of thrift and resourcefulness which served her well throughout her life. She was the original recycler and never threw out anything that may have a future useful purpose. Catherine had a strong lifelong bond with all her siblings and even as they grew up and moved far apart, they managed to stay close and get together for special occasions and what celebrations they were! The first Stetsko family reunion in 1978 with her grandfather's descendants numbered over 600. There was no shortage of food, especially the Ukrainian dishes of their childhood. Catherine started school at the same time as her sister Pauline who was only 1 year older. Ukrainian was their first language, but it was forbidden at school. One day in the excitement of playing a recess game shouted out in Ukrainian "here they come" and was immediately stricken with fear that she would get the strap next day when her usual teacher returned from sick leave. After a sleepless night the day went by, and it appeared that the older student who had replaced the teacher must have "forgotten" to relate the incident. She soon learned English and excelled in her schoolwork. At 99, she could still recite long poems that she had learned as a child. Her father passed away when she was 13 and she took a job with a family to allow her to finish her grade 9 education. She juggled household chores, milking cows and looking after the children then literally running to school to get there in time. She sometimes missed school to stay back if a child was sick. She passed her grade 9 exams but was denied a certificate because she had missed too many days of school. Her lack of formal education never held her back. She was always well read and well informed on a variety of subjects and could do almost anything.
Catherine met Ed Wiechnik from Monitor who was farming in the Elk Point area. They were married in 1940 and returned to the Monitor area. It was quite an adjustment for her to come from the wooded area around Elk Point to the treeless prairie. They started their life with virtually nothing, but Catherine worked alongside Ed to eventually establish a successful farming operation that Jim has now taken over. In the early days, Ed would run the binder and she would stook, but her allergies were getting the best of her, so she offered to switch jobs with Ed. "Do you think you can?" he asked. The word "can't" didn't exist for Catherine, she only asked herself "how" can I do this and of course she ran the binder. The trusty Ford 8N tractor was her go-to, whether moving or checking cows, tilling the garden or raking hay. Catherine grew a large garden, picked wild saskatoons and raspberries, raised chickens and other farm animals and was pretty good shot bringing down wild game. Catherine was an accomplished sewer and made clothes for her family. Their first child Donnie was born in 1943, but sadly passed away in 1945. Betty was born in 1947. Children with special needs were not integrated in the school system at that time and Catherine patiently nurtured and taught Betty at home until her teens when she went to live at Deerhome. Jim was born in 1956, Brenda Joan in 1957 and Rob in 1961. In 1960 their home was lost to fire and again in 1966 they lost their home to a propane explosion. After much thought and careful planning, she designed a new home which they built in 1967. Tragedy struck again in 1977 when we lost Rob. Despite incredible losses she carried on and was delighted with the addition of a son-in-law, daughter-in-law and grandchildren who meant the world to her.
Ed passed away in 1988 and one year later she was ready to leave the farm behind and start the next chapter of her life. At age 65 she got her driver's license and moved to the town of Consort. We were all fortunate that she was able to buy a house right next to the school. She quickly set her sights on improving her yard and garden until it was picture perfect. She had a fence built, but built her own arbour, and fishpond and designed more flower beds. She added shrubs, trees and especially roses. She started flowers and vegetables in her greenhouse for her own yard, but also gave away many plants. She delighted in decorating her house and yard for Christmas and Halloween with her amazing homemade decorations. Catherine won many yard beautification and Christmas decorating contests. In her retirement she was able to enjoy more of her hobbies like cake decorating, sewing, crocheting and crafts, and she took up art after watching a painting show on TV. However, Catherine's greatest joy in life was looking after her grandchildren. It was a blessing that she lived close enough for the grandkids to walk to her house after school and often she had all seven of them there at the same time. Patricia insists that it is only because of Catherine that she was able to continue her nursing career. Catherine happily chauffeured her grandkids in her Jeep Wagoneer to their sports and activities and beamed with pride in their accomplishments.
When the grandkids were finally grown, Catherine again was ready for another chapter of her life and left her beloved yard behind for a room in the Lodge. She enjoyed the company of old friends, made new friends, and found a special bond with Dina who was the granddaughter of lifelong friends. She joined the rhythm band, enjoyed many outings and crafts, planted flowers, and enjoyed church services and movies. She completed hundreds of jigsaw puzzles by herself and with other residents using a carefully worked out system of sorting. Often there would be one piece short, and she would laughingly accuse Robbie of holding back when she sorted them. What she looked forward to most of all was chair hockey where her competitive spirit came out in full force. Her family apologizes for any injuries that she may have caused during hockey. When activities were shut down and her mobility declined, she turned to Sudoku and crossword puzzles and was an avid reader. She treasured visits with family, especially the grandchildren and 12 great grandchildren.
Catherine saw a great deal of change in her almost 100 years of life from horse and wagon to jet aircraft and space travel, from cash transactions to bank cards and direct deposit. Farming practices have changed from the days of horses and plows to mega tractors and drills, from tillage to chemical burnoff, summer fallow to continuous cropping, from threshing crews to huge combines, but Catherine was interested to learn of them all.
Catherine was an amazing lady with tremendous character who treated others with kindness and respect and always put others before herself. Throughout her life she spent countless hours volunteering in the communities of Monitor and Consort and was rewarded with a community that loved and respected her in return. Her resilience and ability to adapt to any situation and face each day with positivity in the face of adversity was remarkable. We will miss her.
Donations in Catherine's memory are gratefully accepted to the Monitor Cemetery or Consort Lodge.


Share Your Memory of
Catherine