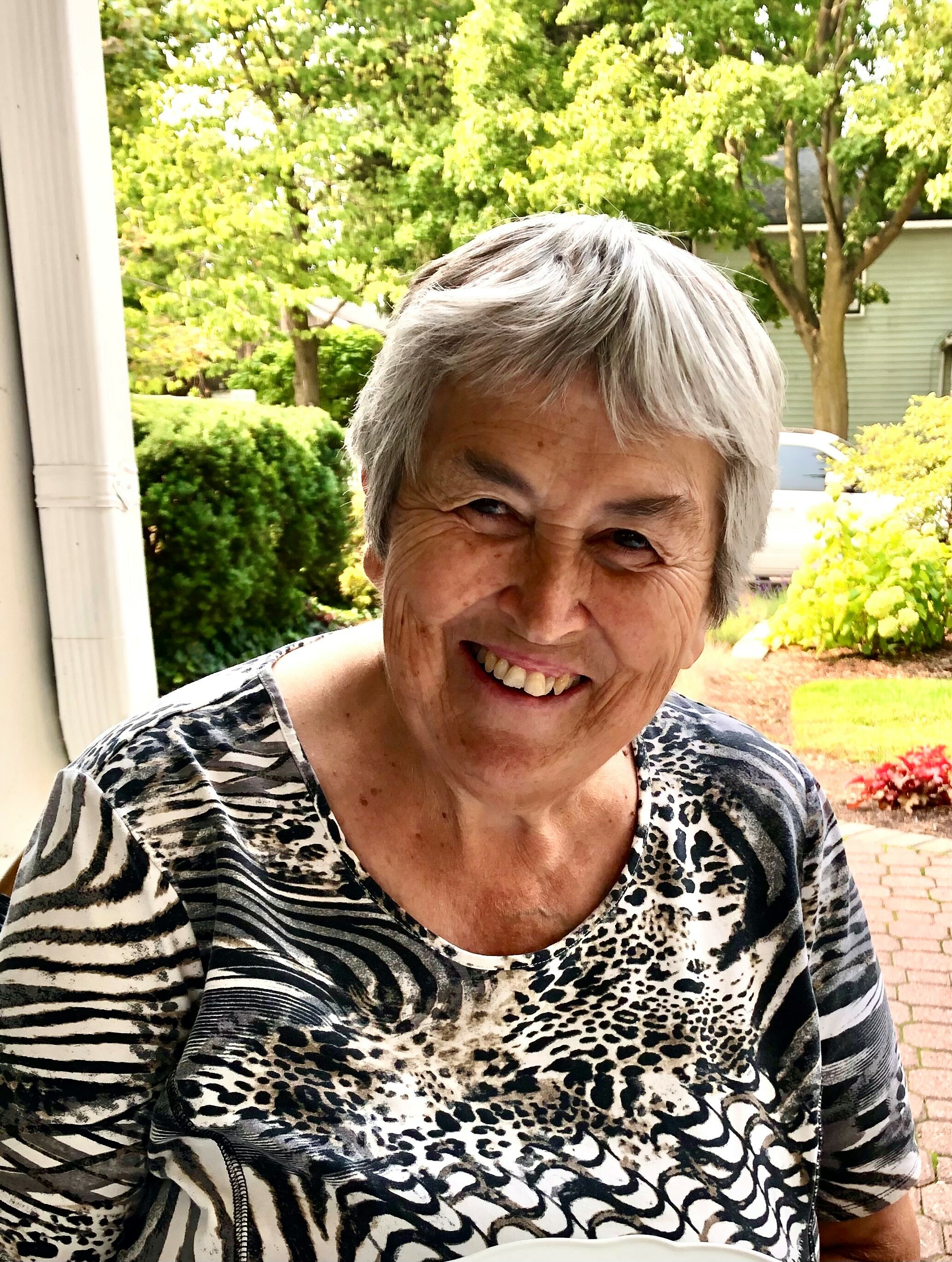 Funeral Mass
11:00 am - 12:00 pm
Friday, November 18, 2022
Christ-King Catholic Church
4916-54 Street
Stettler, Alberta, Canada

Get Directions


Obituary of Sharon Lee Sommer
Please share a memory of Sharon to include in a keepsake book for family and friends.
Sharon Lee Sommer
(May 11, 1949 - November 11, 2022)
Sharon Lee Sommer was born in Daysland, Alberta to Victor and Phyllis Gabruck. She grew up on the farm with sisters Lyn and Lori, and enjoyed playing pond hockey with cousins and high school basketball. She met the love of her life Lamont (Monty) Sommer in 1966 on a government sponsored exchange program to Quebec the summer before their grade 12 year. They graduated together from Daysland High School and both moved to Edmonton. Sharon attended NAIT and trained as an x-ray technician. They started dating the summer after their first year in Edmonton and married two years later on August 29, 1970. Sharon and Monty moved to Stettler in 1971. Sharon worked as an X-ray technician before starting a family and dedicating her life to raising their three kids Jeff, Karla, and Ryan.
Sharon loved watching her kids play their various sports and never missed an event. She was actively involved in the community and volunteered with the Catholic Women's League, the Church, and spent many years as the treasurer of the Stettler and District Food Bank. She and Monty loved camping with their kids and spent many summers with their trailer at lakes and campsites around Alberta and BC. They also enjoyed world travel, visiting places such as Hawaii, Thailand, Japan, India, Holland, Panama, Tahiti, and numerous islands in the Caribbean. They travelled to Eastern Canada several times and various places in the Southern United States and Mexico. Disneyland with her kids and grandkids was a favourite travel destination. Sharon's Christmas tree was always adorned with ornaments that she collected from these memorable trips. She loved decorating the house for every holiday and season; bunnies at Easter, pumpkins for Halloween, and MANY Santas, snowmen and nativity scenes for Christmas. These decorations are part of what made the holidays special for anyone who visited their home.
Having grown up on a farm, Sharon was a country girl at heart. So in 2001, she and Monty bought their acreage just outside of Stettler. Sharon was able to have the large flower and vegetable garden that she had always dreamed of. What she wasn't counting on, was all the crows and magpies. She had hung many bird feeders and loved watching the blue jays, goldfinches and chickadees that would come visit. But when it came to the magpies, we're certain all the neighbours could hear Sharon yelling out the window "get the hell out of here". And when that didn't work, Monty had to get his gun.
Sharon loved to garden. Her family and friends enjoyed the produce from her garden all summer long and all winter long, the family would enjoy the salsa, pickled beets and, dill pickles and carrots and jams from her labour of love. These treats from her kitchen only scratched the surface of the blessings that she outpoured through her cooking. She provided a second home for many nieces, nephews and friends of her children and hosted countless large family gatherings. She could always be counted on to provide an abundance of food and snacks for any occasion, even greeting crews of teenagers with late night nachos or chicken fingers when they came in from a party at 2am. Her collection of cookbooks and recipe magazines could rival Martha Stewart (as could her cooking!).
The only thing Sharon loved better than being a mom, was being a grandmother. Her collection of Disney VHS movies kept her 9 grandchildren thrilled for hours. She kept many of her own kids toys (Lego, Barbies, Star Wars figurines and Strawberry Shortcake dolls) and her grandkids have enjoyed these just as much as her own kids did. It brought her great joy to spoil her grandkids and she never missed an opportunity to find the perfect outfit or treat that would bring a smile to their faces. She attended as many of her grandchildren's activities as she possibly could, travelling many miles across the province and country to attend swim lessons, gymnastics, baseball, hockey, ringette, choir concerts, etc. She remembered details about upcoming games, previous events and players and friends in their lives, always being able to connect with her grandkids in conversations.
Sharon has always had a wonderful group of supportive friends. They spent countless mornings meeting for coffee at the A&W. She also had a group of friends that would meet for brunch after Sunday mass. Sharon always had a cup of coffee waiting for any friend or neighbour who would stop by for a chat. She loved playing cards and games with family and friends and was happiest when Monty lost.
Sharon was a gentle, loveable woman who was always thinking of others before herself, always giving generously of her time and talents and who touched the lives of many through her love and selfless actions. Heaven gained a remarkable soul like no other when God called Sharon back to himself.
Sharon lost her battle with cancer on Remembrance Day. She died peacefully at home with Monty and family by her side. Sharon was predeceased by her parents Victor and Phyllis. She is survived by her husband Monty, sisters Lyn (Tom) Kroetch, Lori (Warren) Kirchner, children Jeff (Jenny) Sommer, Karla (Cory) Millar, Ryan (Meighan) Sommer, grandchildren Emma, Katie, Daniel, Sara, Avery, Johanna, Mackenzie, Madison, and Emerson, and many sister and brother-in-laws, aunts and uncles, nieces, nephews and cousins.
Funeral Mass
Friday, November 18, 2022 at 11:00 A.M.
Christ King Catholic Church, Stettler, Alberta
Luncheon to immediately follow in the
Stettler Community Hall
Donations in memory of Sharon are gratefully accepted to Alberta Cancer Foundation (Cross Cancer Institute, 11560 University Drive Ave. Edmonton, Alberta T6G 1Z2) Stettler Health Services Foundation ~ Stettler Home Care (Bag 500, Stettler, Alberta T0C 2L0) or to the Christ-King Catholic Parish (Box 368 Stettler, Alberta T0C 2L0) Canada Helps


Share Your Memory of
Sharon