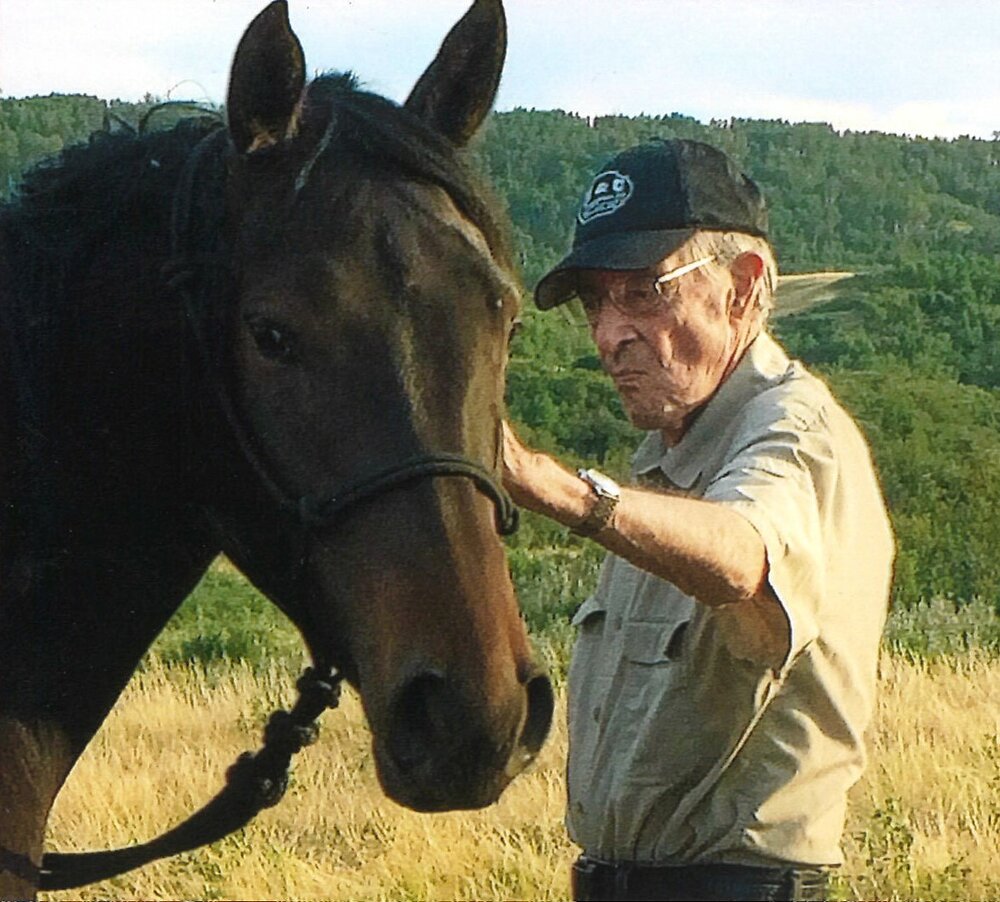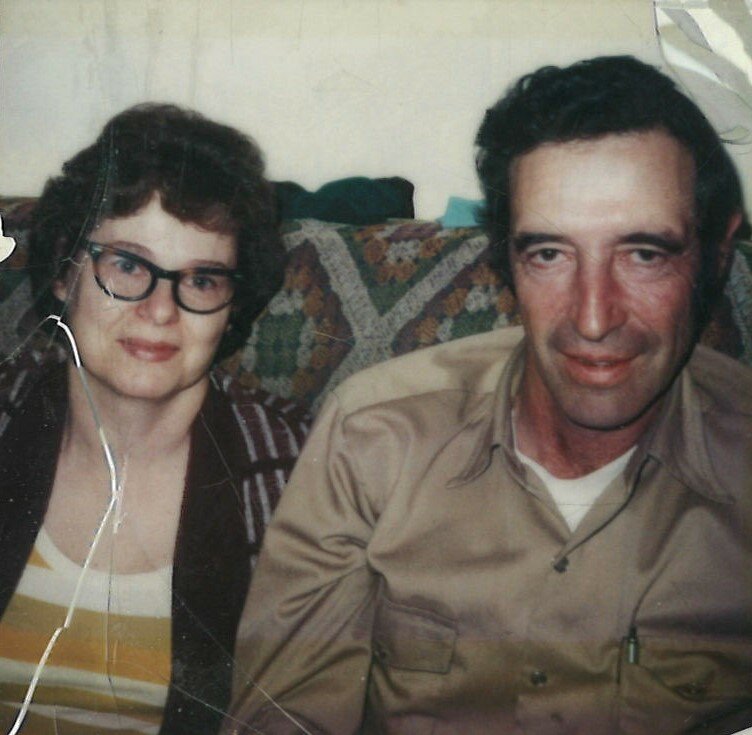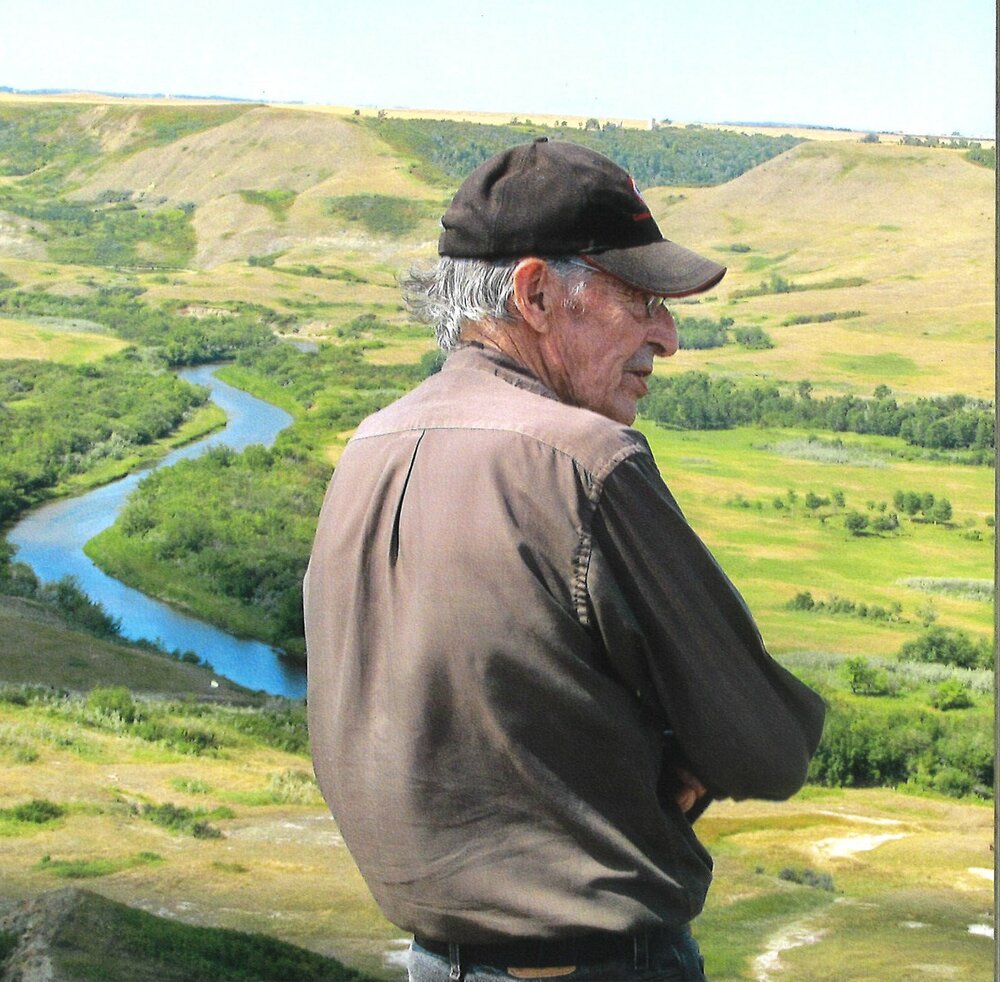 A Private Family Funeral Service will be held in the spring of 2023.
Served by Parkview Funeral Chapels & Crematorium
5018 Royal Street
Coronation, Alberta, Canada

Get Directions


Obituary of Archie Brown
Please share a memory of Archie to include in a keepsake book for family and friends.
In Loving Memory of Archie Brown
January 2, 1929 ~ November 11, 2022
In loving memory of Archibald Malcolm Brown who passed away on November 11, 2022.
Archie was born in his grandparent's log home in Brownfield on January 2, 1929 to Mac and Lottie Brown, to the delight of his big sister Frances.
Archie attended Minot School, riding double with his sister Frances on their horse Buck in the winter months and in fairer weather, they drove a cart with Buck and picked up the Murphy kids and the Williams' girls to get everyone to school. When Archie attended Rough Meadows School, he met up with his Lindmark cousins everyday for the journey. Archie boarded in Coronation to attend High School, eventually leaving school at 17 years old to take over the family farm on the early death of his father. Archie's cousin Billy Lindmark spent many hours working at the farm with Archie and Lottie.
On January 25, 1963, Archie married Sheila Merchant of Coronation. Archie and Sheila were blessed with 5 children: Darren, Craig, Jay, Laurie and Cam.
Many happy years were spent on the farm busy with children, work, sports, family and friends. Archie and Sheila had the opportunity to travel from time to time, visiting Hawaii, the Maritimes, Alaska, Phoenix, and finally Cuba for Jay and Sita's wedding.
In 2008 Archie was honoured to be asked to throw out the ceremonial pitch to start the Midget Provincial Tournament finals at Burma Park. Sports were always a big source of enjoyment to Archie, who spent many hours watching his children and then grandchildren curl and play baseball. The Toronto Blue Jays were a favorite of Archie's. Candy kindly made a family calendar every year for Archie full of pictures of all his kids and grandkids complete with the entire Blue Jays schedule on it.
In 2014 Archie was diagnosed with cancer of his kidney and surgery was scheduled to remove his kidney. About a week before his surgery, Archie decided he would take the quad on a windy miserable day to check yearlings on the Nelson Creek and ended up rolling the quad on an embankment and pinning himself beneath. The broken taillight was stuck in his leg and the muffler was burning him. Realizing he had his cell phone with him, he tried to get help…no service! He said that he lay there contemplating the irony that he had thought the cancer would be the end of him, not a quad. Then he remembered his trusty pocketknife and used it to dig under his hip and dig himself out from beneath the quad. He crawled up the bank and thankfully had cell service! Once Archie reached Jill at the farm, help came roaring from all directions. Archie brushed off all attempts at taking him to the doctor and even tried to hide his injuries and bruising at his pre-operation appointment shortly thereafter. He ultimately showed the doctor his injuries; his kidney removal was promptly postponed, and the surgical team renamed him Clint Eastwood. Archie eventually came through the kidney removal with flying colors!
Archie continued to live on the farm and maintain a keen interest in all that was happening. The last few years he was very happy to get to have lots of memorable rides in Craig's covered wagon pulled by a beautiful team of horses. A couple years ago, he even got to re-experience using the team and sleigh with John Forrest, Wanda and Archie Merchant, and Craig and Jill to pick up square bales from a field.
Archie lost the love of his life when Sheila passed away Christmas 2018. He continued to live at the farm until his health declined to the point that he needed to move into Coronation DSL in February 2022. Archie was once again living with his sister Frances! He settled in quickly to life in DSL and was always very happy to receive visits from friends and family. He continued to go out with family to watch baseball and attend many family get-togethers. He adapted easily to his oxygen tanks and didn't let it stop him from being with his family. Archie enjoyed renewing old acquaintances and making new friends in DSL and was especially fond of all the staff who took such kind care of him and took an interest in him as an individual.
Predeceased by his mother and father, Lottie and Mac Brown, his brother in law Tom Forrest and his wife Sheila Brown; Archie is survived by his children: Darren (Colleen) Brown, granddaughter Amanda Brown and her sons Kaiden, Tristan and Jaxon and grandson Adam Brown and his partner Ann-Marie and their son Luka Brown; Craig (Jill) Brown, grandson Brandon Brown and his fiancé Kalene Gould, grandson Daniel Brown and his fiancé Tanya Gilchrist; Jay (Sita) Brown and grandsons Jessye and Liam Brown; Laurie (Jim) Burchell and grandsons Mack and Joel Burchell; Cameron (Candy) Brown, granddaughter Erin Brown (Mac Brennan) and grandson Dylan Brown (Morgyn Jordahl); his sister Frances Forrest; nephew John (Jeannette) Forrest and many nieces, nephews and friends.
At Archie's request, no funeral will be held. If you wish, donations may be made in Archie's name to Coronation Hospital Foundation or a charity of your choosing.
Parkview Funeral Chapels & Crematorium
403-882-3141 or 403-578-3777
"Every life lived is worthy of a celebration"
Dean Ross Corinne Adair Shannon Shirley Calvin Blauel Matthew Kneeland Makyla Hiemstra


Share Your Memory of
Archie