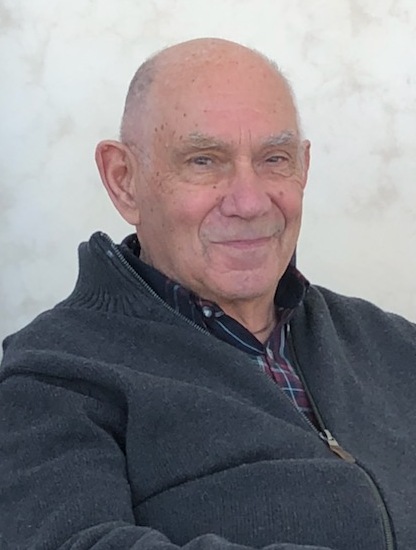 Funeral Service
1:30 pm - 2:30 pm
Thursday, October 20, 2022
St. Peter Evangelical Lutheran Church
5712-48 Avenue
Stettler, Alberta, Canada
403-742-3211

Get Directions


Obituary of Glenn Cruikshank
Please share a memory of Glenn to include in a keepsake book for family and friends.
In Loving Memory of
Glenn Cruikshank
May 28, 1939 ~ October 12, 2022
Glenn is survived by his daughter
Colleen Cruikshank of Ft. Saskatchewan, AB;
son Gordon (Kenda) of Sherwood Park, AB
and their daughter Sophie;
sisters in law Marilyn Cruikshank,
Laurette Chartrand;
numerous nieces, nephews, other family
and a host of dear friends.
Funeral services will be held
Thursday, October 20, 2022
at 1:30 PM
St. Peter Lutheran Church
Stettler, AB
Memorial donations are gratefully accepted to St Peter Lutheran Church Memorial Fund
To the community of Stettler
I would like to thank everyone for the special place you held for my parents Glenn & Genevieve Cruikshank. They arrived in Stettler in 1965 and called Stettler home for 57 years. Their involvement in the community ranged from the Canadian Cancer Society, the Stettler Apollo Lodge, the Stettler Help Line, the Anglican Church Women, the RCMP, the Stettler Senior's Choir and Lutheran Choir, the Geneology Club and many more organizations. I want to extend my deepest thanks to Stettler Homecare and Elaine, Tanya and the incredible staff at Paragon Place. Your professionalism, compassion and care for Glenn made an easy transition into life at Paragon Place. I couldn't have asked for better care and support for him. As well, I personally would like to thank 'The Senators and their wives,' the AGT men, the Lutheran Church and Dad's devoted neighbors

for your kindness over the years.
Colleen Cruikshank
Come To Me by Rhonda Braswell
God saw you getting tired
and a cure was not to be
so he put his arms around you
and whispered, "Come to Me"
With tearful eyes we watch you
and saw you pass away
and although we loved you dearly
we could not make you stay.
A Golden heart stopped beating
hard working hands at rest.
God broke our hearts to prove
He only takes the best.
It's lonesome here without you
We miss you so each day,
Our lives aren't the same
Since you went away.
When days are sad and lonely,
And everything goes wrong,
We seem to hear you whisper,
"Cheer up and carry on."
Each time we see your picture,
You seem to smile and say,
"Don't cry, I'm in God's keeping,
We'll meet again someday."
.
Stettler Funeral Home & Crematorium
403-742-3422
Directors: Dean Ross, Corinne Adair, Shannon Shirley,
Calvin Blauel, Matthew Kneeland, Makyla Hiemstra


Share Your Memory of
Glenn