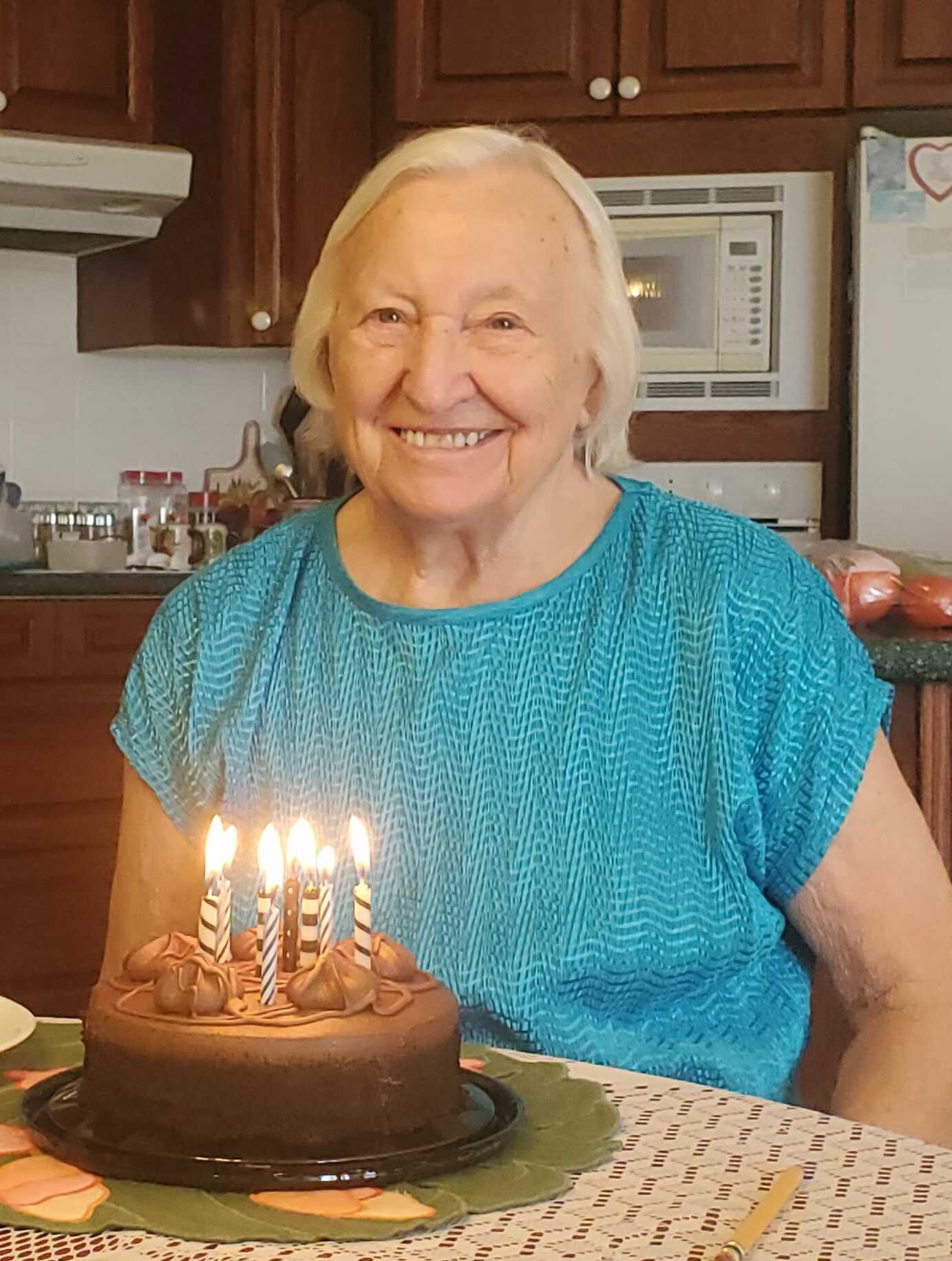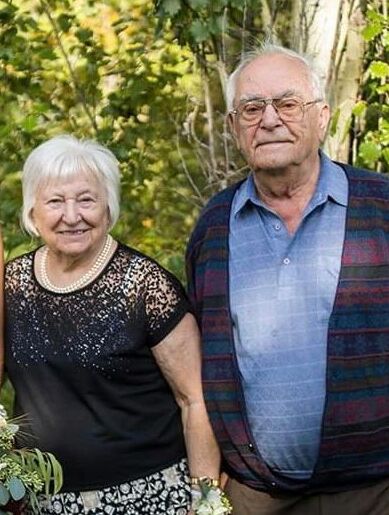 Celebration of Toni's Lfe
1:00 pm - 2:00 pm
Friday, October 14, 2022
Stettler Funeral Home & Crematorium
4707-70 Street, P.O. Box 1780
Stettler, Alberta, Canada
403-742-3422
Celebration of Toni's Lfe

Get Directions


Obituary of Toni Ziegler
Please share a memory of Toni to include in a keepsake book for family and friends.
Antonia (Toni) Ziegler
October 4, 1934 ~ October 3, 2022
Antonia (Toni) Ziegler was born on October 4, 1934 in Korist, Poland, to Wilhelm and Olga (Mueller) Lewandowski. She was one of nine children of whom only five survived to adulthood: Milda, Theresa, Toni, Erwin and Hildegard.
Her younger years were filled with happiness and peace for her family. Her parents were farming and lived a God-fearing, Christian life that influenced her young life. WWII brought many difficult changes. The family was forced to relocate several times. In January 1945, while his family fled to Bremen, West Germany, Wilhelm was captured and placed in a Russian prisoner of war camp near Minsk, where he died of starvation in the fall of 1945 when Toni was only 11 years old. These traumatic events changed her family's life completely. In Bremen, the church that Toni attended regularly sponsored evangelistic crusades with a special speaker. It was during one of these crusades, on November 5, 1947, that Toni became a Christian and began to follow the Christian teaching. She was baptized on April 7, 1948 by Reverend Fleishcher. After living in Bremen for several years, in 1948, Toni's mother Olga immigrated to Canada with her children, hoping to establish a new life. They were graciously sponsored by the Ertman family of Wetaskiwin, Alberta. The family eventually settled in Edmonton, Alberta and made Central Baptist Church their new spiritual home. It was there that Toni found support and grew in her faith.
Toni met her future husband, Arthur Ziegler, while attending Central Baptist Church. They were married on June 2, 1956 in Edmonton and in the spring of 1957 they moved to a farm near Stettler, Alberta. Toni and Arthur were blessed with four children: Herb, Ken, Donna and Carl. Because of the quiet farming lifestyle they could teach their children the Christian faith in peace and for about the next fifty years they made Stettler Baptist Church their spiritual home.
Toni was a faithful wife to Arthur for over 64 years. She was an essential support to him in their farming endeavours. Once her children were raised she began a new endeavour where she owned and operated Heartland Jewellery in Stettler for thirteen years.
For health reasons, Toni and Arthur relocated to Calgary, Alberta in 2002 and lived there for about seventeen years. They were very grateful to God for His many blessings and for His leading in their lives.
In June of 2019 Arthur and Toni relocated once again to a senior's residence in Red Deer, Alberta where they resided until Arthur's passing in December 2020, after which Toni returned to Calgary for a short period of time. She later returned to the senior's residence in Red Deer. In July 2022 Toni was admitted to the Red Deer Hospice center where she passed away on Monday, October 3, 2022 at the age of 87. Her children visited with her every day during that period of time.
Toni was predeceased by her parents, Wilhelm and Olga Lewandowski, her husband, Arthur and one sister, Milda Gretzinger. She is survived by her children: Herb (Karen ) Ziegler, Ken (Ruth) Ziegler, Donna (Gary) Horton and Carl (Roxanne) Ziegler; her grandchildren: Allan (Karla) Ziegler, Russell (Laura) Ziegler, Melody (Michael) Walters, Thomas (Kirsten) Ziegler, Kathleen (Joel) Entz, Erika (Tanner) Green, Ryan Horton, Tyler (Kaitlynn) Horton, Carissa (Chris) Stagg, Kayla (Kris) Stauffer, Joel Ziegler and his fiancée, Deepa and Julia (Phil) Benade; nine great grandchildren; brother Erwin Lewandowski, and sisters Theresa Diewert and Hildegard (Senno) Krinke; numerous nieces and nephews and other close friends.
A celebration of Toni's life will be held on Friday, October 14, 2022 at 1:00 P.M. at the Stettler Funeral Home, Stettler, Alberta. Donations in memory of Toni are gratefully accepted to the Red Deer Hospice Society (99 Arnot Avenue, Red Deer, AB T4R 3S6) or Stettler Hospice Society (P.O. Box 880, Stettler, AB T0C 2L0).


Share Your Memory of
Toni