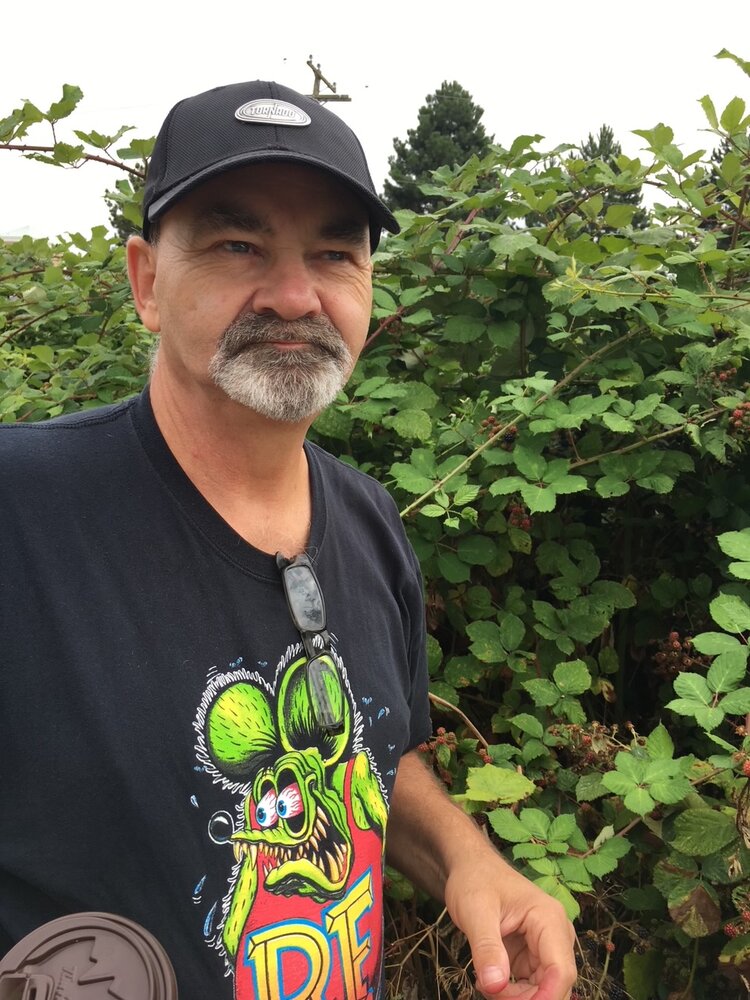 Come and Go Memorial Gathering
3:00 pm - 5:00 pm
Saturday, April 2, 2022
Stettler & District Agricultural Society
4516-52 Street
Stettler, Alberta, Canada

Get Directions


Obituary of Richard Allen Logan
Please share a memory of Richard to include in a keepsake book for family and friends.
Richard Allen Logan was born in Rimbey, Alberta on October 5, 1958 to Daisy and Robert Logan. Rick was the fifth son after Bobby, Vern, Don, and Les; He was blessed with one younger sister, Sue. Rick always thought it was his job to take care of his little sister. Rick was a curious little kid who was the one who would always go and talk to anybody. One day, walking down the street in Bashaw, he saw an old fella smoking fish in his backyard. Rick was so curious and asked so many questions that soon they became friends. Ellis often took Rick and his buddies fishing. Later, Ellis became Rick's step grandpa. After Rick's dads passing, his mom married Arnold Johnson. Arnold and Rick became great friends. They would do lots of fishing and hunting together.
In 1984 Rick married Val Vert. During their marriage they lived in Bashaw and raised three children: Robert, Carla, and Colin. They once had a dog that was so protective of Robert that the dog wouldn't even let Rick close to Robert's crib. Carla was a great help to Rick with dressing the deer he'd shot; this of course, was before she became too girly. Rick would have Colin help him work on cars. When Colin was still small enough, Rick set him between the grill and the bumper of a car and had Colin remove the trim pieces. Now Colin loves to buy/sell and work on cars in his own time too.
Rick was active in the community; he was part of fish and game, was on the Bashaw town council, and once he obtained his journeyman autobody technician, opened his own business, Logan Autobody.
Due to health problems Rick changed careers in 1999, joining Jiro as a welder. His job at Jiro led him to move from Bashaw to Redcliff. While living in Redcliff, Rick offered to help Jo Markusson complete some renovations on her house. Once you survive renovating a bathroom with somebody, you know you can live with them forever. Jo and Rick then spent the next two decades together.
Rick and Jo enjoyed spending time camping, quadding, snowmobiling, and he even tried to get Jo to hunt with limited success. She was happy to come along; but didn't want to shoot anything.
Rick and Jo moved back to Stettler, and shortly thereafter he met the true love of his life "Jack" - a Jack Russell terrier who was Rick's best friend, constant companion and emotional support; especially during the last years of his illness.
Rick was excited once the grandkids starting arriving. Destiny, Brody, Shyla, and Rori all brought him a great deal of joy. He enjoyed teaching the kids about the things he loved and always loved doing projects with them. He taught Destiny to shoot the pellet gun at the cabin in Nordegg. Always with safety first, of course! He taught Rori & Shyla to drive the quad and lawnmower at the farm and he would have Brody help him with snowmobile repair projects.
Later in life Rick started collecting 1960s and 1970s vintage Arctic Cat snowmobiles and memorabilia. He was so passionate about this hobby that Jo had to restrict the amount of "stuff" he brought home to that which would fit within their buildings. Through this passion he made some really good friends.
Rick deeply missed by his family and friends.
Rick is survived by his loving family: spouse Jo Markusson; son Robert Logan; daughter Carla Logan (Darren O'Reilly) and children Destiny and Brody Logan; son Colin Logan (Jessie Wilton) and children Shyla and Rori Logan; siblings Robert "Bob" Logan, Bern Logan, Don (Joan) Logan and Susan Logan.
Rick was predeceased by his parents Daisy and Robert and a brother Les.


Share Your Memory of
Richard