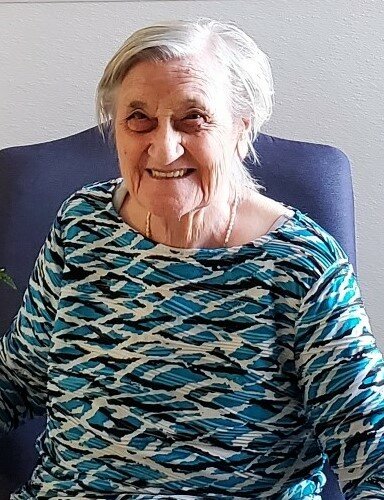 Obituary of Barbara Joan Bengert
Please share a memory of Barbara to include in a keepsake book for family and friends.
Barbara Joan Bengert
1931 - 2022
Barbara Joan Bengert passed away peacefully at her home in Points West Living in Stettler, AB, on February 22, 2022 at the age of 91.
Barbara was born January 3, 1931, in St. John, New Brunswick, to parents Ethelbert and Maryetta Daye; the lone sister to three brothers. In 1952, Barb joined the Royal Canadian Air Force where she worked as a supply technician. While stationed in Comox, British Columbia, she met her future husband, Nick Bengert. The couple were married on April 6, 1956, at which time Barb resigned from the Air Force. While living in Comox their first son, Stephen, was born. After Nick resigned from the Air Force in 1960, the family relocated to Gravelbourg, Saskatchewan, where Nick worked as a farmhand and Barb worked as a mother and housewife. It was while in Gravelbourg that their daughter, Betty, was born. In 1968 the family moved briefly to Regina and their youngest son, Ken, was born during their time there. In 1969 they moved to Alberta and lived for a few years in the Big Valley area where Nick worked as a farmhand for both Wilbur Stewart and Charlie Laisnez, before moving to Stettler where he began his career with the County of Stettler.
Once all of her children were in school, Barb returned to the workforce and enjoyed her time working at the SAAN store and Thirsk's before retiring in 1991. Nick retired from the County of Stettler in 1995 and in 2000 the couple moved to Willow Creek Lodge where Barb remained through 2020. Barb thoroughly enjoyed living in the Lodge where she made many lasting friendships. She enjoyed the many activities that the Lodge would partake in. She played a mean set of spoons in the Lodge band and always came home richer after playing the nickel slots on trips to the casino. Barb was an avid walker and could often be seen walking out in the community or doing laps around the Lodge. She loved jigsaw puzzles and a good Harlequin Romance novel. She had a large spoon and pin collection which she proudly displayed. Barb kept journals for many years and was always more than happy to pull them out to solve any disagreement as to what the weather had been on a particular day or when a particular event had occurred – everyone learned pretty quickly not to argue with mom/grandma about such things! Due to declining health, Barb moved to Points West Living in January 2021 where she received wonderful care until her passing.
Barbara was predeceased by her husband, Nick, her brothers and parents.
Barb is survived by her children: Stephen (Cheryl) Bengert, Betty (Gene) Pennock, and Ken (Peep) Bengert; grandchildren: Courtney (Wade Thompson) Bengert, Erin (Shane LaRose) Bengert, Katie (Lance) Suntjens, Holly Pennock, Cade (Alyssa) Bengert, Mark Bengert and Morgan Bengert; great-grandchildren: ShanaRae, Chloe, Van, Rhett and Sophie, as well as numerous other relatives and many dear friends. A private celebration of life will be held at a later date.
The family would like to thank the amazing staff at Willow Creek Lodge for the fun and generosity of care that Barb enjoyed over the 20 years that she called Willow Creek home. They would also like to thank the staff at Points West Living for the kindness and high level of support Barb received during her time there.
A private celebration of life will be held at a later date.
Donations in memory of Barbara are gratefully accepted to the Willow Creek Lodge or to Stettler Points West Living.


Share Your Memory of
Barbara