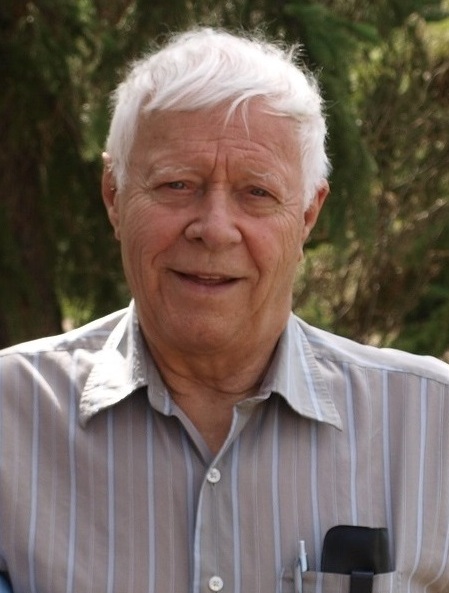 Obituary of Joe Zieglgansberger
Please share a memory of Joe to include in a keepsake book for family and friends.
In Loving Memory of Joe Zieglgansberger
December 21, 1937 ~ February 14, 2022
Mr. Joseph Martin Zieglgansberger passed away peacefully at the Red Deer Regional Hospital with his loving wife and children by his side, on Monday, February 14th, 2022 at the age of 84 years.
Joe was born on December 21, 1937 in Cold Lake, Alberta to Alois & Gertrude (Gratzki) Zieglgansberger. He was the second oldest of seven children. He grew up on a farm seven miles north of Pierceland, Saskatchewan where his parents homesteaded. His first years at school were in a one room rural schoolhouse. Joe had to learn English in these first years, as German was his primary language. At grade 8, he was bussed to Pierceland for the remainder of his school years, and he drove the school bus in grade 11 and 12.
After high school in 1957, Joe went to Teacher's College for one year in Saskatoon, Saskatchewan. From 1958 - 65 he taught various subjects throughout Saskatchewan, in Turtle View, Rook Island, Bear Creek, Demaine, Unity, and Melfort. In 1965 – 67, he attended U of Sask and finished his Bachelor of Education. Then came the highlight of his teaching career – 2 years in Nabumali, Mbale District, Uganda teaching high school mathematics at a co – educational boarding school with 750 students. He was employed by the Department of External Affairs in Ottawa. Joe thoroughly enjoyed his time in Uganda. The students, faculty, safaris and many cultural adventures blessed him with fond memories and stories that he shared his entire life.
In 1969, Joe returned to U of Sask for one year and obtained his Physical Education degree. He also acquired his private pilot's license, as he always had a love of flying. He owned several different planes over the years and often said he should have become a commercial pilot.
1970 – 73 Joe taught high school mathematics in Hay River, NWT. He could be found any night of the week at the local curling club. In 1971, his fellow staff members conveniently arranged for the new, young, female phys ed teacher to carpool with Joe, as he had his own vehicle. Four months later, he and Eleanor Ann Graham were engaged, and they wed in July 1972 in Stettler, AB. They taught one more year in Hay River and then in 1973, Joe and Ann bought the home farm north of Pierceland. Joe took over grain farming operations and taught adult upgrading in Ministikwan (Island Lake First Nation) and shop class in Joseph Bighead (Big Island Lake Cree Nation). Joe and Ann raised four children on the farm; Kimberly (1974), Drew (1975), Mark (1978), Kelly (1979). Joe & Ann both farmed and taught school full time.
Joe was President of the Pierceland Credit Union Board for 21 years, member of Parish Council, member of the Tax Appeals Board for the rural municipality, drove cat and cleared land, had a crop spraying plane, was an avid golfer and curler, Cub Scout leader, helped coach hockey for his two sons, and a chauffeur to his children's many sporting and musical events. He was the rare 'Jack of All Trades' in every sense of the word.
Joe retired from teaching and leased the farmland as hay while he started his next venture of owning and operating "The Fix – It Shop" on Main Street, Pierceland. Joe absolutely loved every moment of this business, as he could be a regular on "Coffee Row" (solving the world's problems), repair and repurpose the community's treasures, and smile & joke with every friendly face that came to see him.
In July of 2005, Joe and Ann sold the farm and moved into town. Joe was ready for retirement and in September of 2008, he sold The Fix – It Shop and officially retired at the age of 71. This allowed more time for golfing, playing cards, telling jokes, listening to classical music, and watching comedies & sports.
Joe and Ann took a few motorhome trips to Arizona, Alaska, throughout BC and Alberta. They enjoyed their cruises to Panama, the Caribbean, and the Mediterranean. Joe loved traveling the world, experiencing different cultures and studying history. He always stated that traveling was an education in itself.
In 2014, Joe and Ann moved to Stettler, Alberta to be closer to family. The last eight years Joe dealt with a few health issues and in December of 2018, he received a pacemaker. January 2019 was the start of a very tough year where Joe beat the odds. His physical strength, spiritual resilience, and true character shone through as a model patient despite very challenging circumstances. He was happy to remain living at home with the support of his family and devotion of his loving wife.
Joe will be sadly missed by his loving family, wife of 49 ½ years Ann Zieglgansberger of Stettler; children: Kimberly Zieglgansberger (Neil Visser) of Vancouver, Drew (Jennifer) Zieglgansberger of Calgary and their children Kristen, Jordan, Lauren and Josh, Mark Zieglgansberger of Edmonton, and Kelly (Mike) Sulzle of Lacombe and their children Gillian and Jade; brothers and sisters: George Zieglgansberger (Cari Houmann) of Sun City, AZ, Deanna (Ken) Schamber of Goodsoil, SK, Linda (Rino) Bellini of Surrey, BC, Bob (Andrea) Zieglgansberger of Swan Lake, BC, and Randy (Judy) Zieglgansberger of Grande Prairie; brother in law Tom Skoreyko of Red Deer; mother in law Rose Graham of Stettler; brothers in law Ken Graham of Stettler and Carl Graham of Mirror, numerous nieces, nephews, other family and many dear friends.
Joe was predeceased by his parents Alois and Gertrude Zieglgansberger, sister Trudy Skoreyko, sister in law Marolyn Zieglgansberger, father in law Bill Graham and brother in law Keith Graham.
A formal funeral service will not be held at this time. Donations in memory of Joe are gratefully accepted to Stettler Health Services Foundation or a charity of the donor's choice.