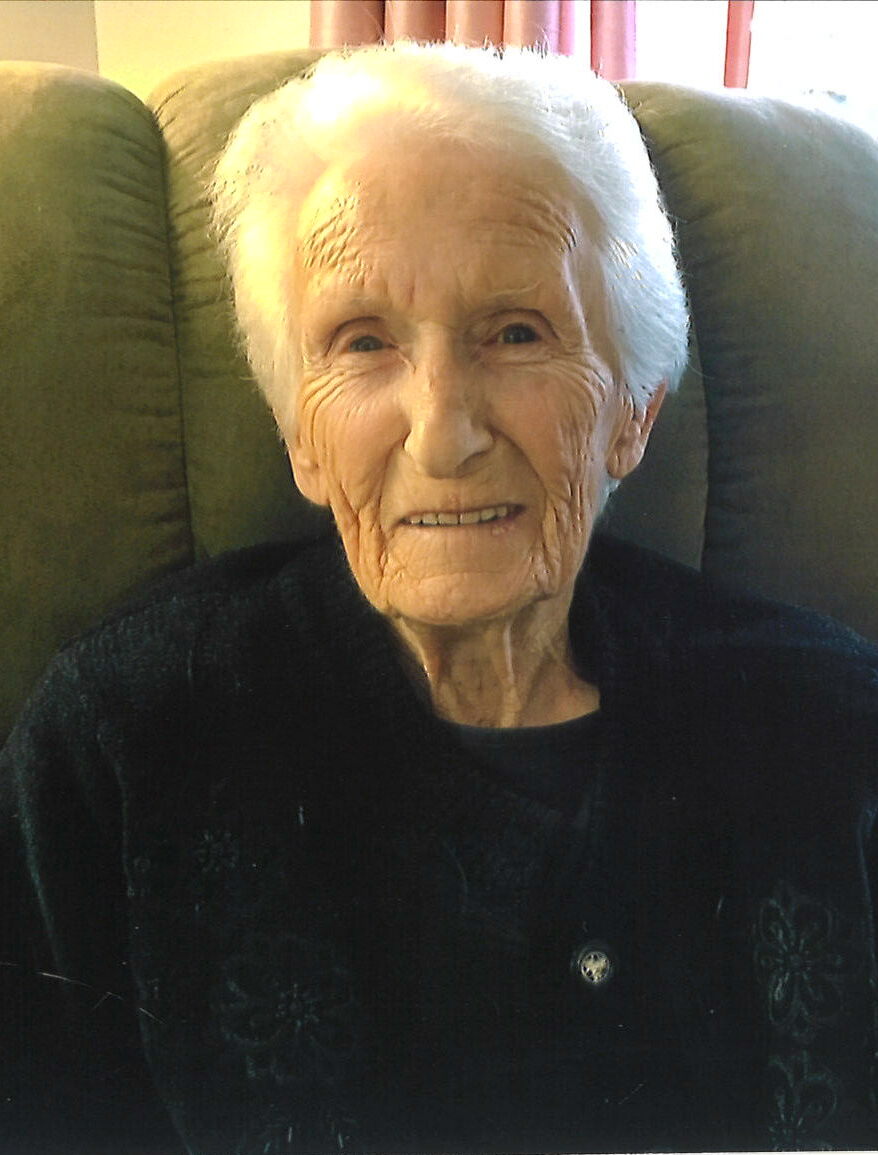 Obituary of Merla Zoe Burchell
Please share a memory of Merla to include in a keepsake book for family and friends.
Merla Zoe Burchell
Jan. 15th, 1933 - Dec. 30th, 2021
Merla was born in Red Deer, Alberta to parents, Auburn and Jean (Blakely) Pye when the family lived in Innisfail and her father owned and operated a bulk oil company that, soon was sold. The family moved to Dawson Creek in the early 40s as her dad was part of the first civilian convoy up the Alaska Highway with his trucking business and Merla lived there when the explosion of 1943 happened. After the explosion, the family moved to Innisfail, where Auburns' family had homesteaded and began a dairy farm.
As Merla grew older and siblings were added to the family, so too did her responsibilities. Besides the regular oldest child roles, Merla became the Milk Maid and delivered milk from their farm to Innisfail and area. Later, she would move into Red Deer to care for her grandfather and attend school, riding home every lunch to make a meal and after school for regular care duties. She often described this time as very difficult.
After her schooling was through, Merla joined the Air Force and traveled east for basic training. She would recount the story of being at the train station to purchase tickets and was asked if she wanted tickets on the Grey Cup Express Car. Merla inquired the difference and was informed that for the same price, she could get a ticket on the party car headed to the Grey Cup game with tickets to the game. Never one to pass up a good party, she bought the ticket and claimed to have a very wild time on the way and got to watch what became a historical CFL Championship game, where Jackie Parker of the Edmonton team broke his leg but continued playing, helping to win the championship!
Merla spoke, often of her time in the Air Force and would let you in on her devious side a bit, slight though it was by talking about smuggling rum in the wings of bombers, stuffed into hollowed out loaves of bread. She talked about her work as an accountant in the service and of being offered a transfer to Paris that she turned down. She always kind of regretted it but would quickly cite how she wouldn't have had the life she did and it was worth saying no. During her service, she married but it didn't endure long past her leaving the Air Force after her 5 year contract.
After her return to civilian life, she married again and had her first child, Penny Zoe though the marriage did not last and Merla managed as a single parent, until when she lived in Whitecourt where her father had his trucking business based out of. Merla opened a restaurant and through her dad, met a handsome Forest Ranger named Jim Burchell. After a time, they married and this would be the life partner who she shared the rest of her life with, until Jim passed in 2012. Together, Merla and Jim added two more children to their family. First, Auburn James and, then Morgan Darcy. They moved about, quite frequently for several years in the early part of their marriage, living on the west coast, where Morgan was born, after leaving Alberta where Jim was born. A few years, later they moved back to Alberta to manage a Motel in Edmonton. A year and a half later, Jim received a job offer to manage a sawmill in Northern Alberta, where the family moved, leaving Penny with her sister Sharon in Edmonton out of concern. The sawmill burnt down, shortly after and Merla and Jim traveled to Edmonton with the Nehiyaw community they lived in to stand with them in a fight to retain the timber leases they had. After that, the community hired Jim as Band Manager and Merla worked with the ladies of the community on initiatives for the new school and towards better conditions for the people.
They moved to Carbon, from there to help Merla's father operate a Motel/Bar and restaurant. Her time working with family were some of her most difficult but most loved because of her dedication to her parents. Issues arose and Merla and Jim purchased their own, little Hotel in Beauvallon, Alberta and operated it for a little over a year, before Merla was offered a managing position in Castor that was too good to refuse.
Merla moved to Castor with Morgan in 1976, while Jim stayed in Beauvallon with Jimmy, while they sold their hotel and then the family reunited in Castor. Penny had began living with a friend in Beauvallon and both her and her friend moved to Castor around the same time.
Merla and Jim purchased a quarter section of land with a picturesque valley setting, where a house sat perched above a small creek and they decided to stay in Castor to settle their children into a long-term community setting. They lived on the acreage, until both their boys had grown and were either away from home or working and they bought a place in town to make it more convenient. Merla and Jim lived out the rest of their lives in Castor with Merla volunteering at Farmers Markets and enjoying bingo with her friends, once curling was no longer an option.
Jim moved into long term care in 2012 and didn't live much longer, after leaving Merla to finish her journey. Her son, Morgan was living with them at the time and looked after both of them in their later years.
Merla moved into the Paintearth Lodge in 2013 and lived there, enjoying visits from her family when they could come to see her.
On Dec. 21st, Merla was taken to hospital and during the subsequent stay, after a hard fight passed away on Dec. 30th, 2021.
Merla is predeceased by her parents Auburn and Jean, her husband Jim and her brother Bud. She is survived by her children, Penny Zoe (Carmen) McBride, Auburn James (Laurie) Burchell and Morgan Darcy Burchell. Her siblings Sharon Heald, Gail Whitlow and Beryl Pye. Many grandchildren, great grandchildren and nieces and nephews.
Merla will be interred in the Castor Cemetery with her husband, Jim and their last dog, Rocky!
At Merla's request there will be no funeral service and asks that people may donate to the unhoused community or like places of need.


Share Your Memory of
Merla