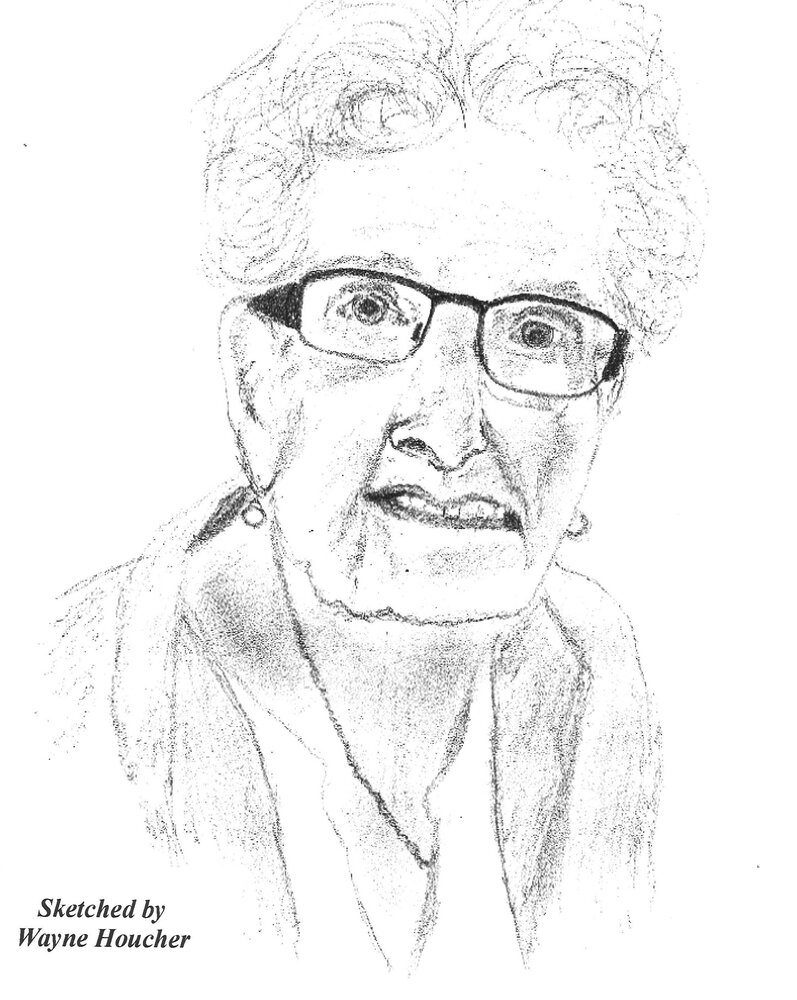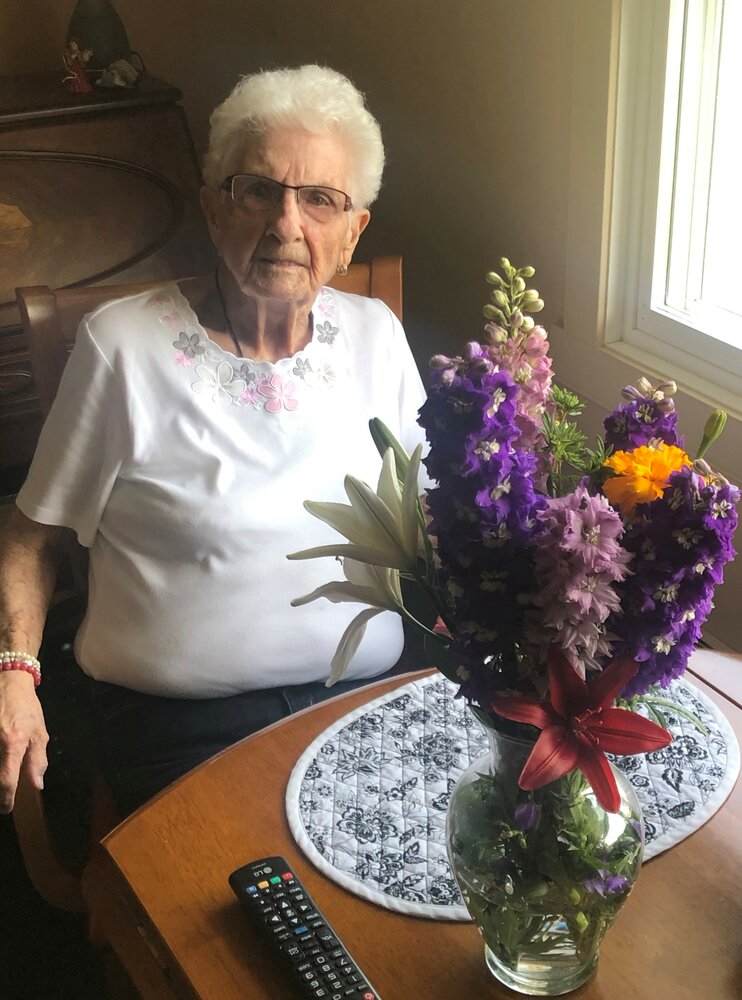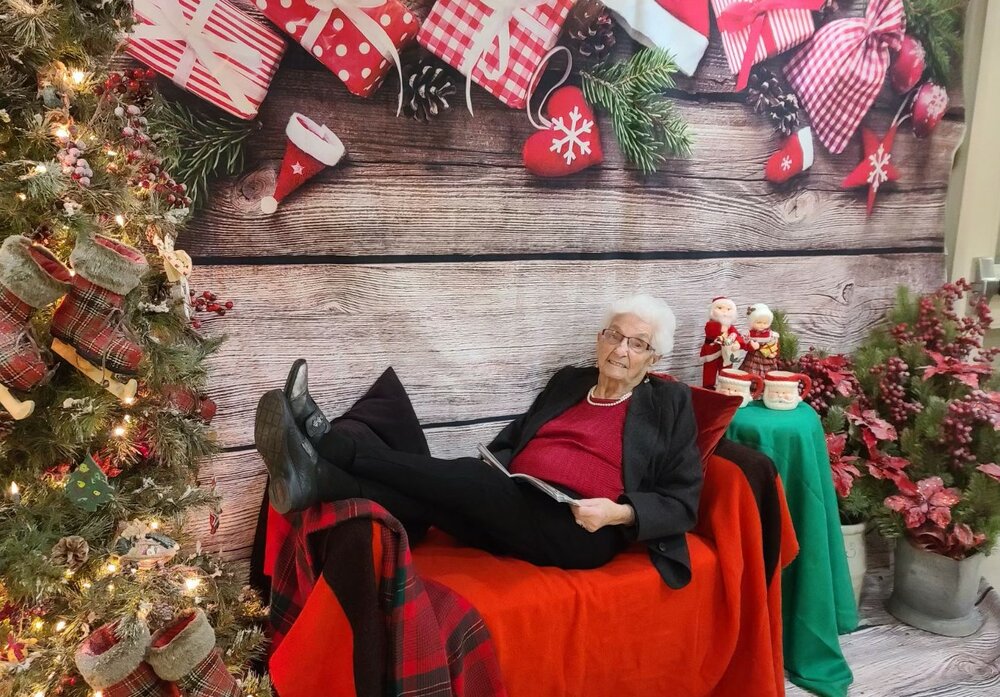 Celebration of Life will be held in Lakeroad Cemetery with luncheon to follow in the Consort Gem Centre
2:00 pm - 3:00 pm
Friday, June 3, 2022
Lakeroad Cemetery
Hwy 41 North of Consort
Consort, Alberta, Canada

Get Directions


Obituary of Gladys Emma Radefeldt
Please share a memory of Gladys to include in a keepsake book for family and friends.
In Loving Memory
Gladys Radefeldt
December 20, 1935 – December 27, 2021
"Say not in grief that he is no more but live in thankfulness that he was." – Hebrew Proverb
Although sadness is the first thing that comes to mind when death occurs, our hearts are filled with gratitude for the beauty of a life well-lived and for which we were blessed to share. Our Sister, Mom, Gramma Glady, Grams, and of greatest note, Great Ma, passed away peacefully at home on December 27, 2021, after 86 years of a beautiful life.
Gladys was born on December 20, 1935, the second child of Frank and Alberta (Galloway) Houcher. She was raised on the farm north of the Neutral Hills in the Little Gap School District with her 4 sisters and 2 brothers. She worked outside with her dad and finished school in the 8th grade. Her first job off the farm was at the Consort Telephone office with her sister Joyce. She then rather fatefully, went to work at the Radefeldt Farm as a caregiver to Lena. This is where she met Fritz. Gladys and Fritz were married on March 5, 1954, and to this union 3 children were born: Elaine (Radefeldt) Devine, Louise (Radefeldt) Wagstaff, and Zane.
Farmlife was a challenge, but Gladys was a polished and proficient homemaker, and never did a complaint cross her lips. Not only did she and Fritz raise their 3 children in a loving home, but Gladys also tended a large garden, washed clothes in a wringer washer, looked after the men as they worked the land, drove the swather, tended the milk cow and chickens, helped in the raising of her grandkids, and was extended the great joy of being able to, on occasion babysit a great grandkid. It appears there was almost nothing on the home front she couldn't do. She was an accomplished seamstress, cake decorator, baker, and cook. Many would be able to attest to this as she was an assistant leader in the Consort 4-H Sewing Club for 25 years, altered many a dress, baked and decorated wedding cakes, and cooked many meals.
Gramma Glady was a natural teacher, calm, and patient, understanding and steady. She spent an abundance of time teaching anyone who wanted to learn how to sew, crochet, embroider, quilt, can and preserve food, make butter, bake, make a mouse out of a hanky, even drive a stick, or shoot pool. She was also the conservator of our family's history. You can stack onto all these things that she also had a great sense of humor.
In November of 1990, she lost Fritz to cancer. Until 2012 she remained on the family farm. At this time, she was ready for a change and moved into an apartment at the Consort Lodge. She so enjoyed the lodge and be able to have coffee dates (she maybe even broke a rule for the first time in her life during COVID to do this, but only 1 time), bake and cook tasty treats, and enjoy all that the lodge has to offer; meals, music, and fellowship.
Gladys will be lovingly remembered by her children Elaine Devine, Louise (Lloyd) Wagstaff, and Zane Radefeldt; grandchildren: Rachel (Joe) Robinson, Erica (Shane) Laye, Kenton Wagstaff, Katrina Wagstaff (Brendon Grovet), Emma (Eric) Resch, Beckie Radefeldt and Dean Radefeldt; great grandchildren: Lorence and Stephen Robinson, Abigail Laye and Connor Resch; sisters Florrie and Hilda; brother Wayne (Lois); sister-in-law Lynn Houcher and their families.
"May Happiness be always thine, no stormy days, but all Sunshine"- From Glady's Autograph Book


Share Your Memory of
Gladys