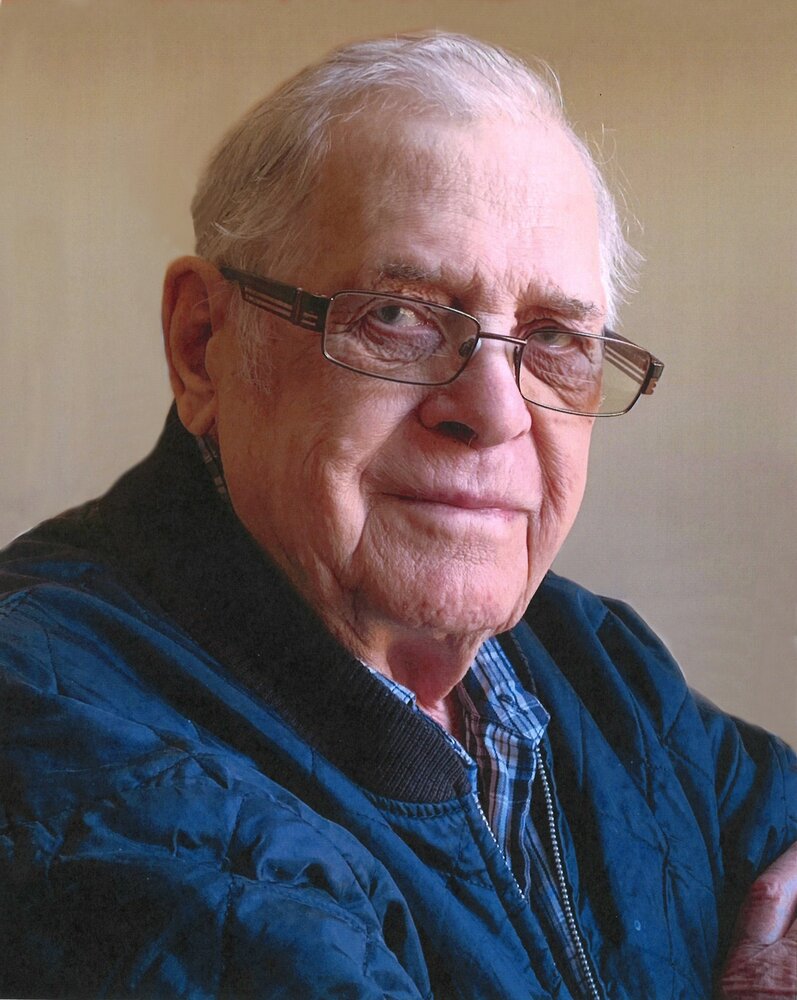 Obituary of Fred Schaffer
Please share a memory of Fred to include in a keepsake book for family and friends.
It is with great sadness that we mourn the loss of Fredrich Schaffer. Fred passed away early Saturday, October 30th, 2021.

Fred was born December 20th, 1928, the seventh child to Molly and Fred Schaffer Sr. He had three brothers and three sisters: Edward (died in infancy), Victor (Hilda) Schaffer, Hilda (Irvan) Chamberlin, Alex (Susan) Schaffer, Tillie (Ernest) Harbridge, Pauline (Cecil) Creamer.

On December 5th, 1949 Fred married his life partner Rachel Patricia Hopkinson, better known as Pat. They shared 63 years together living on the family farm outside Semans, in Lanigan and then they moved back to Semans. After Pat passed away, Fred moved to Strasbourg where he lived until health issues made it impossible for him to live on his own. In February of 2021 Fred moved out to Alberta to be near family.

Fred and Pat had two sons: Robert Frederick, born in 1949 and Brian Delayne, born in 1953.

Fred's greatest passion was dressing up a team of horses to show. He helped his brother-in-law show percherons in Toronto, Brandon, Manitoba Regina and in Nokomis. That love of horses got passed down to his son Brian, Brian's sons Delayne and Kennie and their children: Kianna, Keaton, Kenzie, Ryley and Rayna. They all have horses and enjoy working with them.

Fred also loved old time country music and dancing. He would often attend the jam sessions in Watrous, Strasbourg and surrounding area.

COVID, really affected Fred. He had a hard time understanding why he couldn't visit and get together with family, why he had to wear a mask and why he couldn't hug his grandchildren.

When Brian went into visit him the Sunday before he passed he was saying how his back and shoulders were sore. Brian was teasing him and asked him if he had been pitching hay. Fred replied, "Yeah, lets get at her!"
Fred will be forever missed by his sons Robert of Semans, Saskatchewan and Brian (Marie) of Consort, Alberta; granddaughter Sharla Elgert (Dennis Zwicker) of St. Albert, Alberta; grandsons: Delayne (Amber) Schaffer of Consort, Alberta; Kennie (Tara) Schaffer of Chauvin, Alberta; great grandchildren: Brenden Elgert, Darian (Hannah) Elgert, Linden Elgert, Kianna Schaffer, Keaton Schaffer, Kenzie Schaffer, Ryley Schaffer and Rayna Schaffer; great great grandchildren: Holly Elgert, Ambrose Elgert and Flora Elgert.
A Celebration of Fred's Life will be held when family and friends can be together again.
Donations in memory of Fred are gratefully accepted to Consort, Alberta Long Term Care or a charity of your choice.


Share Your Memory of
Fred