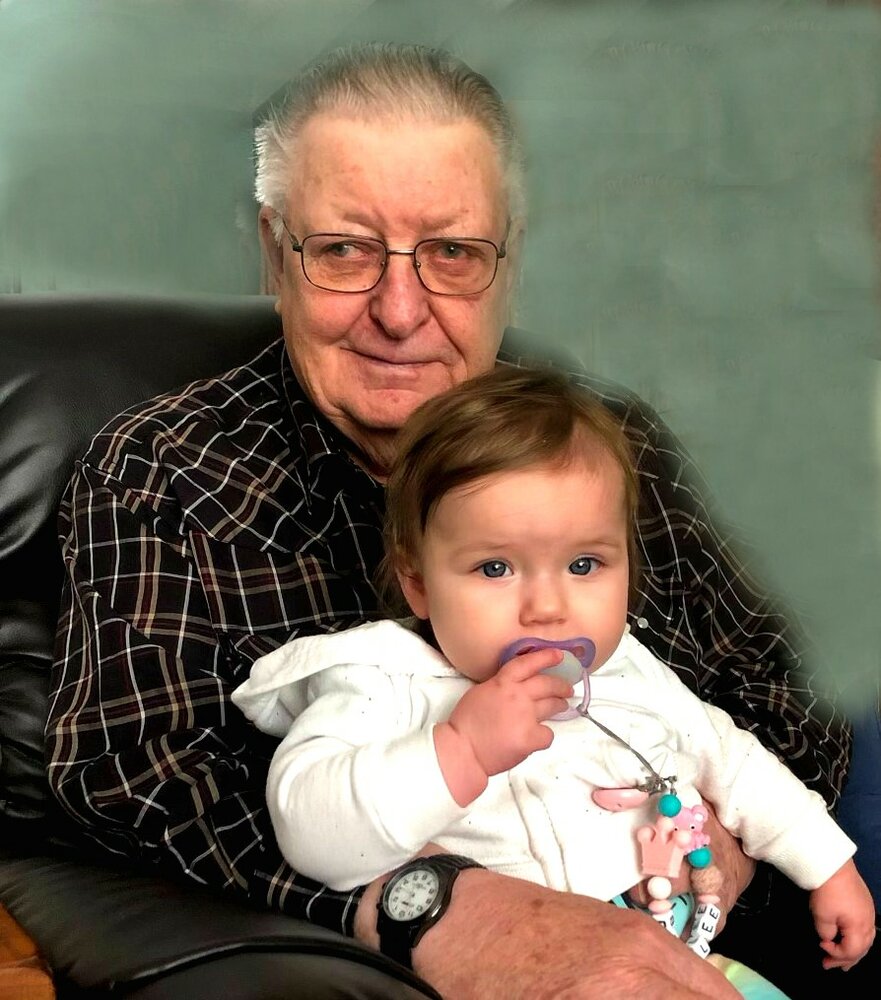 Funeral Service
2:00 pm - 3:00 pm
Thursday, September 9, 2021
Castor Evangelical Missionary Church
5314 50 St.
Castor, Alberta, Canada

Get Directions


Obituary of Cameron Anton Schaffner
Cameron Anton Schaffner
Cameron was born July 26, 1943 to Bill and Minnie Schaffner and passed Sept 3, 2021 at the age of 77 years.
Cameron was full of wit and humor. All those that knew him will have stories of his character.
Cameron lived on the family farm. He had a passion for farming and did it most of his life. He took over running the mixed farm from his dad in 1967. The Schaffner family lived on that farm for over 100 years. He met the love of his life, Pat Fuller on their school bus in grade ten and married her in 1966. Cameron would always complain Pat only gave him a sliver of the seat, this year would've been their 55th anniversary.
Cameron had two children, Darren & Devra. He was a great 4H supporter. He led 4H for many years and was instrumental in getting his kids involved and passing on his passion for it. Cameron was greatly involved with 4H, from being a leader to picking garbage alongside his kids on the highway. He loved to teach the kids about cattle and how to properly care for them and show them in the ring. He was involved for 22 years.
Cameron was known to always be at the Fullers lending a helping hand to his inlaws. He loved to be around them and had a very close relationship with his father-in-law. and spent many summers on camping vacations with the whole family.
Cam got into purebred Simmentals and made it a huge success and made many new friends. He was always pulling pranks and would do anything to make you laugh. If you had time, he would offer you a drink of whiskey and love to sit and talk. He had many friends in the industry from the hutterite colony to all the fellow breeders and prospective buyers.
He retired from farming in 2010 and moved to Mundare to be closer to his daughter and grandkids. He had 11 years in that house with his family down the road. He would tell you they were too close but he loved being able to see them at any hours of the day. In his retirement he loved to watch and read westerns. They had just recently moved to Fort Saskatchewan to a smaller home.
Cameron loved his John Deere machinery. With this he taught his grandkids there are no machines like the green ones and took pride in making sure everyone knew that. He enjoyed harvest time when the whole family worked together day and night to bring in the crops and make sure there were enough bales for winter. However, he did learn not to send Devra in to make suppers because whatever leftovers that were in the fridge came out in a one pot meal with a side of molasses and beans, but he would eat it up and never complain. While waiting for the truck to unload the grain he could be found playing catch with Devra or giving her a ride on the shovel.
Now some of you will remember Cam for his yellow truck, besides it being his favorite color it was his pride and joy. Pat's friends used to warn her not to go with that guy with the yellow truck… he was trouble. Obviously, she didn't listen. Cameron had his truck until one day it "fell" off a cliff in the coulee, okay so maybe he forgot to set the park brake. He just stood there and watched it go saying well that's the end of that. Cameron was known to never get excited over things just let them be and move on, which drove Pat a bit crazy.
He was a wonderful horseman, and his daughter shared his love for it. His love of horses carried on throughout his life until he was no longer able to ride. He loved to ride daily, chase/ move the cattle and share time riding with his family. Picking berries from atop his horse. Especially if there was a choke cherry tree.
Curling was another passion of his, he played skip for many years, and he sure could make that corn broom snap going down the ice, he wasn't thrilled when they brought in the push broom. He played in and won many bonspiels in Castor and area.
He was a genius when it came to cards. He taught his wife, kids and grandkids many different games, even how to cheat. He would sit up until the sun would rise playing if he could keep you awake that long. One of his favorites was crib, but when you were learning with him if you happen to miscount your hand, he got to peg the extra's you missed boy did we learn fast. If you beat him on the first game, he would always say "ah that was just the baby game". On the last day before going into the hospital he beat Pat, so I guess he got the last crib win!
Were sure he's smirking about that…
The family must tell you a story that is so Cameron. This only happen a short few years ago. One day Pat was away shopping and Cameron decided to run uptown to grab something and when he returned home, he took the corner a little to short into his driveway and got stuck on the snowbank on the grass. He tried with all his might to get unstuck before Pat returned, he knew he would be in trouble. So, he called up his grandson Jordan to come over with his truck and pull him out. So, Jordan ran right over helped grandpa and got the car all tucked safely into the garage. That evening when Pat arrived home, she asked what happened. He said, "I don't know" Pat then proceeded to say it must have been that UPS driver that dropped off a parcel that day. Cam said "Yup". Pat proceeded to get heated about the "stupid driver" because their driveway was large and clean, she continued saying she was calling UPS and complain they drove on her lawn. Cameron agreed she should. Meanwhile at Devra's, Jordan told his mom what had happened and how he had helped grandpa that day. Well…when Devra called her mom to harass dad, Pat had no idea it was Cameron. After the call Pat reiterated to Cam that she was calling UPS, to complain, he told her "yes you should" never ever letting on it was him. Finally, she told Cameron she knew the truth he just got that silly grin on his face and smiled. The family teased him about this to the very end. But this is who he was and always trying to get away with getting you to believe it was never his fault.
Over the years Cameron loved to watch his grandson Jordan play hockey, loved watching both his granddaughters Kaitlin and Jessica Sing and dance on stage. Never missing a game or performance if he could help it. He loved watching them grow up and learn new things, he encouraged them when they felt discouraged, even teaching them all how to drive.
Cameron loved his family endlessly, his wife, his kids, his grandkids but he fell in love with his special little great-granddaughter Brynlee, she had become the light in his eye and the joy in his heart. He would brighten right up as soon as he heard her little voice. Brynlee sure knew who to take the cookie tin too, great grandpa would never ever say no to her. Luckily, she just started to walk, and he got to see her take a few steps in the hospital the day before his passing. As Brynlee left the room that evening, she blew kisses to great-grandpa, and he smiled and blew her one back.
Cameron had a full life with a lot of adventure, we will all miss him and his cleverness dearly but take joy in knowing he has been reunited with his son Darren again.
Until we meet again Cameron!!
FAMILY
Cameron is survived by his loving wife Pat;
daughter Devra (Shaun) Clough;
son in law Mark Fouts; grandchildren Jordan Clough,
Kaitlin (Layne) Bohaychuk and Jessica Clough;
great granddaughter Brynlee;
sisters Eileen (Rolly) Guimont and Lucy McCaffery.
He is predeceased by his parents Minnie and William; son Darren; brother Jim (Jeanette) Schaffner and brother in law Mac McCaffery .


Share Your Memory of
Cameron