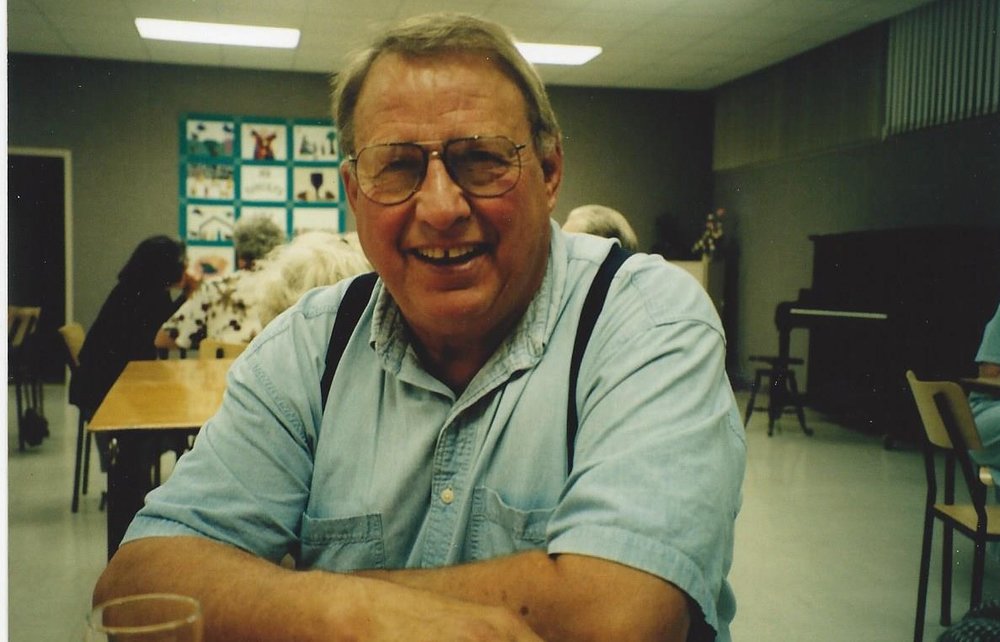 Celebration Of Life
1:00 pm - 4:00 pm
Friday, July 30, 2021
Stettler United Church
6109 41 Ave
Stettler, Alberta, Canada
4037421135
Celebration Of Life

Get Directions


Obituary of Gordon Roy "Joe" Baltimore
Gordon Roy (Joe) Baltimore
Joe Baltimore, nicknamed after heavy weight champ "Smokin" Joe Lewis, was born at Throne, AB and spent his childhood years at Alliance. He left home at 12 to move to the neighbor's to milk cows and deliver milk alongside brother Elmer. He had many fond memories of his childhood running around Alliance and the Battle River Valley.
Joe quit school at 14 and went north to join siblings Trudy, Earl and Ken to work on the Alaska highway rebuilding, after WW2. As a teen in the Yukon, Joe worked as a cook's helper, then equipment operator, for the Army which generated many tales and experiences along each milepost. Hockey also became very important to him and from Whitehorse, Joe went to play in the Peace league for Fahler at 20, whilst slinging beer at the local tavern.
In 1957 Joe moved back to Alliance to work the rigs, then to Stettler to play for the Stettler Imperials… a large, bruising team. They won the Alberta Sr. A championship that year. He met Joan the next summer and they married July 2nd, 1960. His sales career began in Calgary travelling for Cockshutt where he and Joan started their family. In 1964 they moved back to Stettler to join Bob Cook in starting "Bob & Joe's Farm Equipment" with brother Pat as service manager. Bob departed in 1972 and brother Earl joined the business, creating "Baltimore Farm Supplies". The business expanded and by 1979 was one of the largest Case dealers in Western Canada.
Joe and Joan moved to the farm in 1974. The three brothers worked together until 1976 when Joe went farming, raising purebred Black Angus and calving out 300 commercial cows. The sales itch bit him again; by 1980 he was back. He spent 15 years in sales for Bills Farm Supplies, Heartland Equipment and Cenalta Trucks. The farm was sold in 1995 when they moved into Stettler, and Joe's farming itch was satisfied by working for Keith and Sandy Rairdan the next few years.
Joe loved music and sang in the United Church Choir for years. He also performed in local Gilbert & Sullivan musical productions. He loved to create and built many projects for home, grandkids, friends and neighbors. He had an AMAZING memory for people and seemingly knew every farm from Red Deer to the Saskatchewan border. He loved to hunt, fish and ride horses, making many fond memories with friends and family. He ADORED his grandkids and his tough and gruff exterior usually melted in their presence. He was a boisterous, adventurous, hard-working mountain of a man who could tell stories "til the cows came home". He will be dearly missed by his wife Joan, of 61 years, his family, friends and all who knew him.
---
Joe is survived by his loving wife of 61 years Joan, his three children - Bradley (Gay Ray) of Stettler, Becky Jo Baltimore (Jim Lynham) of Stettler and Brent of Erskine; grandchildren: Kara Baltimore (Josh), Kyle (Megan) Luhtala, Paris Luhtala (Daniel Evans), Easton Baltimore, Aaryn Lynham, Aanelle Lynham, Joseph Baltimore, Nora Baltimore, Grace Baltimore; great grandchildren: Nixon Graham, Ayla Lofthouse, Ella Luhtala and Bowen Luhtala brothers Ken Baltimore, Elmer (Syneva) Baltimore, Pat (Bev) Baltimore; sister Sarah Odegard; nieces, nephews, other relatives and many dear friends.
Funeral Service
Stettler United Church
Friday, July 30, 2021 At 1:00 P.M.
Joe's Service will be Live Streamed on the Stettler Funeral Home Website
Memorial Donations may be made to The Red Deer Cancer Centre, Stettler United Church, P&H Elevator or a charity of your own choice.


Share Your Memory of
Gordon