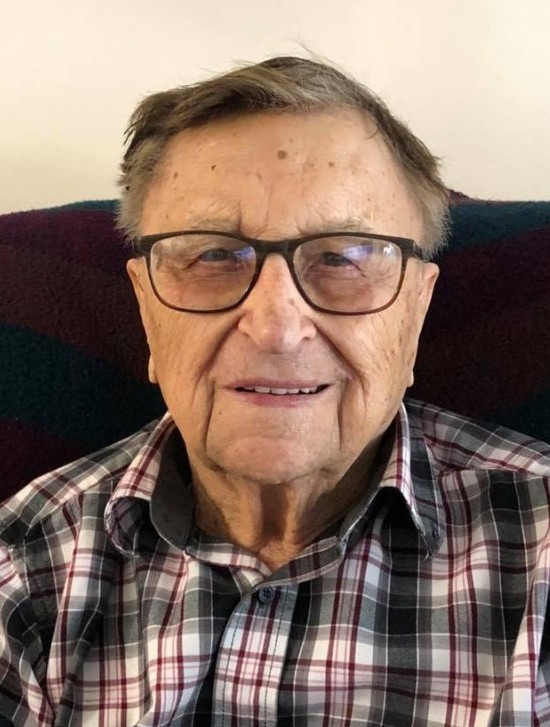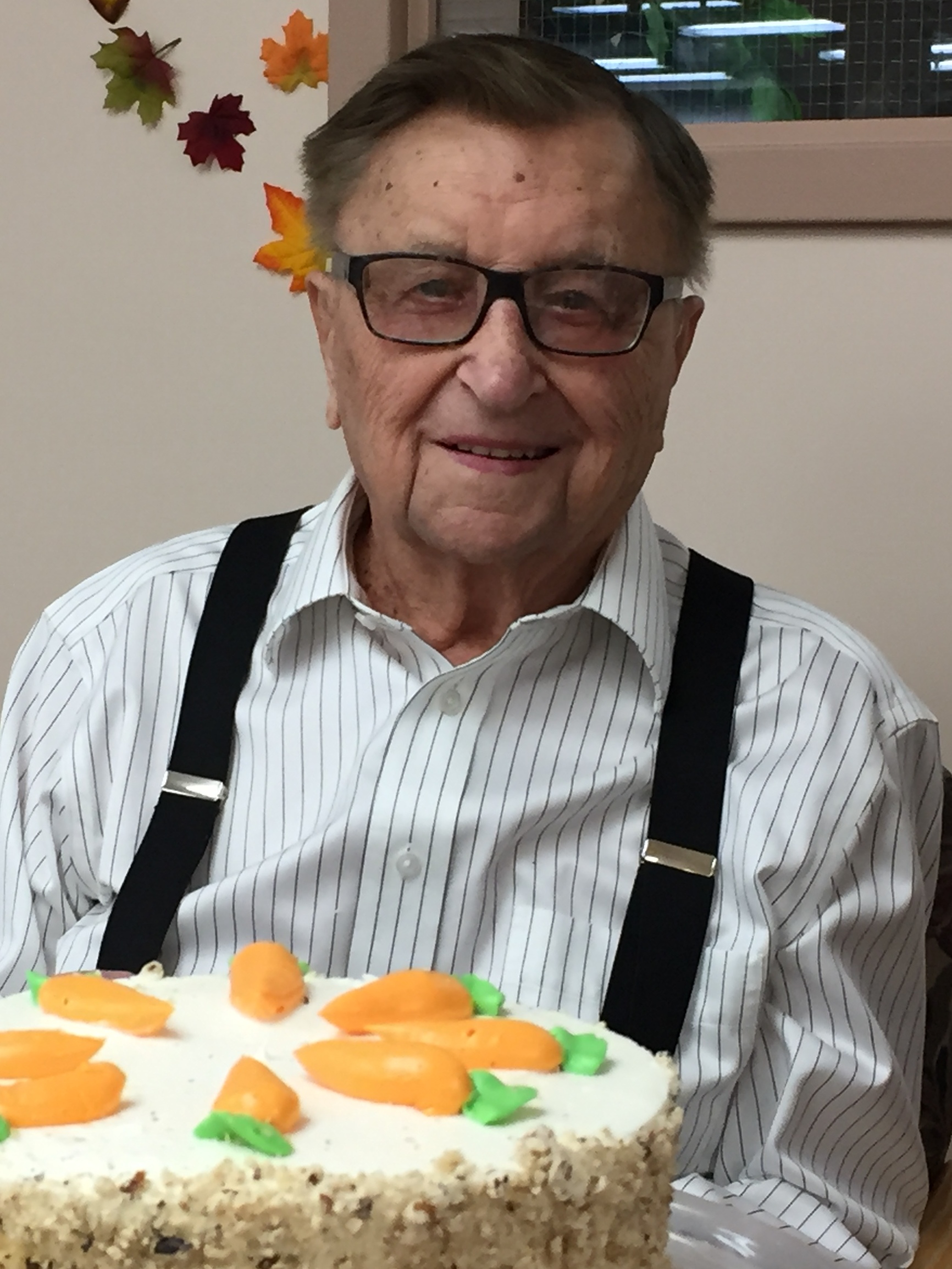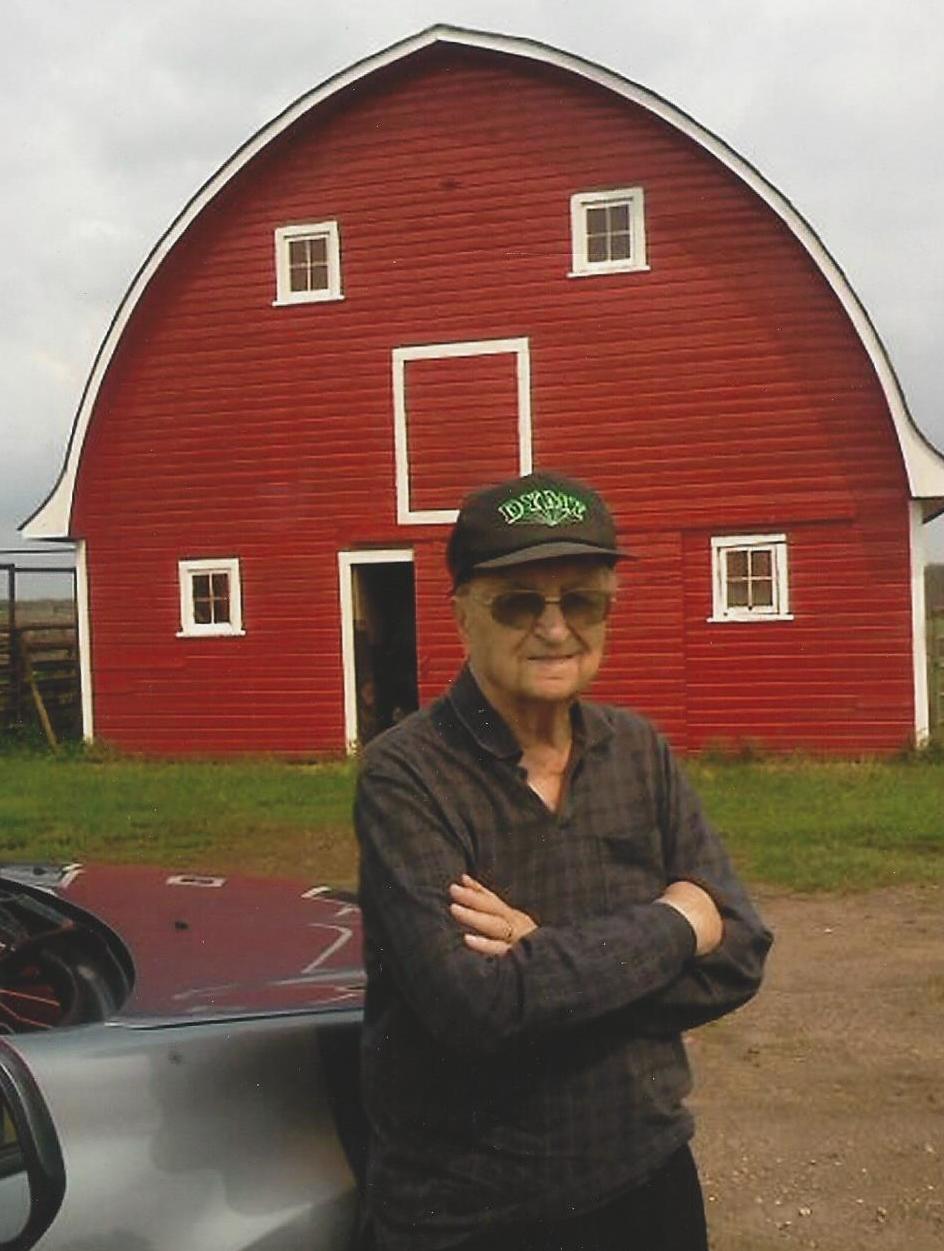 Celebration of Joe's Life
2:00 pm - 5:00 pm
Tuesday, July 27, 2021
Stettler Funeral Home & Crematorium
Box 1780
Stettler, Alberta, Canada
403-742-3422
Celebration of Joe's Life

Get Directions


Obituary of Joe Lang
JOSEPH LANG
Nov 12, 1914 – July 18, 2021
By his grandchildren Robert Lang and Paula Stenlund
First off I have to say we are all honored to call Joseph Lang our Grandpa for so many blessed years. He was very special to the family as 6 members of the family; Duane, Shane, Chase, Joey, Trent and Austin all have Joseph in their names.
Joseph was born at the family farm that was 4 miles north of Revenue, Saskatchewan on Nov 12, 1914 to John and Elizabeth Lang. He was the fourth child in a family of ten. Joe attended schools at Usselman and Princeton in Saskatchewan. After completing grade 9, he helped out on the family farm until he was about 18 years. He then worked for Dan Hughes,ughesH a farmer north of Wilkie, Sask. for $5.00 a month by feeding cows and horses in the winter and field work in the summer. He also worked 6 months for Eric Ambler who lived south of Lloydminster. In 1937 Joe, along with his brothers John and Phil bought a 1923 Model T Ford from a neighbor Mac McKenzie and drove it to Blind River, Ontario to work in a lumber camp for the winter. It took 5 days to get there. They rode the freight train to different parts of the area in search of work. In the spring when the lumber camp broke up they drove to Sudbury, Ontario and worked for a building contractor. They stripped the Model T of any useable parts and acquired a 1926 Model T ½ ton to return home in the fall to help with the harvest. I remember Grandpa saying that the second Model T was an upgrade as it had a roof so they didn't get rained on! In the spring of 1941, he ventured to Alberta to work in the Muncy under-ground coal mine where John and Phil were already employed.
It was at a dance which his brother Phil and he were playing that he met the love of his life Lorraine Matier. Grandma was teaching at Imogen School at the time. They were married in Edmonton, AB on July 16, 1942. While living in Edmonton Joe worked at the Black Diamond Coal Mine, an underground mine in Edmonton until it burned down and then he moved to the 300-foot deep 'Kent Mine.' He found it too dangerous, so he only worked one shift and quit. He then got a job with a contractor, shoveling gravel into a cement mixer and later at a bakery, hauling 100 lb. bags of flour.
While they were living in Edmonton their first son Deral Robert was born.
In 1943 they moved to the Westwood's area and rented the Mark Edgell farm. He farmed with his brother John and together they acquired a separator and did custom threshing. That winter Joe hauled coal in the area with his 3-ton truck that he had purchased from 'Filipenko Bros' in Stettler.
In the spring of 1946, he traded the 3-ton truck for a combine and a ½ ton truck. That same year they purchased their farm from John McKay. In the purchase deal, Joe traded his coupe car for a 2-ton truck.
His first new tractor was a Massey 44 purchased from Bob Berry, who had the Massey Harris dealership in Gadsby. Joe then hired Bob Wutzke and together they did custom work, keeping it going 24 hours a day, Bob driving at night and Joe during the day.
In 1947 Joe had been granted permission from the County to sell gasoline and that is how Joe's Service came to be. It was a pretty exciting time as it was the same day that Joe and Lorraine brought their second son Duane Joseph home from the Stettler Hospital. Joe's Service was open for over 30 years and closed its doors in 1978.
The location at the 4 way stop was known to generally everyone as Kings Corner. I'm sure many of you still refer it to Kings Corner. We younger folks refer it as Lang's Corner now!
In 1948, Joe drove around and collected old batteries and hauled them to Edmonton. In Edmonton, he traded the truck in for a 1947 - 1½ ton dodge.
In 1953 son # 3 Dwight Anthony was born in the Stettler Hospital, to complete the family.
Joe and Lorraine both drove many children to and from school. They first started driving with a Model A and hauled 6 kids to the Westwood's School. In September 1950 they started driving kids to Red Willow with a van, until that got too small. Joe then bought a 1-ton truck, drove to Calgary where he had a body built onto it and drove that as a bus for 2 years. That also got too small so he traded that to the County for a 36-passenger bus. Eventually, they drove a county owned school bus and continued driving to Red Willow until the school burned down in 1964. They then drove the children to Botha for the rest of the school term and the following fall they drove the children to Gadsby.
In 1962, they built a new barn with help from his brother John and neighbor Larry Jones. Upon completion they held a barn dance to celebrate with all their neighbors and friends. It certainly was festive and gala event.
Joe enjoyed playing many years for dances with the Simon's Orchestra. They started out playing at the old Red Willow School, Harold on the violin, Joe on the piano accordion and Mrs. Leo Ross on the guitar. Joe borrowed and later purchased Archie McDonald's drums; Harold borrowed his brother Ken's saxophone and together with Bernice Lang they started to play for dances. Throughout the years many people joined them in the band including Harold's children Marilyn, Joan, Allan and Dale. Also playing during the years was Terry Rushton, Elmer Turigan, John McAlister, Alma Dies, Don Kromm, just to name a few.
In 1973, Joe decided he wanted to learn how to tune pianos, so he took a correspondence course and at the age of 58 and hours of studying, he wrote his exam under the supervision of the principal at Gadsby School, Neil DeGraf. Of course, he passed and received his certificate to tune. I still have Grandpa and Grandma's piano at my house, and I believe it was the last piano he tuned, he would have been about 84 years old at the time
He was never a person to sit around. For many years Joe enjoyed bowling and floor curling. I do know there were lots of tournaments in floor curling that he attended through the years.
In 2007, Joe and Lorraine moved to a condo in Stettler – the Heartland Heritage Villas. In the fall of 2010 they then moved to a senior housing unit at Paragon Place in Stettler.
Unfortunately, in early 2011 Lorraine fell ill and passed away on February 10, 2011. Joe remained living at Paragon Place. He enjoyed when community members came in to entertain and also liked attending the 10 cent BINGO games. He always had a container full of dimes from all his winnings and ready to play another game or two. He loved his Toronto Blue Jays and hardly ever missed a game on TV. This past November life started to take its toll on his body, and he was hospitalized in Stettler. Even with the limited visitation because of Covid he was full of life and a joy to be around. In May of this year, he moved to Heritage House Extended Care. Joe had remained relatively well until a few days before his passing on July 18, 2021 at the age of 106 years.
Joe, Dad, Grandpa will be remembered as a kind and generous man, his laugh, how he always had stories to share with all of us and was loved by all who knew him. His legacy will live on through his loving family.
Grandpa told Sheila at Grandma's funeral that "My best friend is now resting" Grandpa you are now back with your best friend, and you can rest together.
Joe is survived by 3 sons, Deral (Heather) Lang of Gadsby-children Paula(Craig) Stenlund of Galahad and Sheila (Scott) Heighington of Calgary; Duane (Donna) Lang of Gadsby-children Shane (Nadine) Lang of Gadsby and Dallas (Vickie) Lang of Gadsby; Dwight (Lorna) Lang of Stettler and children Clinton (Kelly) Lang of Stettler, Robert (Heidi) Lang of Calgary, Kyle (Shanon) Shingoose of Stettler, Danielle Sinclair (Cody Helgeson) of Botha, James Sinclair (Colleen) of Saskatoon; 24 great grandchildren and 2 Great Great Grandchildren.
Also survived by sisters-in-law Beatrice Lang, Yvonne Coleman, Dorothea Nissen, Clarice (Dwayne) Litke, Margaret Connon and brother-in-law Colin (Rose) Matier.
He was predeceased by his parents John and Elizabeth Lang, loving wife Lorraine Lang and great grandson Chase Joseph Lang, siblings Balzer (Rose) Lang, Katie (Fred) Kupser, John (Gwen) Lang, Felix (Bernice) Lang, Annie (Philip) Volk, Frank (Angie) Lang, Tony Lang, Peter (Rose) Lang and Pius (Rose)Lang, brothers-in-law Gilbert Coleman, Bob Nissen, Nelson Connon and sister-in-law Helen (Jack) Bailey along with several nieces and nephews.
Interment took place at the Omega Cemetery on Tuesday, July 27, 2021 led by Father Joseph Jacobson. Celebration of his life was held at the Stettler Funeral Home and Crematorium later the same day led by Funeral Celebrant Verna Rock.
Donations in memory of Joe are gratefully accepted to the Gadsby Omega Circle or a charity of the donor's choice.