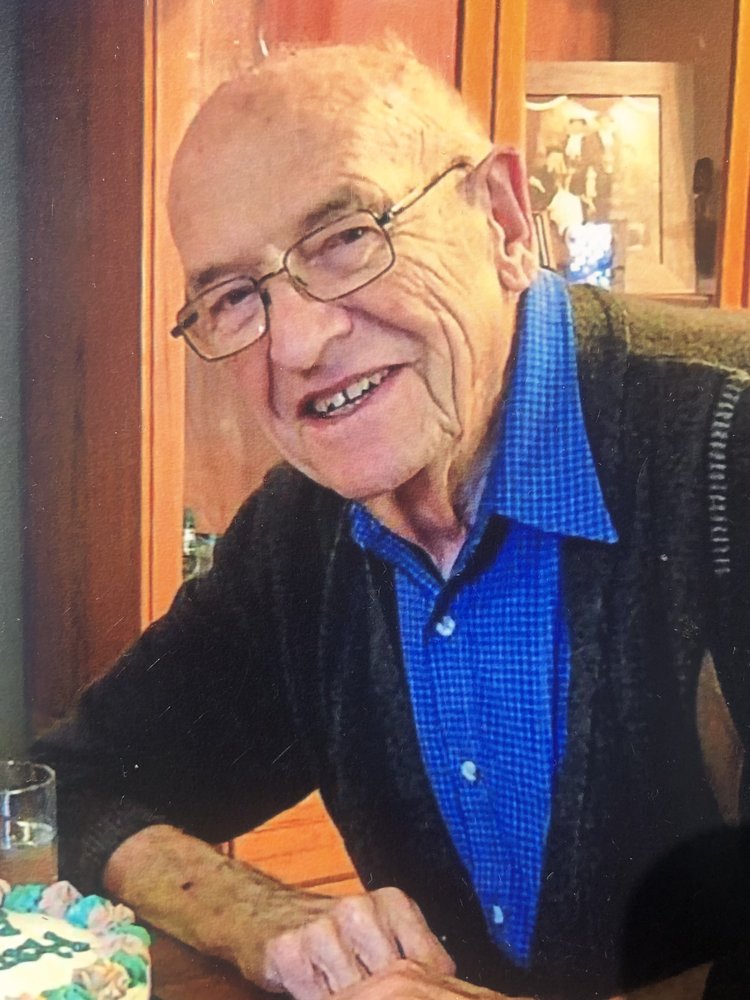 Celebration of Al's Life
1:00 pm - 4:00 pm
Saturday, May 28, 2022
St. Peter Lutheran Church
57 Street and 48 Avenue
Stettler, Alberta, Canada
403-742-3211
Celebration of Al's Life

Get Directions


Obituary of Allan Gordon Leinweber
Please share a memory of Allan to include in a keepsake book for family and friends.
Allan Gordon Leinweber
March 29, 1932 - May 31, 2021
Allan "Al" Leinweber was born March 29, 1932 in Calgary, Alberta to Henry and Florence Leinweber. He is the middle child among his older brother Edward "Fast Eddie" and younger sister Lois.
The Henry-Leinweber-family moved to Victoria, BC where Al grew up riding his bike, delivering newspapers and attended the University of British Columbia where he received his degree in business. After graduation he moved back to Calgary to work as an accountant for British American Oil. During that time, he met the love of his life Verna Louise Rose at a community dance, where he admittedly went in hopes of "meeting someone".
Al and Verna were married November 9, 1956. Trevor and Sandi came along shortly after. Al decided his chosen profession was no longer fulfilling and decided to make a career change, which had him attending the University of Alberta where he received his Bachelors Degree in Education. He wanted to be a teacher. After completion there he took a "temporary position" at William E. Hay High school in Stettler, Alberta where he retired 30 years later. He always was someone to finish what he started. Following retirement, he got involved keeping the books for the East Central Alberta Heritage Society. He was an active member of St. Peter Lutheran Church from day one, and happily watched it grow over the years. Al and Verna built a community of life-long friends (aka "Family") whose children referred to them as "Uncle Al" and "Auntie Verna".
In 2007 Al was recognized as "Male Citizen of the Year" by the Stettler Board of Trade in recognition of his dedication, support and contribution to the whole community, which Al was extremely honoured to receive. Since then, he carried on actively affecting the community in the most kind and loving ways, always willing to lend a hand, or help, to whomever might need it.
"If he could, he would, and he did."
The latter years found Al reluctantly moving into Paragon Place, which quickly became "home." There he stayed, quite happily, for three years before landing in Stettler Hospital and finally a beautiful private room at Heritage House. For the final year of his life all of the staff who worked there got to know and love him. Right to the very last minute, Al concerned himself with the well-being and happiness of those around him.
Year after year, day after day, Al showed up in all ways possible, presenting nothing less than the upmost kindness and respect to everyone whom he met.
He will be greatly missed by all who met him whether they knew him as "Al," "Dad," "Uncle Al," "Grandpa," "Great Grandpa," or "Mr. Leinweber."
His legacy will live on forever in fond memories of time spent with him and by treating others as he treated You.
Al is survived by his son Trevor (Chris); son-in-law Scot (Delamae); grandchildren: Christopher (CJ), Cameron (Jill), Sydney (Corey), TJ (Nicole), and Michael; great-grandchildren: Madison (Sydney), and Kayden (Christopher), Byron, Aven and Eva Brown; as well as other relatives and many dear friends.; as well as his many, many friends.
Predeceased by his parents Florence and Henry Leinweber; wife Verna Leinweber; daughter Sandi Brown; brother Edward Leinweber and sister Lois Smith.
A Celebration of Al's Life will be held on Saturday, May 28, 2022 at 1:00 P.M. at St. Peter Evangelical Lutheran Church, Stettler, Alberta.
For those who are unable to attend, the service will be live streamed, visit St. Peter Lutheran Church "Home Page" go to the link to the YouTube live stream: https://www.stpeterstettler.ca/
Donations in memory of Al are gratefully accepted to the St. Peter Lutheran Church Building Fund or the Alberta Diabetes Foundation.


Share Your Memory of
Allan