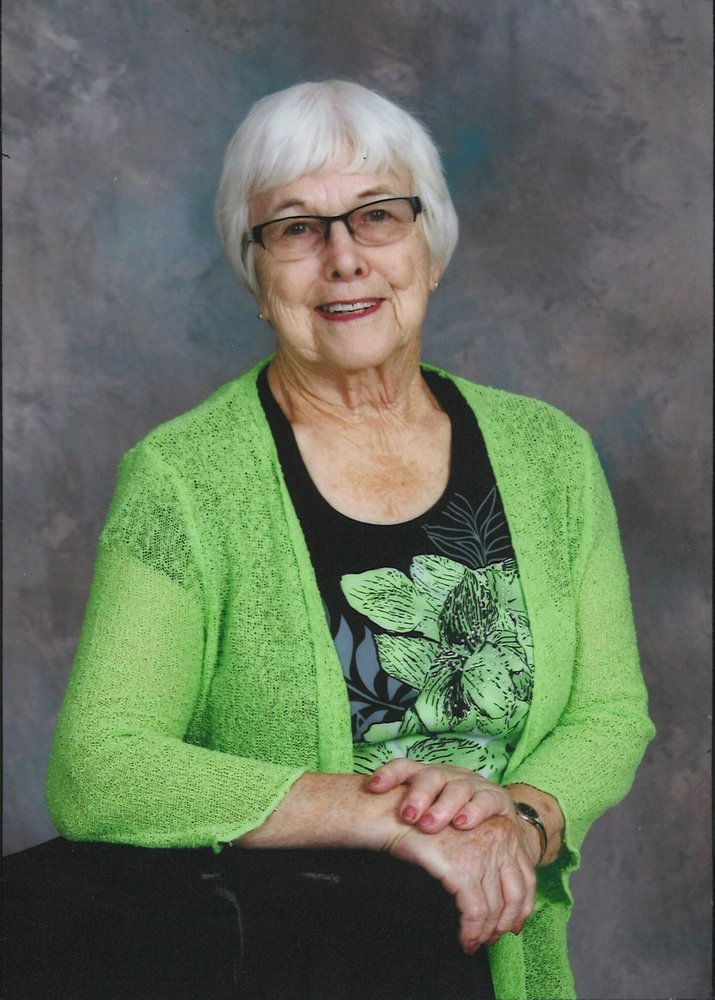 Interment Service / Social following at Stettler Funeral Home
1:00 pm - 4:00 pm
Monday, May 23, 2022
Lake View Cemetery
3810-50 Street
Stettler, Alberta, Canada
Interment Service / Social following at Stettler Funeral Home

Get Directions


Obituary of Kathy Komishke
Please share a memory of Kathy to include in a keepsake book for family and friends.
Kathleen Zinovia Komishke (Lane) was born in Hanna, Alberta. She was the second of four children and spent her early years with her family on a farm in Byemoor, Alberta. There, Kathy attended primary school until her final year, which was completed in Red Deer at Lindsay Thurber High School. Kathy continued her education at the University of Alberta, where she graduated with a degree in Education. Subsequently, Kathy was offered teaching positions in the County of Stettler at Waverly, among other schools, and would soon meet and fall in love with Ronald Komishke.
Kathy and Ron were married on July 15, 1960. Soon after, their son Brad was born in October of 1962, and their daughter Audra in May of 1966. In 1976, the family moved to Germany to teach at the Canadian Armed Forces (DND) base in Lahr until 1979 when they returned to Stettler, and the couple continued to teach until 1995. They coordinated school ski nights at Red Deer Canyon ski resort and ski weekends in the mountains for both students and family. During Kathy's teaching career she was beloved by the members of the ATA home economics council and served as the Parkland Region Home Economics Specialist council executive. She helped plan the provincial conference and was instrumental in organizing professional development for home economics teachers in Central Alberta. Furthermore, Kathy maintained and cherished many close relationships with several colleagues, students, and friends. Upon her retirement in 1995, Kathy was celebrated and honoured at the home economics convention in Calgary, Alberta.
Ron and Kathy became snowbirds after buying a home in Palo Verde, a community in Sun Lakes AZ, where they spent many happy winters exploring the local cultures, landscapes, horticulture, entertainment, folklore, and the many other unique features the state has to offer, particularly the people. They were members of the golf community, hiking club, and bocce ball groups. After Ron's passing in 2008, Kathy carried on with her Palo Verde ladies' golf league, couples golf league (with stand-in Gordon Brooker), and golf with two other ladies' groups. Not only was Kathy very dedicated, passionate, and competitive while playing the sport, she was also very skilled and won many competitions, including the Palo Verde Ladies' President's cup championship in 2012. She was an active member of the sewing club and the quilting club, to which she donated countless hours of expertise and time. Additionally, Kathy continued to enjoy craft sales, arts and wine features, daytrips to Arizona sites, many community activities with friends. Kathy always made time for family and friends and loved to share her culinary skills by hosting numerous special gatherings. Many happy hour dinners were shared with her loved ones, including times with Doris Skaret while the two attempted Spanish lessons - though neither student achieved fluency!
Kathy will be sorely missed by her snowbird community, her Stettler community, her DND colleagues/lifelong friends, and her friends and family. Her positive attitude, love of life, passion for travel, creativity, and willingness to lend a helping hand will surely leave a considerable void in many lives, though the scores of happy and extraordinary memories created with Kathy will continue to fill our hearts and minds for years to come.
Kathy will be forever cherished by her loving family, son Brad (Caroline) Komishke of Calgary; daughter Audra Komishke of Red Deer; grandchildren Danielle Komishke of Calgary, Bailey Komishke (Mark) of Edmonton, Albert Komishke of Calgary, Casey Komishke of Calgary, Taylor Austin (Brady) of Innisfail and Zane Middlemiss of Red Deer; great grandchildren Novia Austin, Jaxon Austin and Bowen Sunderwald; sister Zena Kalenith of Stettler; sister in law Marlene (Ken) Murray of Kelowna; brothers in law Wayne (Hollis) Komishke of Donalda and Dale (Dianne) Komishke of Rochon Sands; numerous nieces, nephews, cousins, other family members and many, many dear friends and neighbours.
Kathy was predeceased by her husband Ronald Komishke in 2008.
Celebration of Kathy's Life ~ Interment ~ Monday, May 23, 2022 at 1:00 P.M. at Lake View Cemetery, Stettler, Alberta (3810-50 Street)
Come and Go Social ~ Monday, May 23, 2022 from 2:00 P.M. ~ 4:00 P.M. at Stettler Funeral Home, Stettler, Alberta (4707-70 Street)
Donations in memory of Kathy are gratefully accepted to the Alberta Cancer Foundation.


Share Your Memory of
Kathy