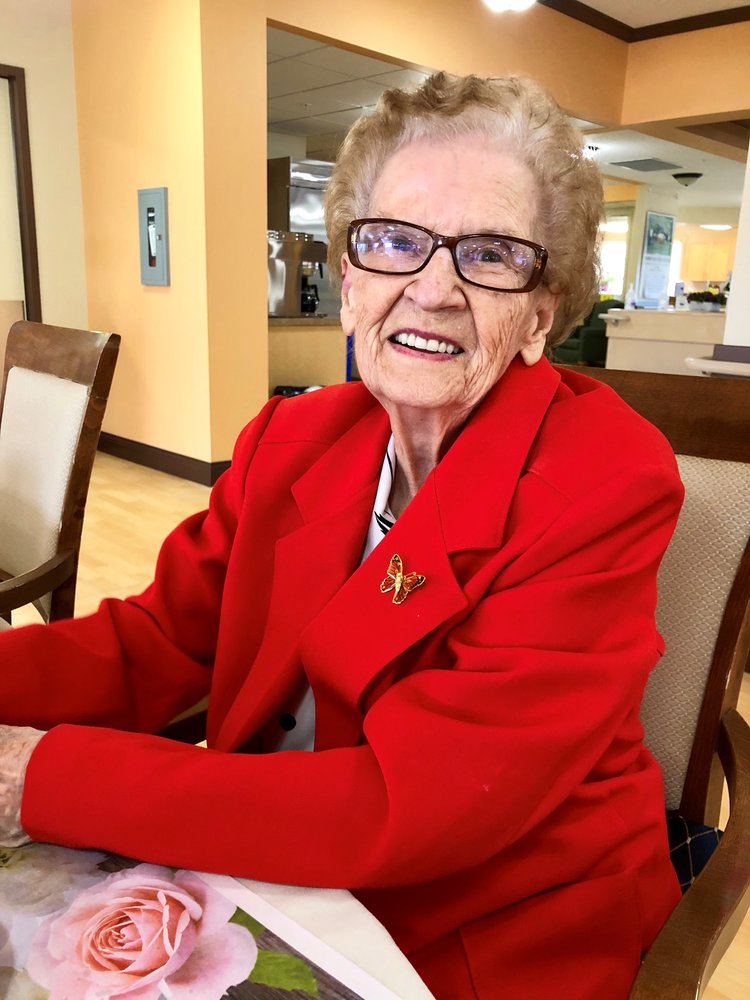 Due to Covid 19 restrictions no services will be held at this time.
Coronation - Parkview Funeral Chapels and Crematorium
5018 Royal St.
Coronation, Alberta, Canada
(403) 578-3777

Get Directions


Obituary of Margaret Irene Redel
Irene Redel
1925 ~ 2021
Margaret Irene Melvin Cameron was born on September 23, 1925 in Compeer, Alberta. She lived on the family farm, Southwest of Compeer, with her parents Donald and Georgina (Melvin) Cameron. She had one brother Donald and one sister Nan.
She grew up like most prairie kids: working on the farm, milking cows and riding horses. Irene started her schooling at the Westland school and finished at the Crocusdale School. There were 15 students in the entire school. Irene played softball and different sports in school. Her favorite subject was spelling, guess that explains why mom enjoyed helping all her children with their spelling homework!
Irene met Clare at a dance in Altario. They were married November 8, 1952 in the Stettler United Church and raised five children: Marie, Alan, Gordon, Barry and Myrna. In their 62 years of marriage, they travelled to many places over the years, some of their favorites were Niagara Falls, Expo 86 in Vancouver and Hawaii.
Irene worked at the Consort Hospital for 9 years as a Practical Nurse with Dr. Day and Dr. Knight, and then stayed home to raise their five children for 16 years. She went back to work at the hospital, and then worked the night shift at the Seniors Lodge until she retired in 1990. Irene was well liked at the hospital and lodge. She was known for her kind and caring nature and for always putting patients first.
Irene and Clare were Charter members of the Consort Whirl-a-ways Square Dance Club and the Consort Dance Club. They used to dance every weekend in Consort, Czar, Provost, Wainwright and Hughenden. They would drive through a blizzard in the middle of the night, it did not matter how cold or how snowy, the dances would always be attended.
Irene loved animals, especially her horses, cats and dogs. One of her favorites was Billy the Crow, a bird she befriended when she was young. She enjoyed musical shows, playing music and she taught us how to dance around the kitchen table many times. She loved the song Goodnight Irene and always sang it. She was a talented musician playing Guitar and Banjo in the Gus Krushel Band at local dances and was a member of the Compeer Orchestra. She had a competitive spirit and liked playing Hearts, Crokinole and 31. She enjoyed watching her kids and grandkids at their sporting events, school activities and many different performances. Irene was an excellent bowler and proudly displayed her championship trophy. Irene enjoyed watching the Young and the Restless and Wheel of Fortune. It was always important for her to have her hair done, wear her jewellery and have her lipstick on. She could often be seen wearing red and frequently reminded everyone that it was her favourite colour.
Irene moved into the Consort Lodge in 2015, and then to the Consort Long Term Care Facility in July 2020 where she was treated with kindness, love and compassion. Irene passed away peacefully at the Consort Long Term Care Facility February 23rd at the age of 95.
She is predeceased by her mom Georgina; dad Donald; husband Clare; brother Donald; sister Nan; sisters-in-law: Erdine (Mervin) Bell, Helen Hauer, Shirley (Gus) Hemke and Donna (Ed) Black; brothers-in-law Keith Redel and Russel Fischer.
Irene is survived by children: Marie (Carter) Stickel, Alan (Virginia) Redel, Gordon (Sharon) Redel, Barry (Selena) Redel, Myrna (Dave Bissett) Redel; nine grandchildren: Heather and Steven Stickel, Randy and Tanner (Shannon) Redel, Clayton, Miranda and Alexis Redel, Lisa and Scott Redel and great grandson Carter Stickel.
A final thought from Irene, "Remember me with smiles and laughter, for that is how I will remember you all. If you can only remember me with tears, then don't remember me at all!"
Honoring Irene's wishes there will be no service.
Memorial contributions may be made in Irene's memory to the Consort Hospital Ladies Auxiliary, Box 276, Consort, Alberta, T0C 1B0. Condolences may be sent to the Redel families by visiting www.parkviewfuneralchapels.com Parkview Funeral Chapels were entrusted with the care and funeral arrangements. For further information please call 403-578-3777.
Thank You
The families of Irene Redel would like to thank our communities for all their caring words of sympathy, food and flowers. We are grateful for the phone calls, texts, visits and memories of Irene.
Thank you to the Home Care and Consort Lodge staff who allowed Irene to spend as long as she could in her home and then at the lodge. The way that all of the Home Care staff adapted Irene's care to help her cope was amazing.
A very sincere thank you to the Consort Long Term Care Nursing staff and everyone who treated her with Kindness, Love and Compassion. We cannot stress how amazing it is to have all of these wonderful people and this facility in our community.
Thank you to Dr. Stephen Akindepe and Dr. Irene Shenouda for providing Irene excellent care the entire time they have been here.
Thank you to Dean Ross and all the staff at the Parkview Funeral Home for their care, compassion, and professionalism.
Irene loved the community she lived in and always wanted to know how families were growing and who was living where. Imagine the changes she saw.
Thank you to Heather Stickel for preparing the obituary for Grandma.


Share Your Memory of
Margaret