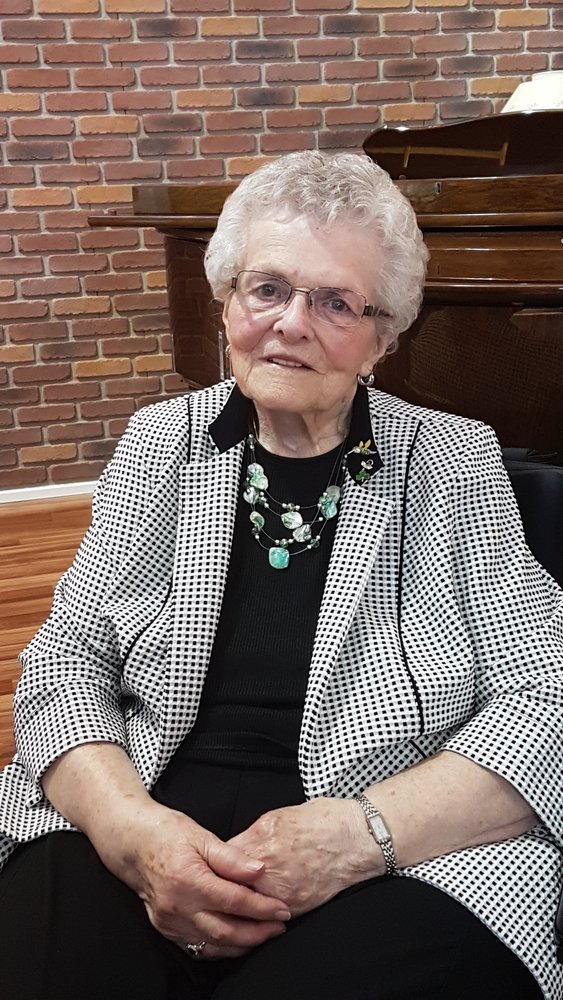 In Memory of
Margaret Viola "Margo" Pals
1929 - 2020
Funeral Mass
2:00 pm - 3:00 pm
Tuesday, November 17, 2020
Our Lady of Grace Catholic Church
5113 - 49 Street
Castor, Alberta, Canada
The Funeral Mass will be by invitation only at the Catholic Church. All are invited to view Margo Pals' mass via webcast through visiting Parkview Funeral Chapels website and click on Margo Pal's obituary and then on Webcast (left side of screen)

Get Directions


Obituary of Margaret Viola Pals
Margo Pals passed away peacefully November 8, 2020 at Our Lady of the Rosary Continuing Care Facility in Castor, Alberta at the age of 91 years 7 months and 25 days.
Margaret Viola Whitnack was born March 17, 1929 in Calgary, Alberta. The youngest of seven children of Roy and Evelyn Whitnack she was raised on the family farm near Delacour and attended school in Kathryn.
Margo learned how to milk cows and feed pigs and chickens at a young age and as a teenager honed her domestic skills while working for some of the neighbours in the area.
On December 30, 1948 she married the love of her life Bud Pals. To this happy union 7 children were born, and her domestic and organizational skills were put to the test. She was dedicated to her family, her community and her church which was evidenced by her longtime membership in the Hospital Auxiliary and the CWL.
Margo is survived by her children: Terry (Jim) Perry, Larry (Judith) Pals, Judy (Calvin) Bishell, Karen (Frans) Bouman, Philip (Shelly) Pals, Tim (Natalie) Pals and Russell (Audrey) Pals; 21 grandchildren; 33 great grandchildren; 2 great great grandchildren; 3 sisters-in-law: Dianne Bond, Esther Pals and Dorothy Whitnack as well as numerous nieces, nephews, cousins; host of friends and neighbours.
She was predeceased by her loving husband Bud; grandson Tyler; parents; 2 sisters and 4 brothers.
Funeral Mass for Margo will be held on Tuesday, November 17, 2020 at 2:00 P.M. in Our Lady Of Grace, Castor, Alberta.
The funeral mass is by invitation only however may be watched via webcast by visiting Margo Pals' obituary on Parkview Funeral Chapels website. (Click on Webcast on the left side)
Memorial donations in memory of Margo may be made to Our Lady of the Rosary Hospital Auxiliary or a charity of your choice c/o Parkview Funeral Chapels & Crematorium, P.O. Box 186, Castor, AB T0C 0X0, who were entrusted with the care and funeral arrangements. To send condolences to the family, please visit www.parkviewfuneralchapels.com


Share Your Memory of
Margaret