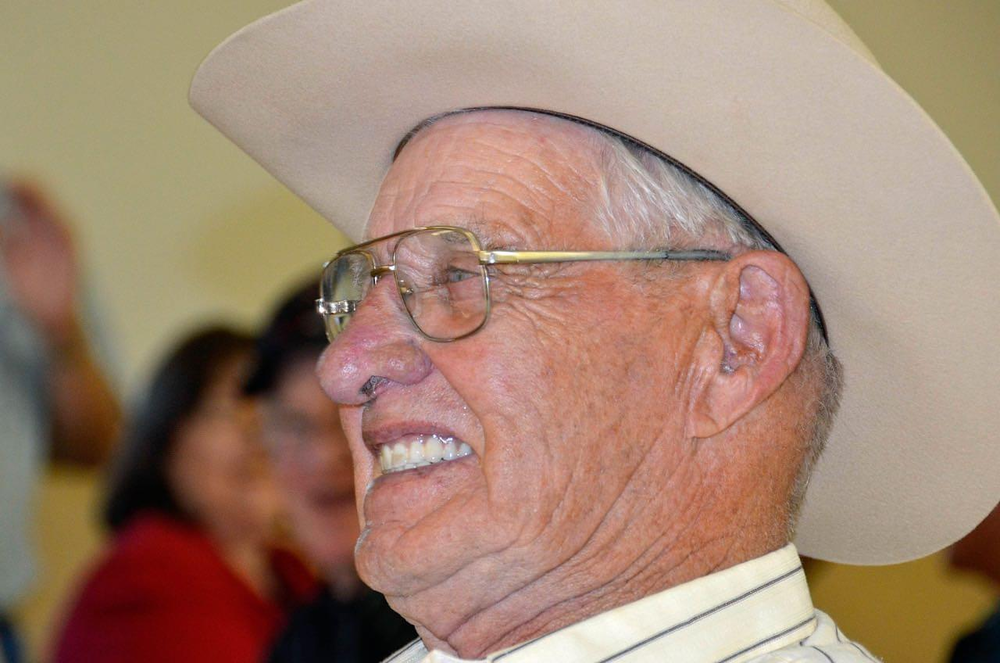 In Memory of
Jim Turner
1926 - 2020
Graveside Funeral Service
1:00 pm - 2:00 pm
Saturday, November 7, 2020
Big Valley Cemetery
Big Valley West
Big Valley, Alberta, Canada
Graveside Funeral Service

Get Directions


Obituary of Jim Turner
James Albert Turner was born in Taber, AB in 1926, but lived most of his life in Big Valley.
He met Leona and immediately said she was the one for him, she wasn't too sure but he won her over on the dance floor and they married in 1949, a union that lasted over 59 years until Leona's passing in 2008. During their early years they travelled throughout western Canada for rodeos and for work, then in 1958 after their children started arriving they moved back to Jim's home town of Big Valley.
Jim and Leona had 4 children. Blair (Evelyn), Craig (Lynn), Norma (Doran) and Nadine (Blaine) and Grandchildren, Leana, Angie, Mark, Tim, Julie, Karla, Garret, Justin, Mitchell, Jessie and Marlee . As well as 12 Great grandchildren. And many others called him Grandpa including Norma's nephew Simon.
Throughout his life he had many occupations: lumberjack, cowboy, cat skinner, ranch hand, and ultimately a County of Stettler grader operator for the BV area, maintaining the country roads. During these years he forged many friendships with the people on his route often stopping for coffee and a visit.
He loved talking to people; he was famous for his telling (and retelling) jokes and could make anyone laugh or blush.
In 1948 he won the Calgary Stampede Saddle Bronc event, 50 years later he was honoured by the Calgary Stampede Board, a day he shared with his family and lifetime friend Garfield Hockley. Jim said he was treated like a king that day.
Over the years he owned many horses, sometimes as many as 9 and also trained horses for others. He received much enjoyment competing for many years in Team Roping events with his roping partner and friend Kent Butterfield.
After retirement he pursued his passions full time. Summertime was spent at Sylvan Lake fishing every day. He would start early at the GTI coffee shop in Sylvan swapping fibs with the good friends he made there. During the winter he would build furniture in his shop. He is known for his sturdy furniture and there was only one wood that he would work with – Oak! November however was reserved for hunting season and he earned the nickname "One Shot Turner" as he didn't like to waste any bullets.
Even the strongest oak tree eventually must fall, Jim is gone now but will live on in our memories forever.
Donations in lieu of flowers can be gratefully made to the Hospice Society of Stettler. Contact: PO Box 315, Erskine, AB T0C 1G0 or Email: admin@stettlerhospice.org or S.T.A.R.S., 570-1441 Aviation Park NE, Calgary, AB T2E 9Z9
Jim will be forever missed by his loving family, children: Blair (Ev) of Calgary, Craig (Lynn) of Stettler, Norma (Doran) of Calgary and Nadine (Blaine) of Rochon Sands; grandchildren: Leana (Stephen) of Calgary, Angie (Bryan) of Edmonton, Julie (Devon) of Penticton, Karla of High River, Mark of Calgary, Garret (Taylore) of Stettler, Justin of Stettler, Tim (Lisa) of Calgary, Mitchell of Stettler, Jessie of Red Deer and Marlee of Botha; great grandchildren: Katie, Mandy, Jessica, Lexi, Nikki, Tatiana, Talaysia, Corinne, Emilia and Liam; other family and many dear friends.
Graveside Funeral Service ~ Saturday, November 7, 2020 at 1:00 P.M. ~ Big Valley Cemetery, Big Valley, Alberta