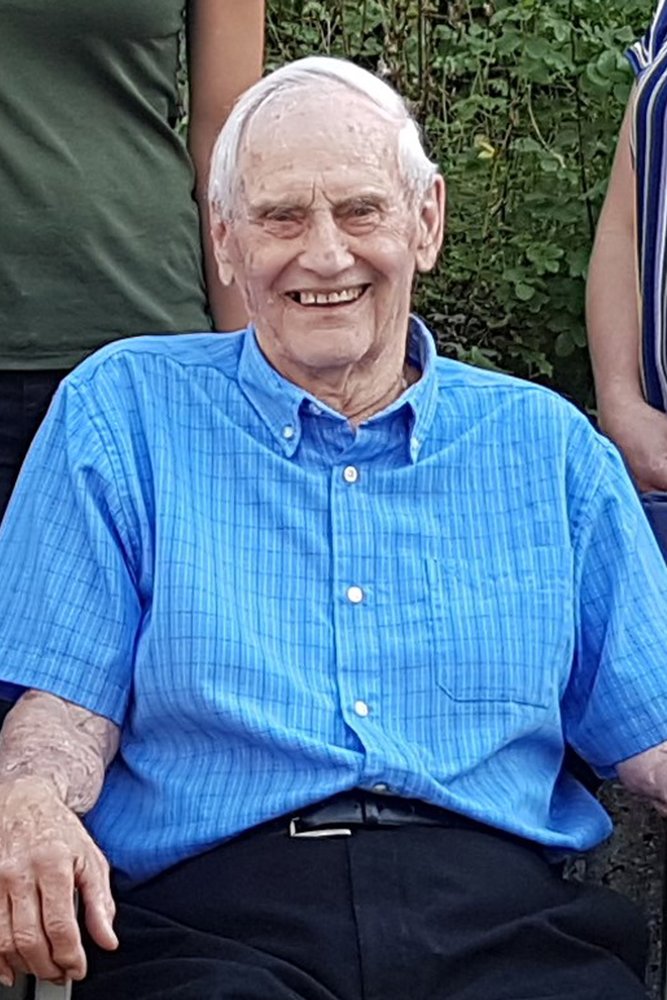 In Memory of
Dennis James Filipenko
1931 - 2020
Funeral Service Will be held in the Knox United Church by invitation, friends invited to the Castor Community Hall. Sunday November 1, 2020 at 2:00 PM
2:00 pm - 3:00 pm
Sunday, November 1, 2020
Knox United Church
5101 49th street
Castor, Alberta, Canada
4038823013
Funeral Service Will be held in the Knox United Church by invitation, friends invited to the Castor Community Hall. Sunday November 1, 2020 at 2:00 PM

Get Directions


Obituary of Dennis James Filipenko
Dennis Filipenko
Dennis James Filipenko, born April 14, 1931, at Coronation, Alberta, passed away Monday, October 26, 2020 at the age of 89 years. Born to Nick and Alice Filipenko, he was the 2nd oldest of four children.
Dennis was raised on the farm south of Fleet. On June 15, 1956, he married the love of his life Betty Lou Slemp and raised three daughters, Laurie, Shelly and Michelle, in Fleet.
In their early years of marriage, they spent time in Crescent Spur and McBride, B.C., logging and doing road construction of the new Highway 16. Other family and community members joined them in these endeavors.
In the fall of 1962, the families and equipment returned from B.C. to start the Nick Filipenko & Sons Construction Company and Redi-Mix business in Fleet. They purchased two single axle trucks and poured foundation for the new hospital in Castor.
In 1964, the business was moved to Castor and they bought the auction mart building and moved it across the road to where it now stands. The business became Filipenko Bros. Construction, which he operated with his brother Larry for many years and later with his son-in-law, Philip Pals. He was still at work every day until the age of 86, when health problems forced him into retirement.
Dennis served on the recreation board for many years and was awarded a lifetime arena pass for his dedication.
In 1995, Dennis and Betty built a new house in Castor, where he resided until his passing. He served as a Town Councilor, a member of the Hall Board, the Hospital Board and the Ag. Society.
Dennis was an avid sports enthusiast. He coached girls ball, coached and played hockey and played Senior Slow-pitch ball. Many years were spent traveling to Apache Junction, Arizona to play ball, with a stop in Las Vegas to attend the World of Concrete Convention.
Dennis will be lovingly remembered and missed by his family and many friends. Dennis is survived by his daughters: Laurie (Norman) Pals, Shelly (Philip) Pals and Michelle (Gord) Breum; granddaughters: Janelle (Blake), Andrea (Drew), Stacy (Anthony), Jill (Jordan), Emily (Michael) and Tess; great grandchildren: Taylor, Toni, Kyren, Dane, Zach, Will, Aislyn, Bethany, Aaliyah, Kaylee and Hudson; his sister Janet Booth.
He was predeceased by his wife of 64 years, Betty; parents Nick and Alice; infant sister Grace; brother Larry and grandson Tyler.
Funeral Service
2:00 PM Sunday, November 1, 2020
Will be held in the Knox United Church by invitation, friends invited to the Castor Community Hall.
All are invited to view Dennis' funeral via webcast. Please click on the link on the
Parkview Funeral Chapels website
Memorial Donations may be made to the Castor Minor Sports or to
Our Lady of the Rosary Hospital Foundation.


Share Your Memory of
Dennis