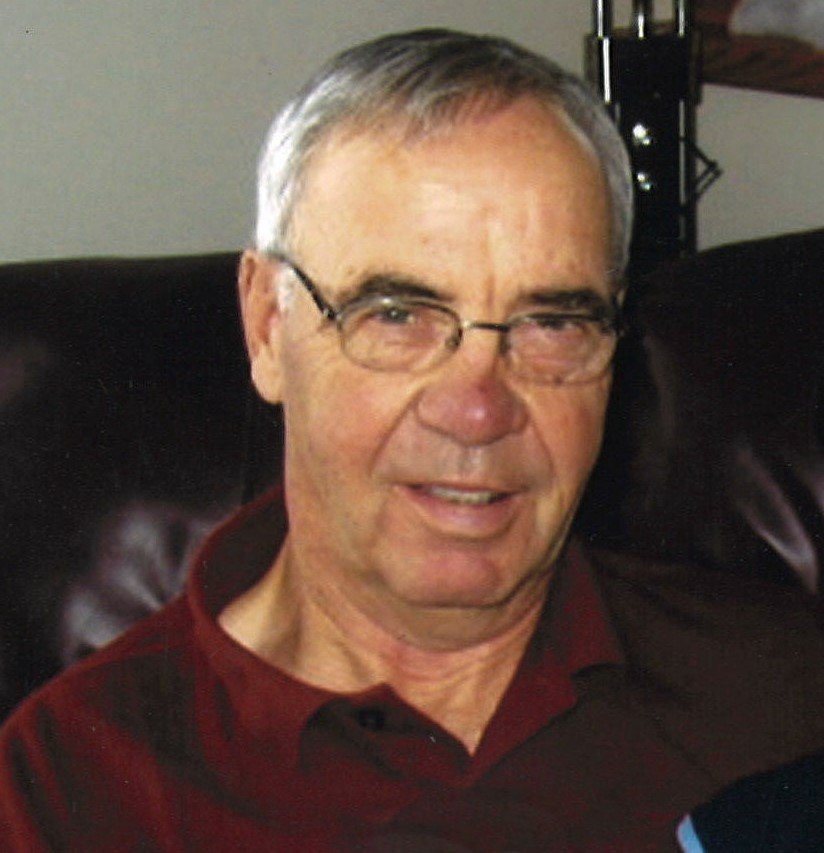 A Private Family Service will take place later in August at Hastings Coulee Cemetery
Hastings Coulee Cemetery
Hastings Coulee
Hastings Coulee, Alberta, Canada

Get Directions


Obituary of Earl Nelson Ross
Please share a memory of Earl to include in a keepsake book for family and friends.
Earl Nelson Ross was born October 9, 1936 and passed away in the Galahad Care Centre, Galahad, AB on Wednesday, July 8, 2020 at the age of 83 years.
Predeceased by his parents Tabor and Lottie; wife Marjorie Irving Baird Ross; son in law Don Rombough; brothers Charles, Harold, Calvin; sisters: Vesta, Gladys, Eunice, Grace, Shirley and their spouses.
Earl leaves to mourn his loving family:
daughter Sheryl Rombough and her children Dean (Tracy) Rombough and their children: Brooke, Teagan, Chase and Jaxon, Derek Rombough and Darby Rombough and his son Colton;
son Bob (Maxine) Baird and their children Tom (Sandy) Baird and their son Bradley, son T.J. (Kendra) Baird and their sons: Brody, Brandyn and Jet;
son (of Earl and Marlene from an earlier marriage) Kim (Sue) Freadrich and their children Jeff (Katie) and their children Hayden and Luke, Brett (Kary), Taeler (Brad) and children Berkley, Hays and Jordy;
sister Blanche Graumann; sisters in law Carol and Leona Ross; brother in law Allen Steinhoff; numerous nieces, nephews and other family.
Earl took his schooling in Hasting Coulee as did most of his nine siblings and went on to teach school in 1957-58 at Sullivan Lake.
Earl was a man not afraid of hard work and was always ready to take on new adventures and challenges. He went from teaching students to becoming a student learning the trade of a body shop man which he did successfully for 26 years, 1958 – 1984. First buying the existing body shop in Forestburg then building a new body shop on main street.
Eventually he moved onto new challenges and started with Cooperators Insurance which he presided over successfully for 15 years 1984-1999.
But there was always so much more to Earl than just the successful and profitable working man. He was passionate about his hometown of Forestburg, he spent 6 very intense years on Forestburg Council, devoted to keeping his town alive and thriving with an equitable future. He even persisted in a desire to bring back senior hockey to his town which he accomplished in the early '90 and to say he and Marge became some of the Forestburg Thunder most ardent fans is likely the understatement of the year! In addition to hockey there was their involvement in curling and golfing, Earl stayed active as a Lion's Club Member and participated loyally in the Alliance Legion which provided services to the region.
But as if all those things weren't enough, he pursued his love of horses and in turn they had him investing time, money and love to the trotters for which he and Marge both had a passion. Their summers were spent at Lakewood Village in Sylvan Lake creating another entire community of forever kind of friends. Earl was always on the move and usually in the middle of the action.
Marge and Earl had a home that was always a social event when anyone visited. You were always made to feel welcome and many hours of fun and laughter were spent in their company, a visit one could always look forward to. They were always there for friends in need as well, if you were a friend of Earl's it was going to be a solid friendship.
Where there was Earl there was emotion! Laughter, a man who was interested in everything and everyone that crossed his path and he was interesting. One was always well entertained and never bored in his company. There could be rants about politics and life, nor was he ever short on opinions which he shared with very little prompting! And always love for those nearest and dearest. He lived life to the fullest and will be sorely missed.


Share Your Memory of
Earl