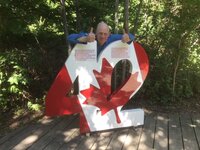 John Kees Verhoeven
In Loving Memory of John K. Verhoeven
April 14, 1956 – January 3, 2023
John is survived by his family: his wife Chris; his son Jeremy (Christine); daughters Doria (Billy) Zacharias and Ruby (Tavis) MacDonell; grandchildren: Mila, Piper, Teagan, Annica, Ashton, Vance and Ike; siblings: Francis Verhoeven, Anne Marie (Harry) Philipsen, Geri (Raym) VanderAvoird, Liz Sweere (Dale Wigley), Corrie Verhoeven, Jack Verhoeven, Joe (Nicole) Verhoeven, Carla (Andy) Vanderburg, Martin Verhoeven (Cindy Campbell); numerous nieces, nephews, other family and friends
FUNERAL SERVICE
Monday, January 9, 2023 at 2:00 PM
Stettler Community Hall, Stettler, Alberta
B S Session and Luncheon to Follow
Donations in John's memory are gratefully accepted to the Stettler Kinsmen Club, P.O. Box 1077, Stettler, Alberta T0C 2L0
John was born in Udenhout, located in the southern part of the Netherlands, the oldest of ten children. There he grew up on a farm and when John was 11 years old, the family moved to a farm on newly developed land in the Flevopolder.
John finished agricultural school and in 1976, he immigrated to Canada, first working for a farmer in Ontario and later working building concrete-block silos. In between, he and a friend traveled extensively throughout Canada and USA. It was on one of those travels out of Ontario that he came to work on the Streit farm in the Stettler area where a few years later, in 1980, his family from Holland joined him when they bought their farm.
John married his first wife Francien (Scheepers) in 1981 and together they had three children, Jeremy, Doria and Ruby. Together with his father and four brothers John operated the large dairy farm until 1990. In that year, he started his own dairy farm south of town and later partnered with the Van Ommeren family, operated that farm until 1996. John built his forever home, north of Stettler in 1998.
Over the years John became interested in other projects including a ranch on the Aleutian Islands, Alaska. The very remoteness of the place and the feeling of pioneering was what attracted him to the far away location. That adventure led to other opportunities like exporting to the states and Japan. Not to mention the other "Johnny" endeavours.
John met his new love Chris in 2008, making her laugh everyday. They soon started traveling the world. They visited the normal destinations, Cuba, Panama, Jamaica and then off the beaten path, Peru, back to the Aleutian Islands, and Deadhorse Alaska. Later they acquired the motor home, traveling across Western Canada and beyond, Tuktoyaktuk, Yellowknife, Vancouver Island, always taking the less travelled road.
In 2012 the man we always called Johnny obtained a new title as Opa to his now seven grandchildren, which he nicknamed Vinny, Annie, Ikey, Millie, Pippy, Ashy and Sweetheart.
A loving husband, father and Opa, Johnny will be missed.