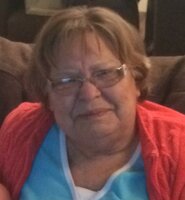 Audrey Wilma Timm
Audrey W. Timm
May 9, 1939 – October 9, 2021
It is with great sorrow that the family announces the passing of Audrey.
Audrey was born in Downing, Alberta to Frank and Mary Maricle. She was the fourth of five siblings. She met and later married Dean Timm in 1958. They lived in several places throughout Alberta before settling in Castor in 1965. Audrey and Dean raised three children there. Audrey worked in the kitchen at the Castor Hospital for many years. There she met many lifelong friends. She shared an amazingly strong bond with her siblings and will be greatly missed by them.
Audrey was predeceased by her husband Dean; brothers in law George and Max and sister in law Joyce. She leaves to mourn her loss, two sisters; two brothers; three children; seven grandchildren; ten great grandchildren; numerous nieces and nephews; lifelong friends Lorraine and Marilyn, as well as many others.
A graveside memorial will be held for family and close friends. In lieu of flowers, donations in Audrey's memory are gratefully accepted to the Castor Ladies Auxiliary or a charity of the donor's choice.