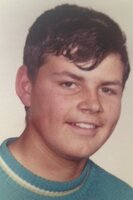 Bill Olive
William James Olive
June 1, 1953 – August 26, 2021
It is heavy hearts that we write this obituary for Our Beloved Brother Bill.
Bill sadly lost his 7 year brave and courageous battle with cancer on Thursday, August 26, 2021.
Bill was one of the many people that worked hard and played hard and were proud to be part of the "Alberta Oil Patch". In his earlier years Bill had other employment but hit his stride when he began his "Oil Patch" career with Nowsco and many years later retired from Baker Hughes.
During the course of his life Bill was fortunate enough to make many wonderful friends, whom he enjoyed and respected throughout his 68 years.
Bill enjoyed many things in life, family, friends, social gatherings, he had a love for curling and hunting in his youth and always a love of cars. Over his years he owned some Hot Rods and Classic Car's and enjoyed a lot of car shows. Bill was an avid Edmonton Eskimo and Edmonton Oilers fan who stood by his teams through thick and thin!
Later in life Bill started golfing and that became something him and friends and family enjoyed doing together.
Bill was a big man with a huge heart that he wore on his sleeve that made him the "softie" we all knew and loved as well as a man who always had a joke to put a smile on so many faces.
Bill was predeceased by his father William (Bill); mother Marjorie; brother John; sister-in-law Eleanor. Bill is survived by brother Ross (Maggie); sister Marjorie (Ron); niece Kelly (Barry); nephew Doug (Jackie); two grand nephews Reilly and Ethan; life long friend Dale Glass (Brenda) and many caring relatives.
A special shout to Rob and Lori Young, Glen Dalgleish, Brian and Nancy Hansen; as well as Rodney and Chris Bosch and so many others, the list is very long, you all were truly appreciated more than you will ever know!
Bill will be buried in the family plot in Big Valley at a later date at which time we will have a social gathering to celebrate the Big Guy's life. We will contact friends and family in advance to come and share stories and his favourite snacks, Beer and Wings!
Memorial donations in Bill's memory may be made to the Canadian Cancer Society in lieu of flowers or cards.
Funeral Services were entrusted by Cook Sutherland Funeral Chapel in Medicine Hat, AB