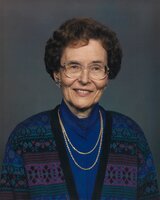 Betty Kisser
Betty is survived by her loving family, brother John (Ella) Kisser of Stetter; nieces Dorothy (Earl) Marshall of Nevis and Beverly Bateman (Rick Ivany) of Alix; nephew Gord Kisser of Stettler; great nieces and nephews: Tracey (Stacey) Peters of Camrose, James (Crystal) Marshall of Nevis, Ross (Kimberly) Bateman of Alix, Leann (Kent) Graham of Stettler, Alicia Kisser of Stettler and John Kisser (Angela Porter) of Stettler; eight great nieces and nephews; other family members and friends. Betty was predeceased by her parents Martha and Fred Kisser.
A Family Funeral Service Will Be Held.
Donations in memory of Betty are gratefully accepted to Heritage House.