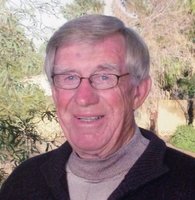 Edvin Bert Reierson
Edvin Bert Reierson
Ed Reierson, 92, passed away July 2, 2021, in Camrose, at Bethany Meadows long term care centre. Edvin Bert Reierson was born December 26, 1928 in Edberg, AB, one of seven children born to Reier Reierson (Uvdal, Norway) and Bertha Jensine Sorensen (Aarhus, Denmark.) In his teen years he began working for Central Alberta Dairy Pool in Edberg, starting at the bottom as a cream can washer. With a strong work ethic, and leadership skills, he began training at various small-town creameries to learn the dairying business. Living in Coronation, Red Deer and Calgary, he became skilled in butter making, poultry, egg production and supervisory skills.
Ed met Marie Frances Obermeyer while working in Coronation in the early 1950's. They were married May 17, 1954 at St. Anthony's Catholic Church in Coronation. By this time, Ed was working for CADP in Red Deer and their only child, Donna Marie, was born there 11 months later. Always a hard worker and eager to achieve, Ed progressively moved up the managerial ladder through various positions, moving back to Coronation, to Calgary and on to Stettler (1965), as the Branch Manager of Alpha Milk Co., while Marie taught Grade One at Stettler Elementary School. Ed was actively involved in the Lions and Rotary Clubs, which he belonged to, and served as President. Ed and Marie made many dear friends through the years. Dancing, dinner and card parties and Birthday Club celebrations were a few. They loved to socialize and entertain friends and family. Marie was a dedicated member of Christ King Catholic Church and Ed attended church with her and Donna.
Ed and Marie purchased a lot at Buffalo Lake in 1974. This became their favourite place. However, in February 1978 Marie was diagnosed with cancer and passed away November 9, 1978 at age 47. Shortly thereafter, Ed was transferred to Lethbridge as Branch Manager and retired at the age of 60. He built a permanent home at Rochon Sands and traveled to Mesa, Arizona each winter. He had many friends at Venture Out and enjoyed golfing, dancing, cooking meals and many "Happy Hours" with his dear friends. Always an avid sportsman, Ed curled, played baseball, golfed, hunted geese and wild turkey with his brother LeRoy and went on annual salmon fishing trips to the coast. He served on the Student Finance Board for the Province of Alberta Advanced Education department for six years.
When Donna married Terry Arseniuk in 1977, Ed had the pleasure of watching his two grandsons Stephen and Shawn grow up and spend time at "the lake." He celebrated their achievements and welcomed their wives Danielle and Susie warmly. He was excited when the great-grandchildren were born and everyone came to the lake. He cooked great meals, made homemade pie for dessert and always made sure there was wine to drink. The lake became the family gathering place to share laughter, love and memories. When Donna retired from teaching in 2015, she moved in permanently.
Always a strong, social and determined man, Ed began to decline at age 89. Dementia, the loss of use of his right arm, loss of speech, balance and mobility left him dependent on Donna for his daily living, until he was required to go into long term care. While waiting for a placement at Heritage House in Stettler, he spent time in Stettler and Coronation Hospital and a temporary placement at Bethany Meadows in Camrose. He loved chatting with friends and strangers alike and had a generous spirit. He will be dearly missed.
Ed was predeceased by parents Reier and Bertha Reierson; his beloved wife Marie; sisters Elvia Schulze and Viola Peterson; brothers Raymond and twin George. He is survived by daughter Donna Arseniuk; grandsons Stephen Arseniuk (Susie) and Shawn Arseniuk (Danielle); brothers LeRoy (Marcene), Lawrence (Miriam); great-grandchildren Lucas, Elise, Isaac, Iris, Elliott.
Thank you to the Care Teams at the Stettler/Coronation Hospitals and Bethany Meadows for their professionalism and treating Ed with respect and dignity. Special thanks to Dr. Lockhat and nurse Paula Konschuh who went above and beyond in their care for Ed.