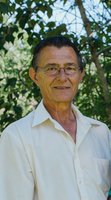 Lawrence Eugene Muhlbach
Lawrence Muhlbach
February 28, 1952 ~ January 24, 2021
Lawrence E. Muhlbach of Stettler passed away on January 24, 2021 at the age of 68 years.
Lawrence was born February 28, 1952 to Howard and Helen Muhlbach. He spent his childhood on a farm south of Stettler with brothers Ken and Jim and sister Kathy. He attended Big Valley School to Grade 9, High School in Stettler and Red Deer.
Lawrence married Carol Bowdige in 1973. They had 2 children Larry and Leanne. Lawrence was very proud of his family.
The Treblemakers were a source of much enjoyment and many great memories were made travelling around the province. He was known for his deep voice.
Lawrence was an avid fisherman and hunter.
He belonged to the Stettler Car Club and enjoyed the opportunity to race his Duster. He was an enthusiastic member of the Stettler Trap Club, spending many hours working on the grounds and enjoying the friendship and competition of shooting.
Lawrence is survived by his wife Carol; children Larry (Andrea) Muhlbach and Leanne (Scott) Cressman; grandchildren: Stella Muhlbach, Cameron and Grace Cressman; mother Helen Muhlbach-Smith; brothers Ken (Dana) Muhlbach and Jim (Betty Lou) Muhlbach; sister Kathy (Michel) Lessard; aunts Mary Muhlbach and Ruby Jolly; uncles Albert (Joyce) Lunevich and Archie (Ila) Lunevich; as well as numerous nieces, nephews, other relatives, and many dear friends.
He was predeceased by his father Howard; father and mother-in-law Walter and Lillian Bowdige.
As a tribute to Lawrence and a sign of support for the family,
please drive through the
Stettler Funeral Home Breeze Way on
Saturday, January 30, 2021
3:30 P.M. – 4:00 P.M.
Please turn to FM 88.3 to hear "Ghost Riders" by the Treblemakers as you enter The Stettler Funeral Home Parking lot to support Lawrence's Family.
Memorial Donations may be made to the Stettler Trap Club.