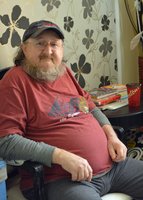 Hugo Rompfer
Hugo Rompfer is survived by his loving family: wife Eileen of Halkirk; daughter Chantel (Paul) Butt of Edmonton and their son Zachary; son Tim Rompfer of Edmonton; brothers and sister: Helmut Rompfer, Paul (Regina) Rompfer, Fritz (Marlene) Rompfer, Horst Rompfer and Charlotte Trimble; nieces, nephews, other family members, friends and neighbors.
Hugo was predeceased by his parents Lili and John, sister Anna Shwalm, sister in law Beverly Rompfer and brother in law Larry Trimble.
Donations in memory of Hugo are gratefully accepted to Trout Unlimited Canada.