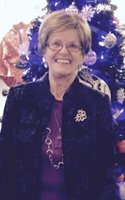 Arleen Rose Pooley
It is with great sadness that we announce the passing of our dear mother, nana and wife, Arleen Rose Pooley. Arleen was born on August 18, 1943 in Stettler, Alberta to parents Rose and John Holt. Arleen passed away on November 6, 2019 in Red Deer, Alberta.
Arleen is survived by her loving family: husband Erwin Pooley of Red Deer; children: Vern (Tia) Pooley of Stettler, Tina (Jamie) Andreasen of Airdrie, Wanda (Kent) Gulliford of Millet; grandchildren: Tyler Andreasen of Calgary, Jordan Andreasen of Lethbridge, Dustin (Rebecca) Gulliford of Leduc, Ryan (Brooke) Gulliford of Leduc; brother Art Holt of Red Deer; sister Mary Schultz of Wetaskiwin (who passed away one month after Arleen). Arleen was predeceased by her father Jack Holt; mother Rose Holt; brother Bill Holt and granddaughter Stephanie Rose.
A funeral service for the late Arleen Pooley will be held at the Erskine Cemetery, Erskine, Alberta on Saturday, August 7, 2021 at 3:00 P.M.
Memorial Contributions in Arleen's memory may be made to the Parkinson Society or a charity of your own choice.